FUKUSHIMA ASSORTED CARAMEL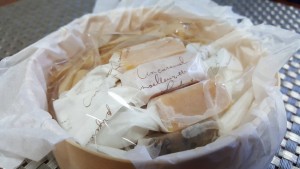 I was surprised to find Caramel is a popular sweet in Fukushima.
They come wrapped up like traditional candy, and distinctively served in a round box you'd expect to find camembert served in.
The moment you pop one in your mouth, it seems to dissolve away without chewing. In fact, the texture seems far more like fudge than caramel, with a strong milky taste that almost seems mildly like cheese.
I'm not a fan of Caramel usually, as it gets stuck to your teeth and is a nightmare to chew. With that in mind, this Caramel was actually pretty damn good.
WHERE: Koriyama Station