NEGISUKI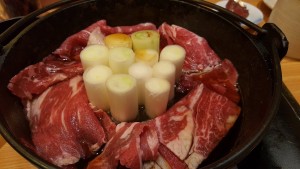 When I hear the word 'Sukiyaki', the first thing that springs to mind is the infamous 1960's Sakamoto Kyu song, 'Ue wo Muite Arukou', which is the only Japanese song to have reached the top of the US billboard charts. The song was about a man who's walking along whilst crying, and who looks upwards at the sky so the tears don't roll down his face (literally the song title is "looking up and walking"). However, when the song was distributed overseas, the song was rebranded 'Sukiyaki', as the title sounded "more Japanese" – even though the song didn't reference the hot pot style dish at all.
1960's music aside, Sukiyaki is a hot pot dish, where meat is boiled in water, alongside a variety of vegetables. I was passing by Sakanya, an izakaya in Akita city when I saw this variant of Sukiyaki caught my eye due to it's style of presentation. The dish was called "Negisuki," – literally meaning onion sukiyaki and included a dozen chopped spring onions, elegantly surrounded by generous quantities of beef.
After the flame was lit and the beef started to sizzle, I added the soup – a mixture of soy sauce, miring and sugar, and it took about 5 minutes before most of the beef had boiled and fully cooked. Usually it's common to then dip the beef into a sauce of beaten raw eggs, but at Sakanaya we were given a bowl of soy sauce mixed with vinegar, which I think accompanies the beef better than raw eggs.
WHERE: Sakanaya Dojo Akita Eki-Mae
ADDRESS: Midoriya Bldg. 1F, 2-7-6 Nakadori, Akita 010-0001, Akita Prefecture