KIRITANPO, in Akita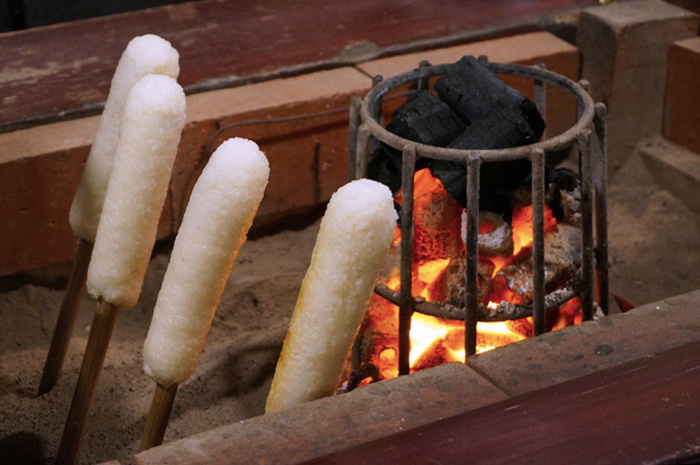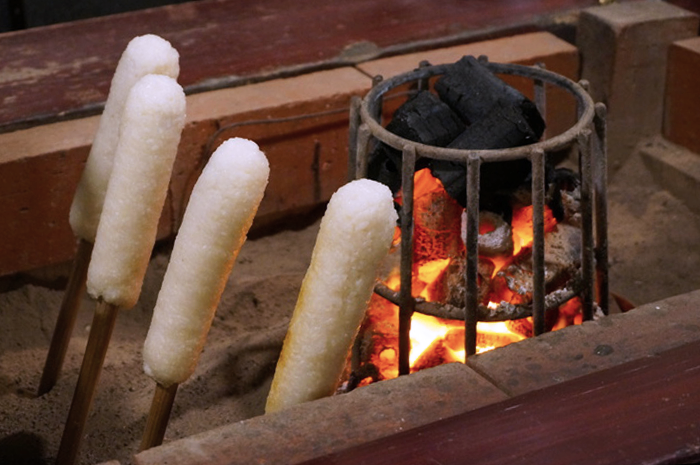 Kiritanpo is arguably Akita's most iconic dish; freshly cooked rice is pounded and mashed up, before being formed into cylinders around Japanese cedar skewers, taking on the appearance of giant rice lollipops. They're then toasted over an open hearth and served with miso or in soup.
We tried them at Kiritanpoya, a shop specialising in Akita cuisine, about a 2 minute walk from Akita station – a shop dedicated to capturing the rustic, cosy, countryside atmosphere of Akita's many famrs.
Walking through the entrance to the shop you'll find yourself in a room that's been created to look like the outdoors of a Japanese farm, littered with baskets, crops and a wall with a huge photo of a rice field. When I bumbled into the restaurant, I was pretty confused at first, stood in silence looking around the themed room, before the silence was promptly broken by a woman opening the "farmhouse" door and welcoming us inside.
The texture of Kiritanpo is somewhat chewy and they reminded me of the texture of mochi, the sweet derived from mashing rice, albeit more firm on account of being toasted. On their own they're relatively flavourless – hence why they're smeared with miso pasted when served alone.
We were served them in a miso soup, mixed with onions, mushrooms and leaks and after being in the soup for a few minutes, they'd swelled in size, soaking up the taste of the miso and the vegetables. If you're giving Kiritanpo a try, I'd certainly recommend trying them in soup, as opposed to on their own, as you'll experience more flavours.
Where: Akita Kiritanpoya, 秋田きりたんぽ屋