BEEF BOWL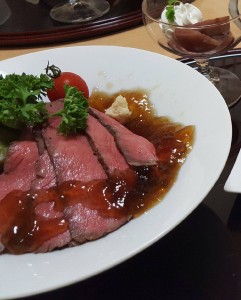 Gyudon literally translated as beef bowl and is usually a very cheap, common dish that you can grab at Japanese fast food restaurants such as Sukiya and Yoshinoya.
AND THEN THERE'S WHAT WE HAD IN YURIHONJO.
Seriously, who knew beef draped over rice, with a vingerette jelly sauce could be so spectacular.
Yurihonjo is a town about an hour south of Akita, nestled next to the sea of Japan. One of Yurihonjo's best hotels, the Iris hotel, contains a restaurant with an excellent reputation for it's beef dishes.
The dinner set came with a bowl of soba noodles, tempura battered vegetables and a large bowl filled with, with succulent, tender slices of beef. The bowl came with a small pot of vinegar jelly, which I didn't hesitate to pour over the beef and the sharp taste of the vinegar certainly made the tender beef all the more delicious.
Despite it's simplicty, the meal was one of the best I've had on the my journey around Tohoku so far thanks to the tender beef and the rich jelly sauce. It was an excellent combination, that I strongly urge you to try if you're in the area.
WHERE : Iris hotel
ADDRESS : 5 Sakanamachi, Yurihonjo 015-0821, Akita Prefecture