Start your journey at JR Kaminoyama Onsen station! (1) Take photos at farms of the rape flowers at Venton Garden. (2) Enjoy various konjacs at the Konjac Guardhouse, then (3) try out making your own chopsticks at Kudamono Utsuwa. (4) Be embraced by the Oyamazakura flowers at West Zao Ranches and (5) have a great time of eating around at Hottonaru Yokocho. Let's try out your new chopsticks here! (6) Spend your night at Zao Hot Spring, Sakaiya Morino-Hotel, Wald Berg.
Move to Miyagi on the 2nd day- (7) Enjoy at the Miyagi Zao Eboshi Daffodils Festival, and (8) lunch with farm-fresh eggs at the Egg Cottage (Zao main store). (9) Then, indulge in Japan's spring at the flower festival of Michinoku Lake Side Park and finally, (10) enjoy shopping souvenirs at Ire Hasekura Kingdom, and head back to Sendai.
Venten Garten- photo shooting at farms of rape blossoms
A rape-flowers farm inside a private-owned "Venton Garten" nearby JR Mokichi Kinenkanmae station. There is a heart-shaped flower frame and a large field of yellow flowers, which serve as the background of Instagrammable photos that attract a lot of visitors.
15-min drive
Konjac Guardhouse- lunch
A konjac specialty located in Naragejuku, a tasteful town. It gives a true, real dining experience with konjac- from easier choices of Yamagata's specialties like the "konjac balls" and "soy sauce konjac cake" to authentic kaiseki course meals with konjac and its desserts. It also sells souvenirs, simply a great place to dine at and to shop at.

25-min drive
Kudamono Utsuwa- chopsticks making workshop
Kaminoyama city is the home for fruits while there are also a huge amount of old fruit trees died out and lined up for logging as aired by the local farmers. And, here is the birth place of new life of these old trees- "Kudamono Utsuwa" (literally fruits' container), a place of creation. At here, visitors can try making their own chopsticks.
25-min drive
West Zao Ranches- Oyamazakura watching
West Zao Ranches is located at the foot of Mt. Takiyama, with an altitude of 600m. It is home for Oyamazakura, a kind of wild cherry blossoms in Tohoku region, including old and big ones having lived for over 100 years. The features of this kind of cherry blossoms is its relatively darker pink color and larger petals when compared with other yamazakura.
40-min drive
Hottonaru Yokocho- eating around (with your new chopsticks!)
A village with 12 small stalls lined up like a long house. Its electric poles and lanterns are reminiscent and resembling the showa period. Here, you enjoy the Yamagata downtown soul food "dondonyaki" and local cuisine with farm-fresh local vegetables and fish from the nearby Shonaioki. You can also find authentic Yamagata beef, Yonezawa beef at reasonable prices. Just a great variety that never fail to amaze you.
40-min drive
Zao hot springs Sakaiya Morino-Hotel Wald Berg- check in (dinner not included)
A hotel embraced by the nature in Zao- its forest (wald) and mountains (berg). It proudly presents a natural hot spring, heartfelt, warm Yamagata local cuisine, and comfortable, relaxing guestrooms. Have your mind soothed here.
40-min drive
Miyagi Zao Eboshi Daffodils Festival
Visitors are simply hooked by the large amount of "daffodils" here, as many as 500,000 pieces of 30 different kinds on the fresh, green field at "Miyagi Zao Eboshi Resort". *The blossom season may change slightly according to the climate conditions.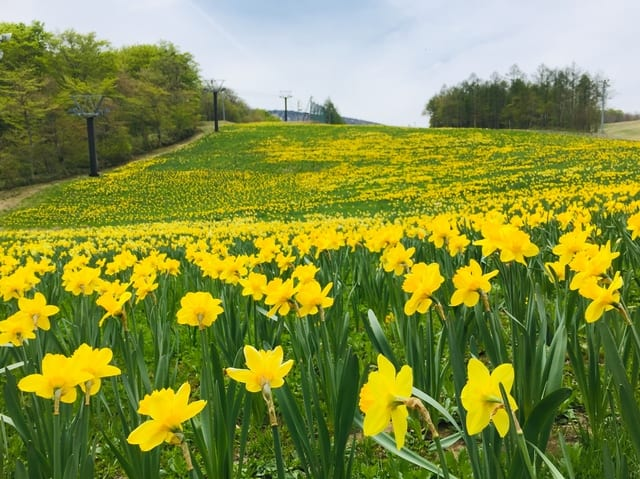 80-min drive
The Egg Cottage (Zao main store)- lunch
Zao mebuki eggs refer to the eggs of 360-day young chicken. The eggs are fresh, safe stemmed from the love and enthusiasm of the keeper. Enjoy omelet, desserts, and souvenirs prepared with this quality egg type.
20-min drive
Michinoku Lake Park- Flowers festival
The most gorgeous season of the park is the constitution of mountains of Zao covered by snow as the background with over a thousand of cherry blossom trees and 80,000 tulips, as well as colorful moss phlox centered at "Plaza of Colors". In the season, weekends are always filled with fruitful programs like "crafting workshop", "transporting events", mini concerts, etc., simply everything for families to have fun.
30-min drive
Ire Hasekura Kingdom
Thoroughly renovated from former Hasekura elementary school with preservation of its original colors, a brand-new dining and experiencing sightseeing hotspot is born in Kawasaki-machi. It is a direct sales center for the local, farm-fresh vegetables, but also an integrated market for specialties of all six prefectures of Tohoku region, namely "Hase's collection". It also has a "Hasekura Cacao Place" serving chocolates and cacao under the influence of late Hasekura Tsunenaga.
20-min drive
The tour ends at Sendai Station