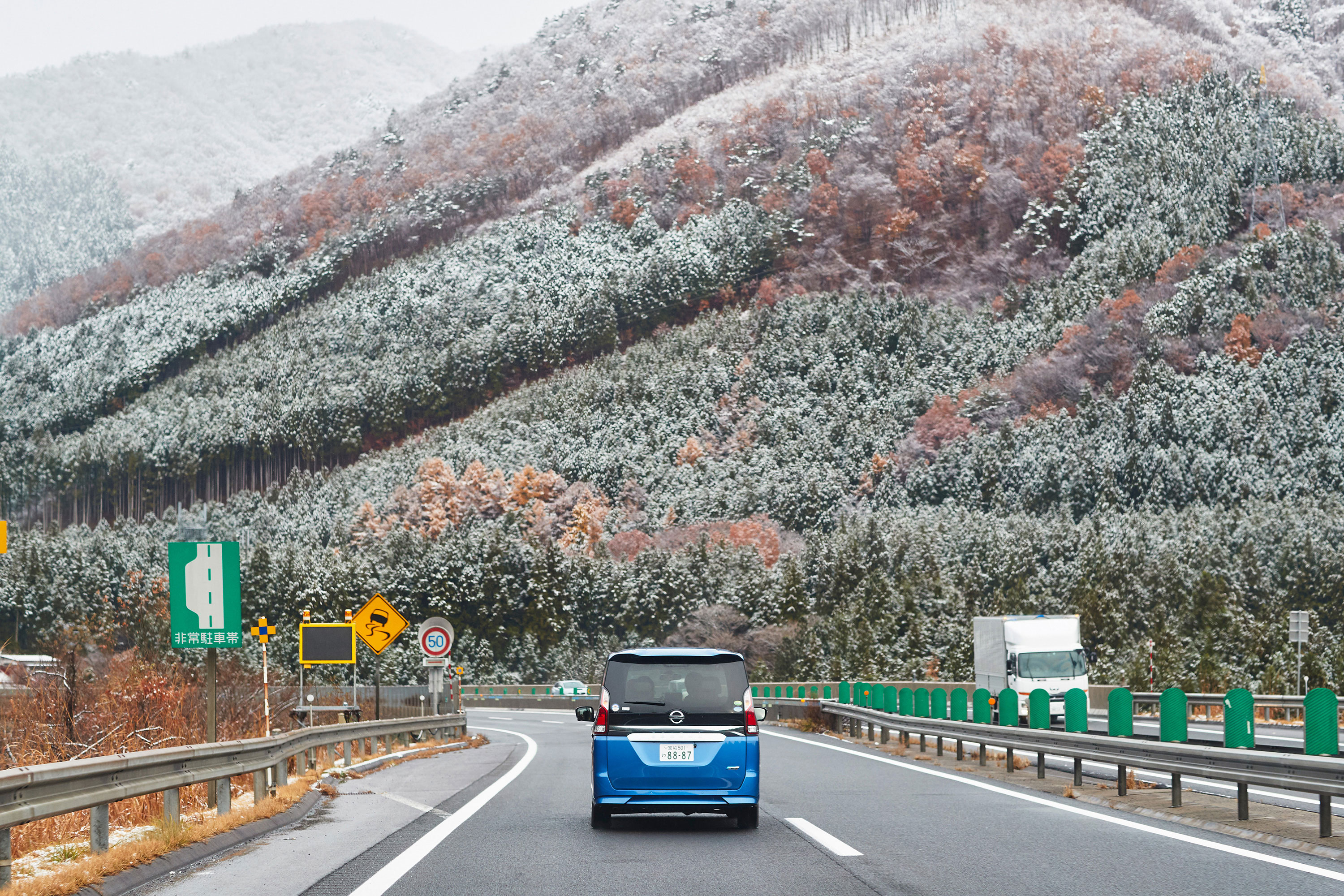 Nearly 30 times the size of Tokyo, the Tohoku region is a treasure-trove of dynamic natural scenery that transforms with each season, exciting, unique local festivals and a rich cuisine of blessings from both mountain and ocean. Despite this, Tohoku is often overlooked by visitors to Japan in favour of well-trodden metropolises like Tokyo, Kyoto and Osaka. Perhaps due to its sheer size!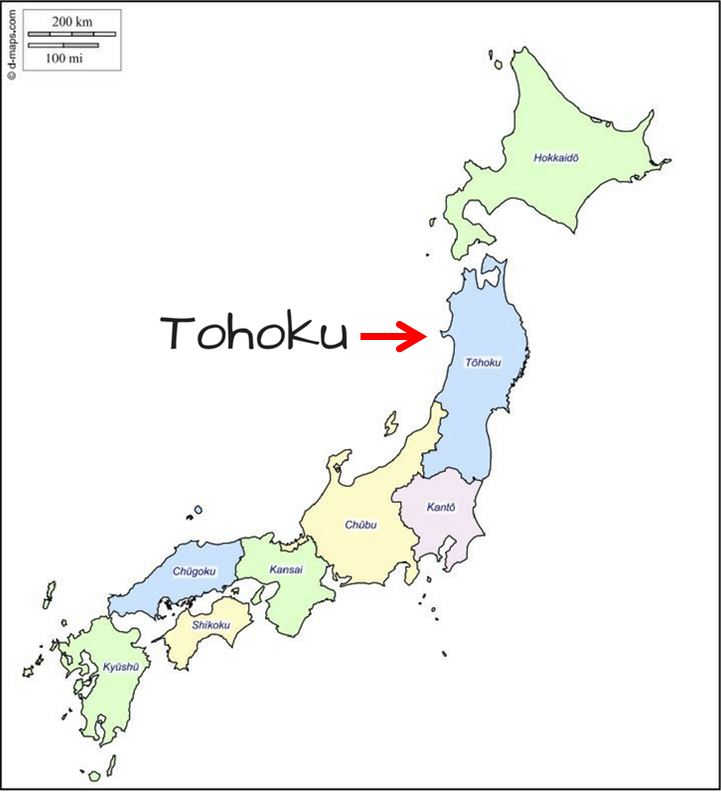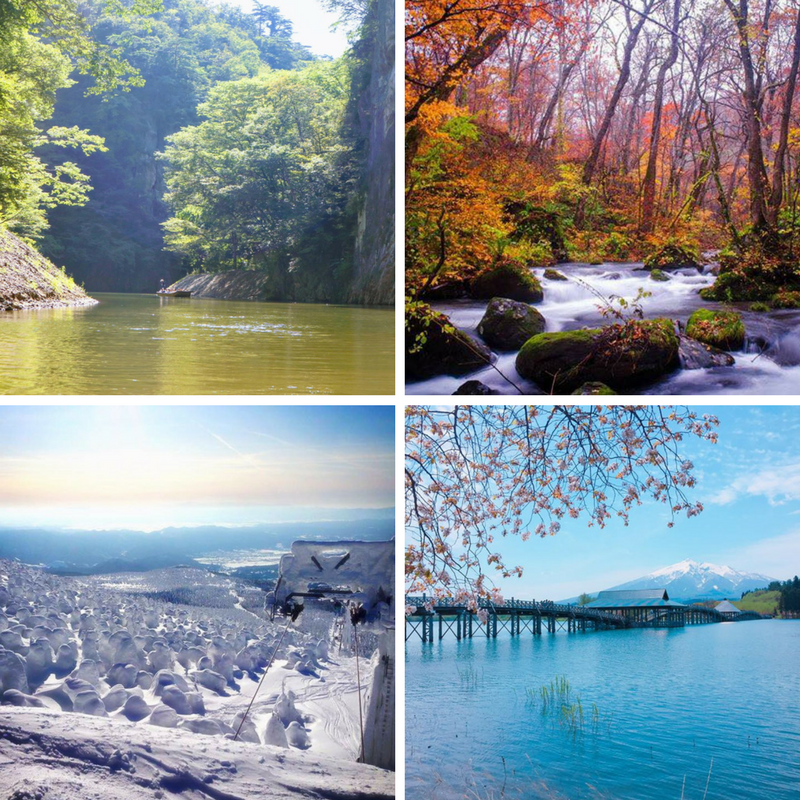 Often the distance between different attractions and local experiences in Tohoku is long and it can be costly to travel. Some of the best attractions are hidden off the beaten track and travelers are often required to change between a number of different transport systems – from Shinkansen and local trains to rent-a-cars.
However, NEXCO East (East Nippon Expressway Company Limited) has found the perfect solution in their fantastic value Tohoku Expressway Pass rental car plan for visitors to Japan!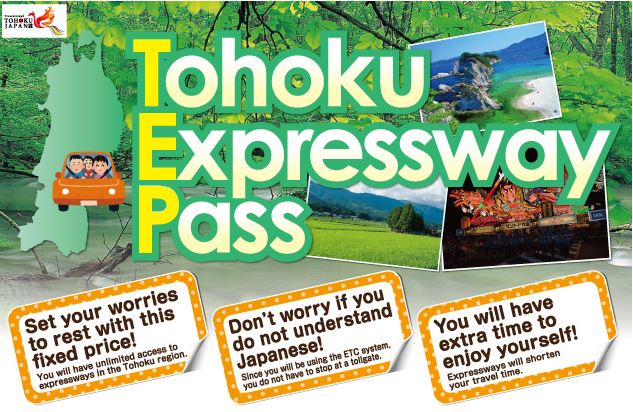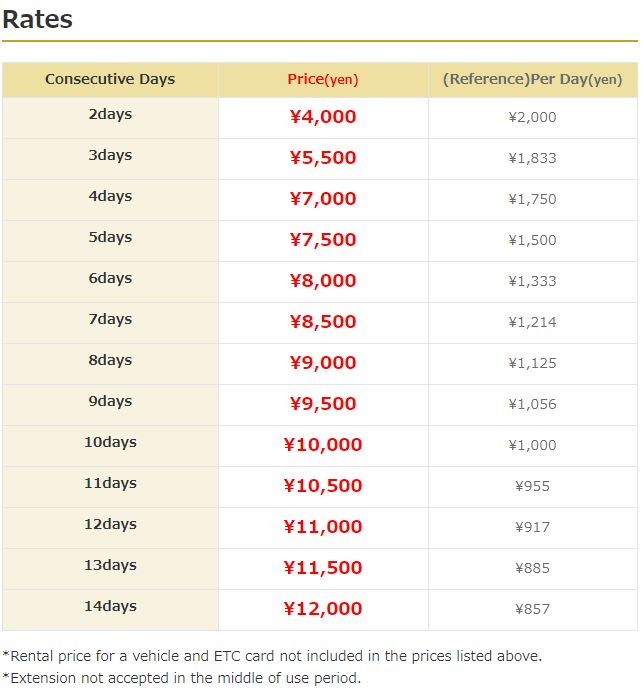 Travelers in Japan can choose from a range of passes of different price and length – for example, 4000 yen for a two-day pass, 8500 yen for a seven-day pass – all providing unlimited use of Tohoku expressways! The daily cost of the pass is cheaper the longer the period, with the longest available being two weeks.
Usually, travelling just one-way between Sendai City and Aomori will set you back around 7550 yen in tolls. Using the pass, it has already made back its value from just that one trip.
This is your chance to get out and explore the Tohoku region, without the extra cost!
Enjoy the freedom to stop at places that catch your eye and pull over at service stations for a quick bite of some tasty local produce; customize your Tohoku adventure!
This great value plan is only available to tourists, although some might be a little hesitant about jumping straight into driving in Japan! To ease your mind, NEXCO & Go!Go!Tohoku!! have teamed up to share the experience of 4 international students who tried out the Tohoku Expressway Pass for the first time.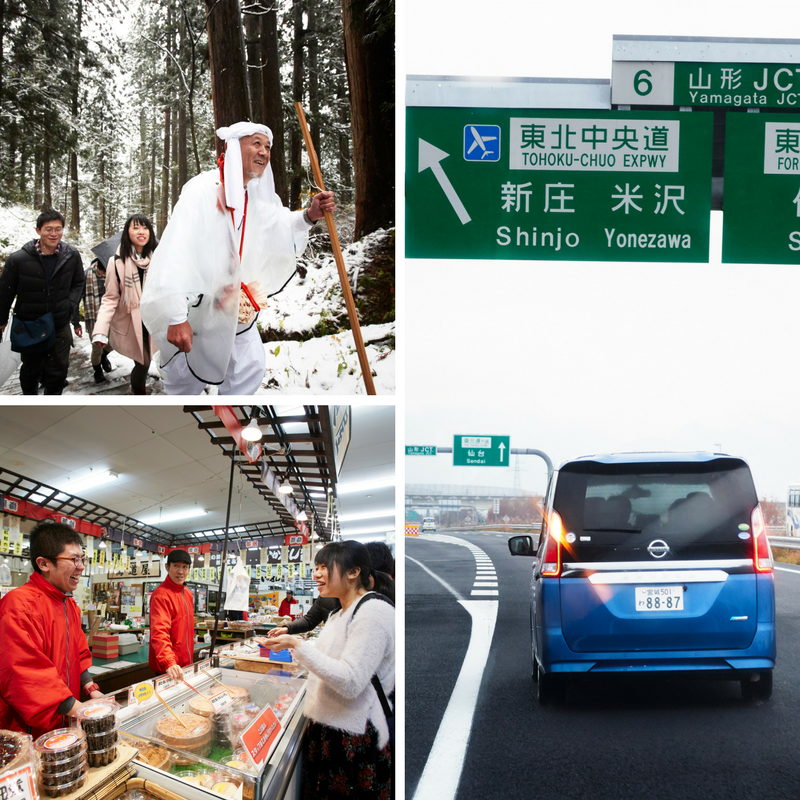 Their journey was a two-night, three-day course starting from Sendai Airport and taking them from the Japan Sea coastline of Yamagata all the way to the Pacific Coast of Fukushima Prefecture!

It's super easy to apply for the Tohoku Expressway Pass when you pick up a rent-a-car from Sendai Airport!

Let's see how their adventure turned out…
South Tohoku Roadtrip: Day One (Sendai → Tsuruoka)
The start point of our three day trip was Sendai Airport in Miyagi Prefecture. Very excited for our first road trip around Tohoku, our first stop was to pick up our rental car and Tohoku Expressway Pass from the Nippon Rent-a-car counter on the first floor of Sendai Airport (click here for a list of rental shops that offer the Tohoku Expressway Pass).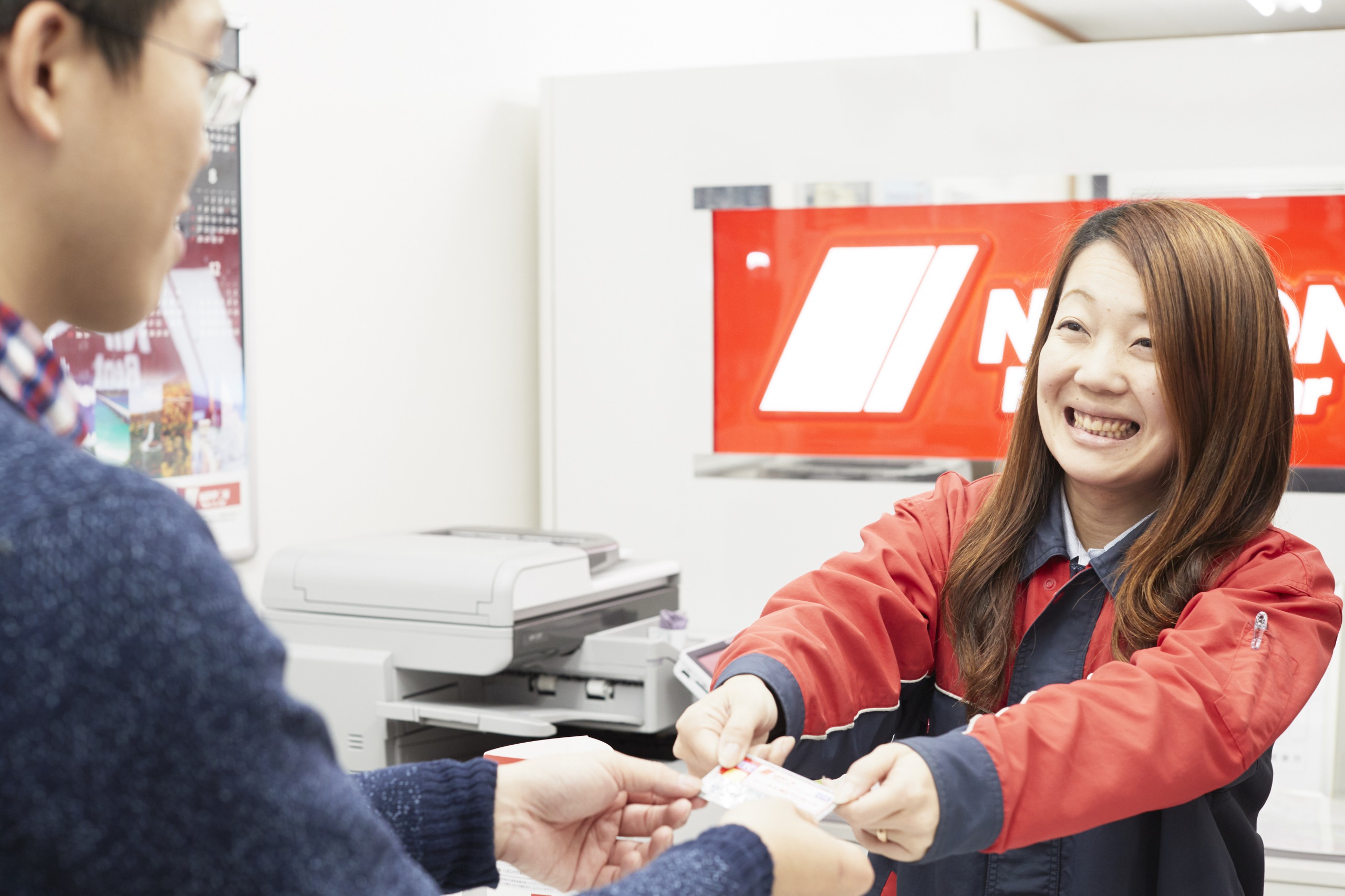 The process is super easy! First you apply for a special ETC card when booking your rental car.
Provide a copy of your passport and international driver's license and state the preferred pass (number days etc.) from the available plans.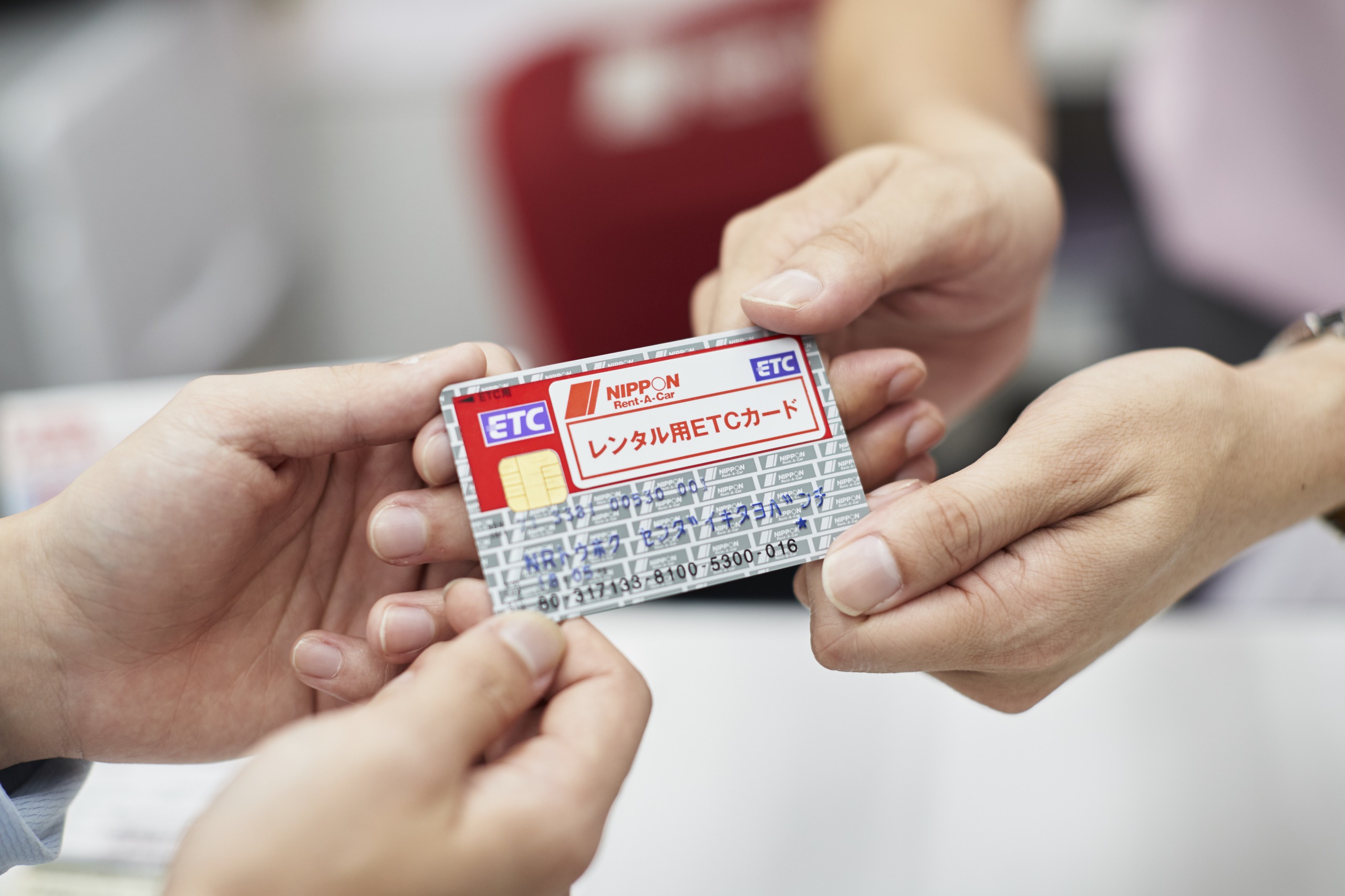 Once your car is ready, insert the ETC card and you're good to go!
Leaving Sendai, we set out on our way to Tsuruoka in Yamagata Prefecture.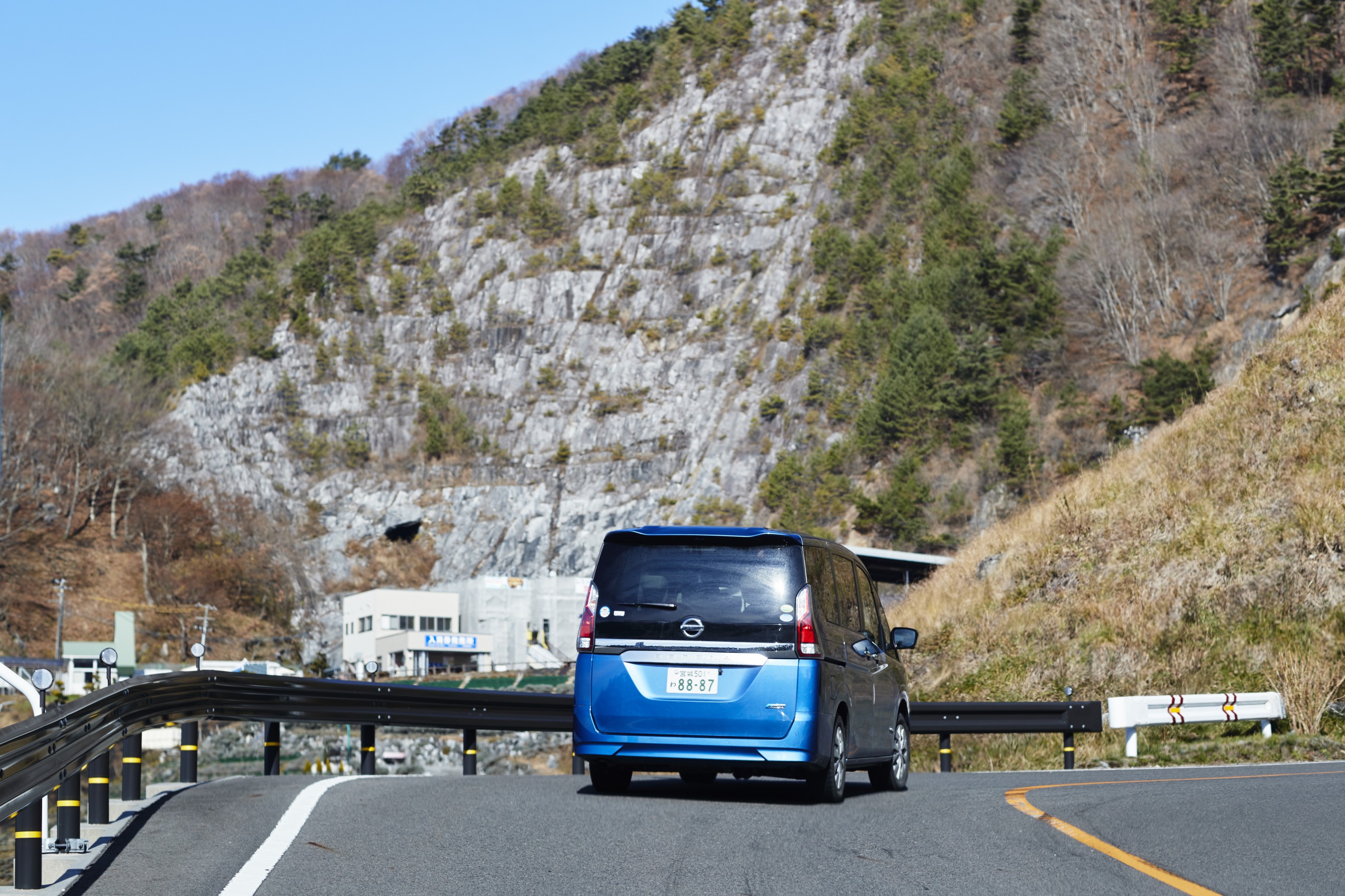 Passing smoothly through the ETC lane of the toll gates, we said goodbye to Sendai! Now to just follow the signs and we're on our way.
Japan's roads are all left-hand drive and so it might feel a little strange at first for those used to right-hand drive, but it doesn't take long to get used to!

CHECK-POINT
Be sure to double-check the ETC card is inserted correctly before passing through the toll-gate!
At the gates, take the lane marked with the purple ETC sign (see above). Slow down and wait for the boom-gate to rise before checking your direction and moving through.
Keep in mind that the right hand lane is used for overtaking on two-lane expressways.
Check this page for more information about how to use the ETC system!
One of the best things about driving on Japan's expressways is that if you're feeling a little tired, you can make use of the fantastic PA (Parking Areas) and/or SA (Service Areas) dotted along the expressways at reasonably regular intervals.
This time, we stopped early in the trip at Sugo Parking Area to fuel-up on a tasty breakfast of freshly baked bread. We each chose our favourite from the tasty options and took a seat at the eat-in corner to stuff our faces in comfort. Let's eat!!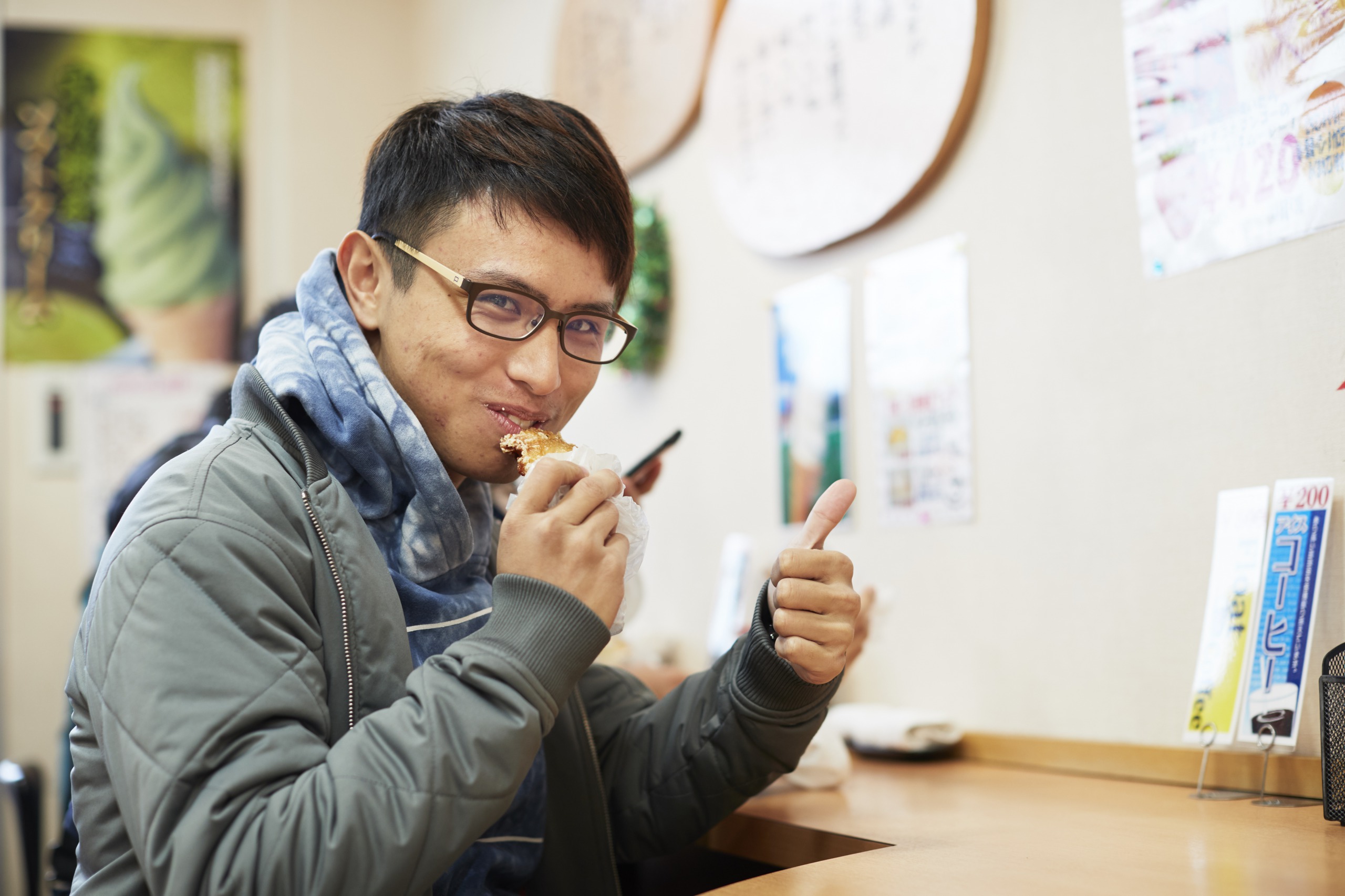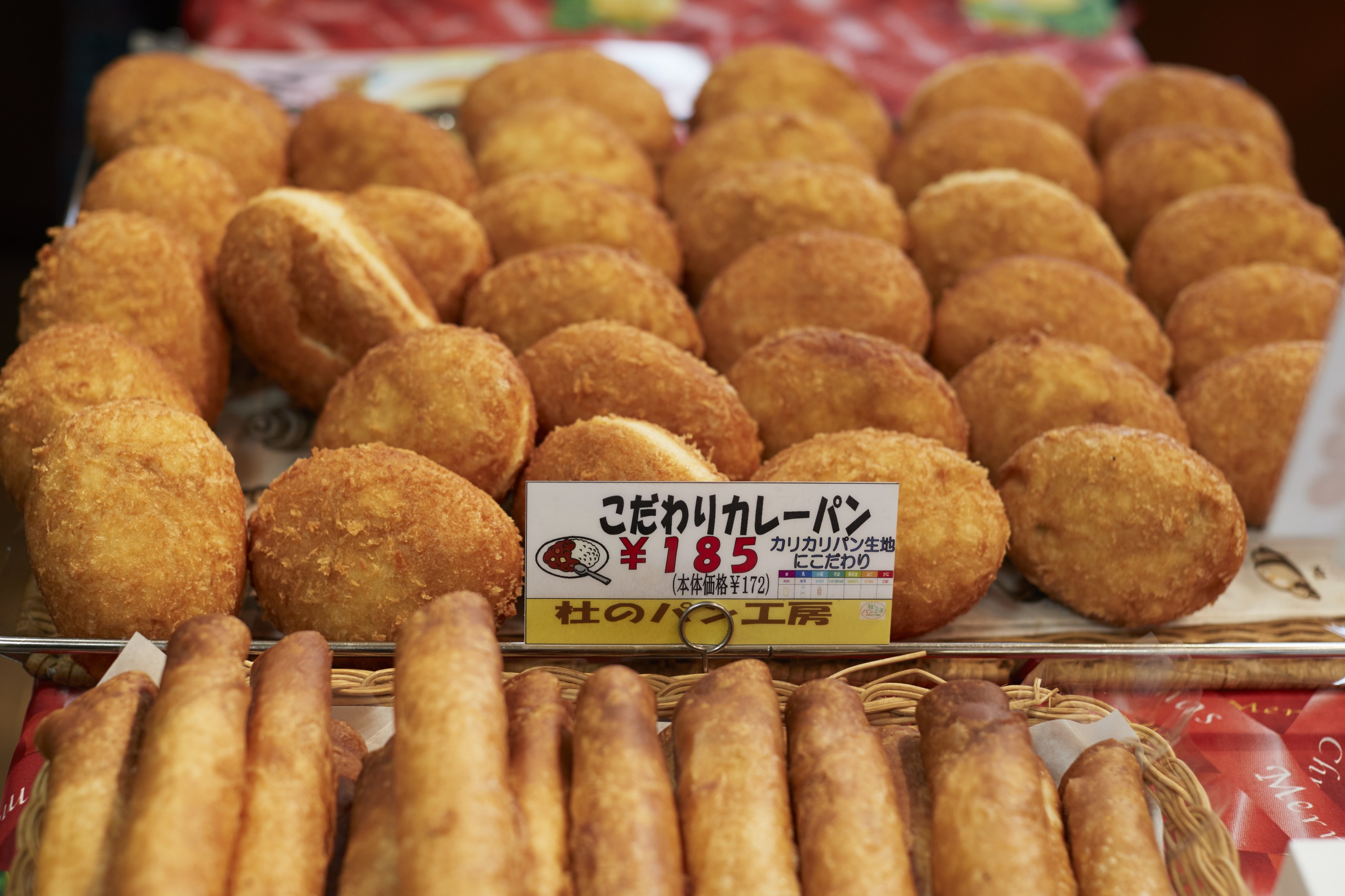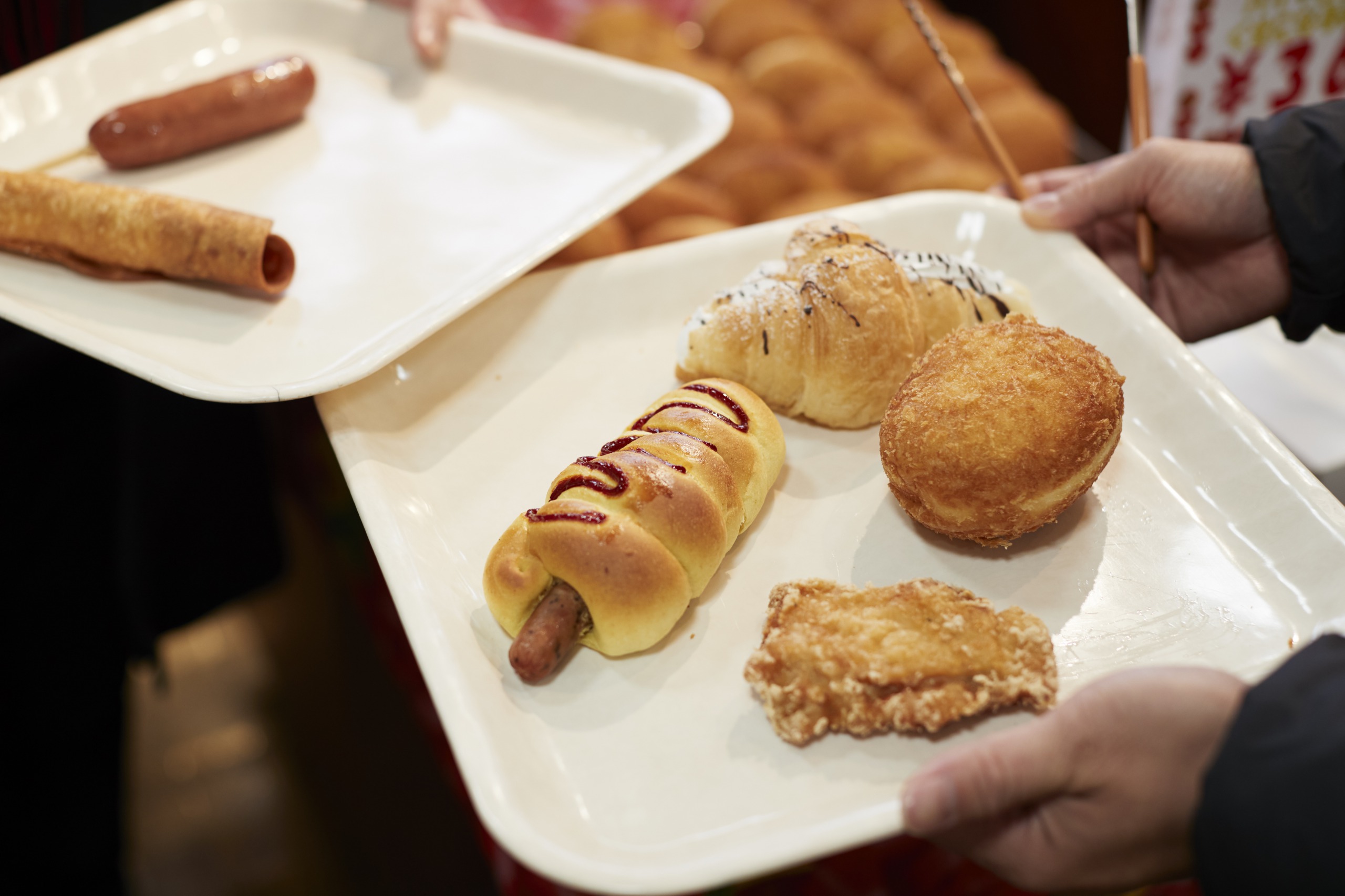 'Mori-no-pan Kobo'
(Bakery inside Sugo Service Area)
Selling everything from freshly baked bread, pastries to fried food and veggies!
Price: Specialty Curry-bread 185 yen
Open hours: 7:00~19:00
Holidays: none
Phone: 0224-83-2918
Homepage (Japanese): http://www.driveplaza.com/
TSURUOKA: Climbing Haguro-san with a Yamabushi
Our first stop was Haguro-san (Mt. Haguro), one of the holy mountains of Dewasanzan, a sacred land of mountain worship. As we passed Yamagata Junction on the expressway, the snow started to fall – Tsuruoka transformed into a frozen snowscape. Some of us were just a little excited, seeing snow for the first time!!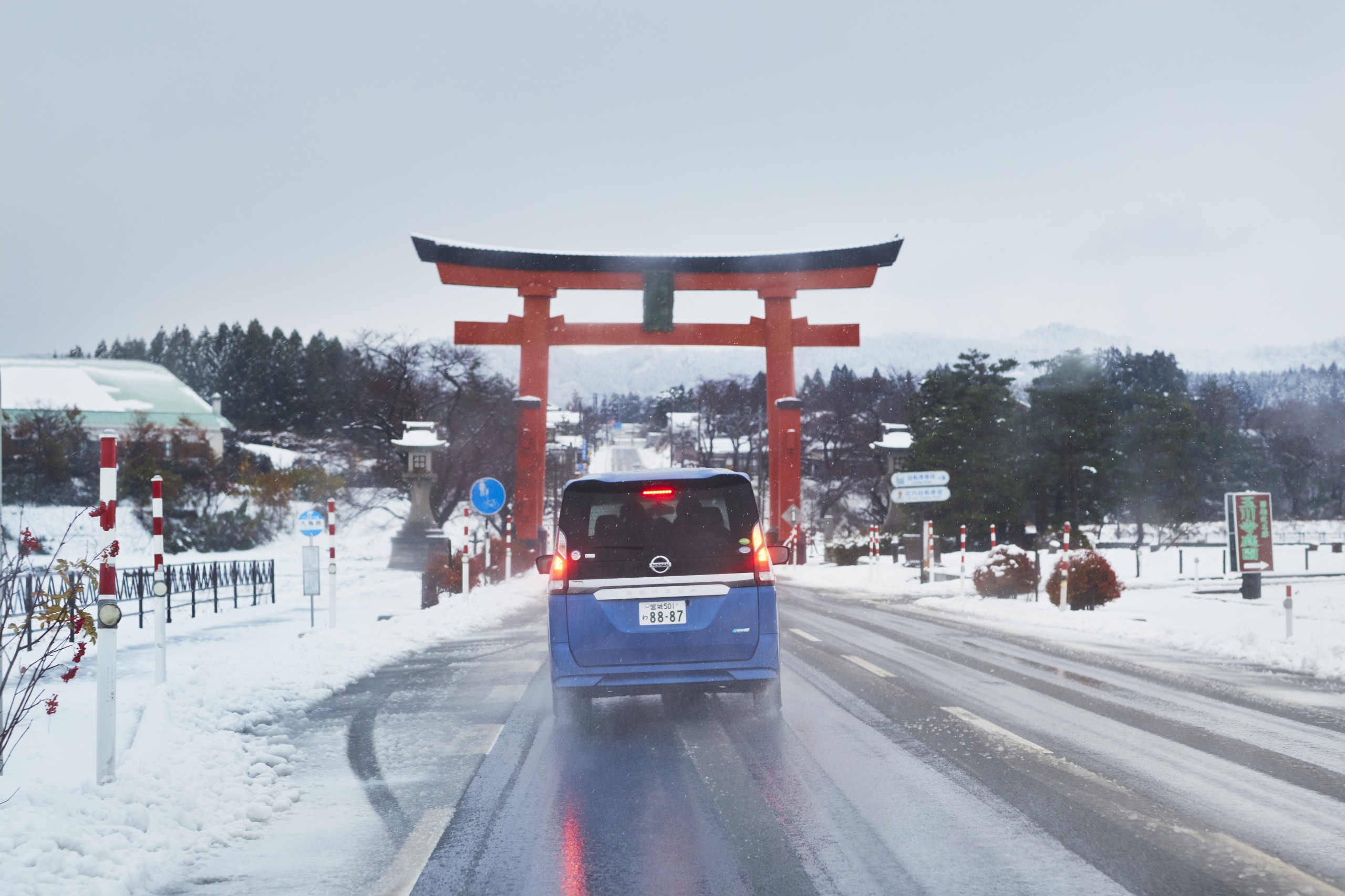 Parking our car at the 'Ideha Cultural Museum', the tourist centre of the Holy Mountains of Dewa, we signed-up for our guide. As it was unexpectedly icy and wet underfoot, they kindly let us borrow some long boots for our journey, too. A haunting call from the Conch-shell of our Yamabushi guide told us it was time to start walking. Our goal was to make it to the national treasure 5-storey pagoda on a round-trip 45 minute walking course.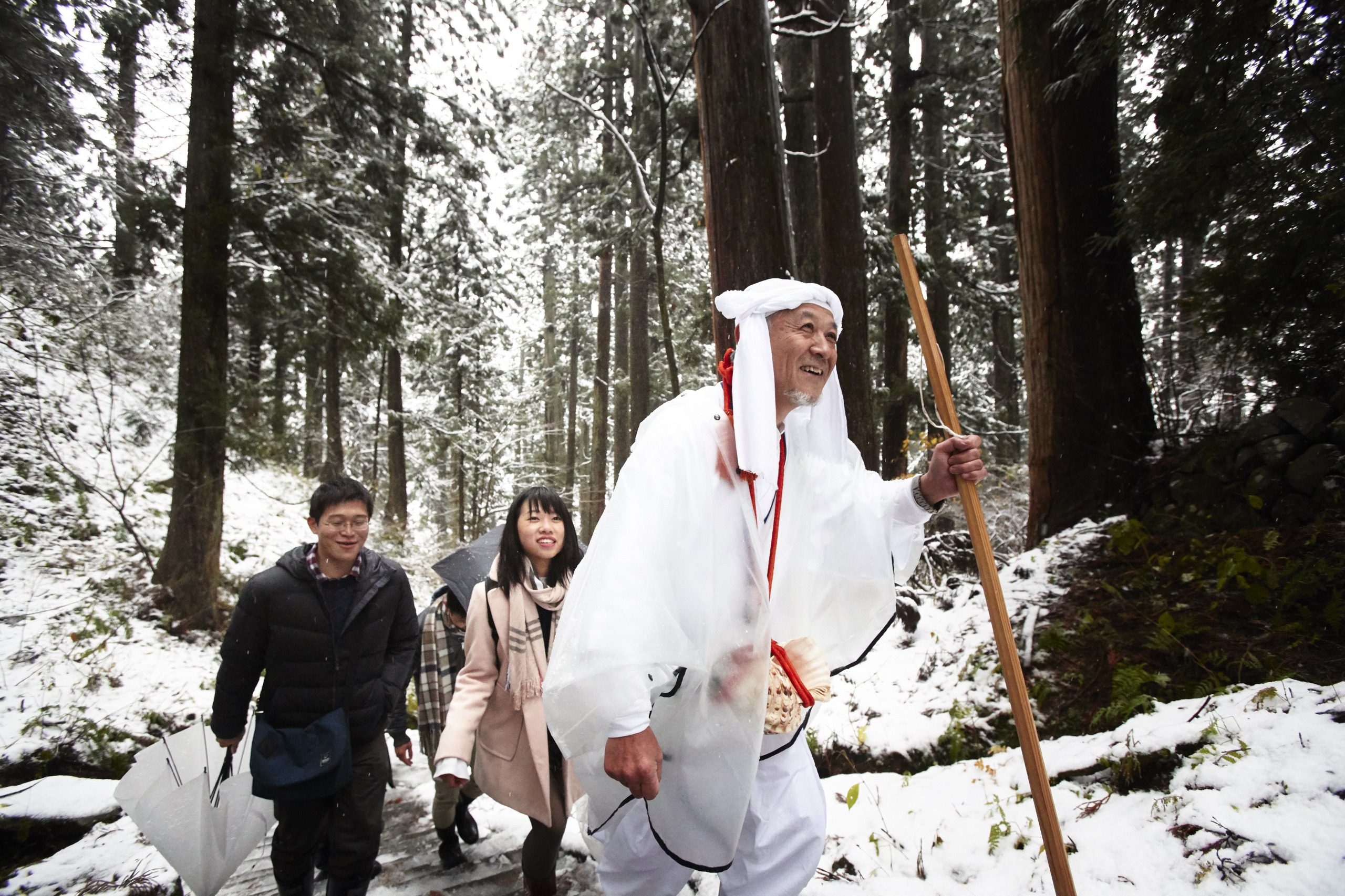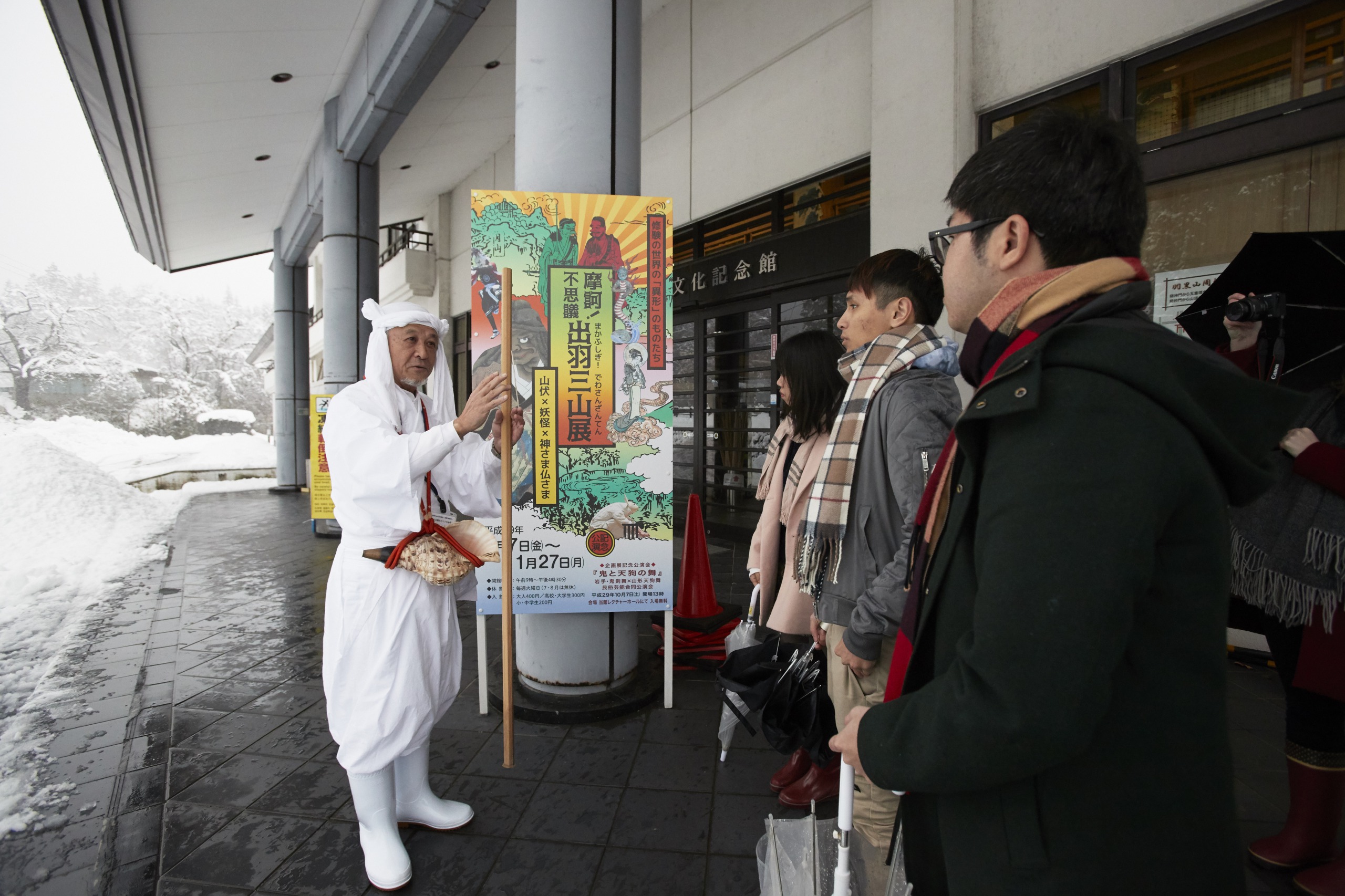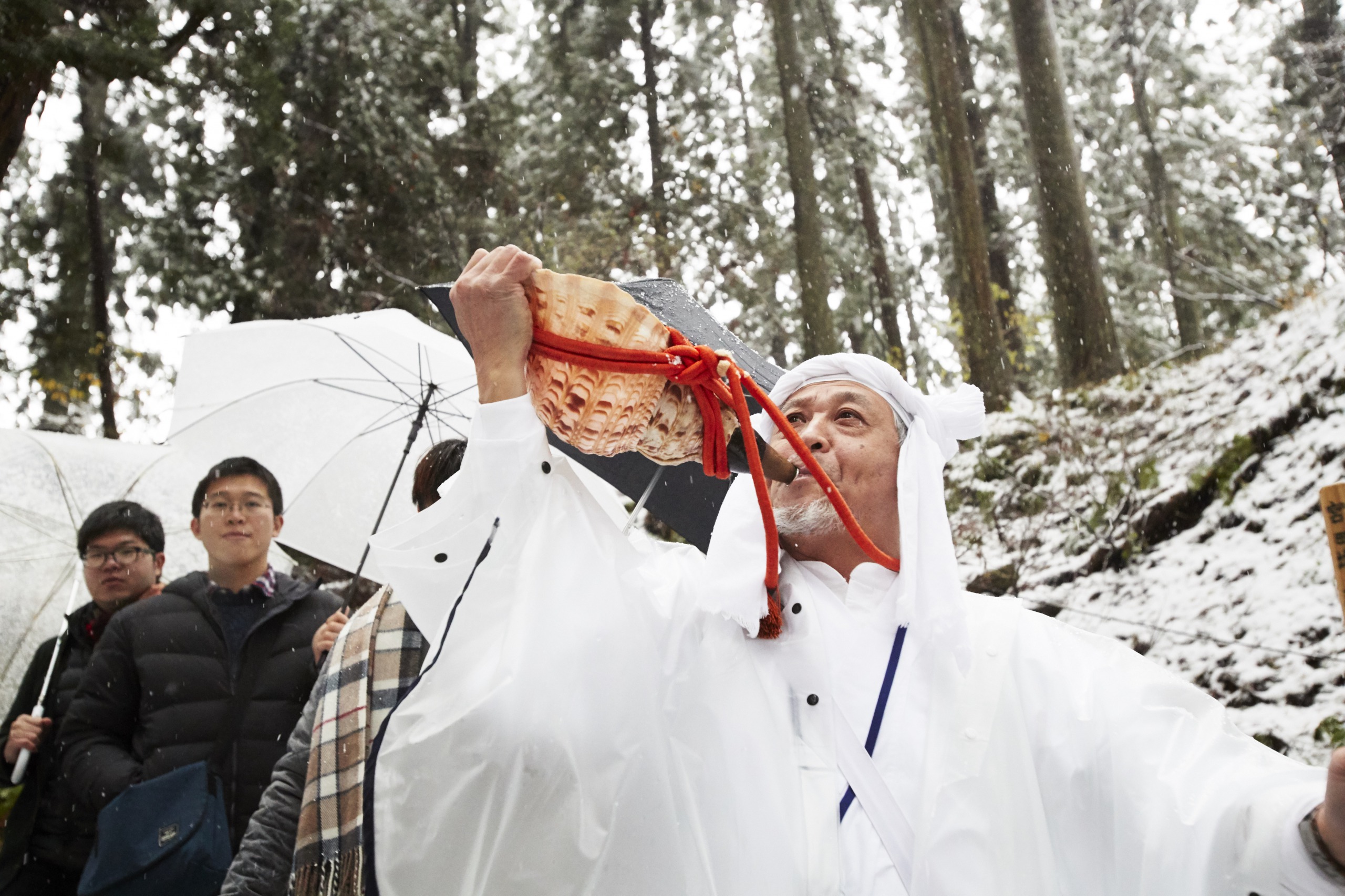 Along the way, our guide pointed out beautiful natural features like waterfalls, 1000 year old cedar trees – plenty of opportunity for some great pictures!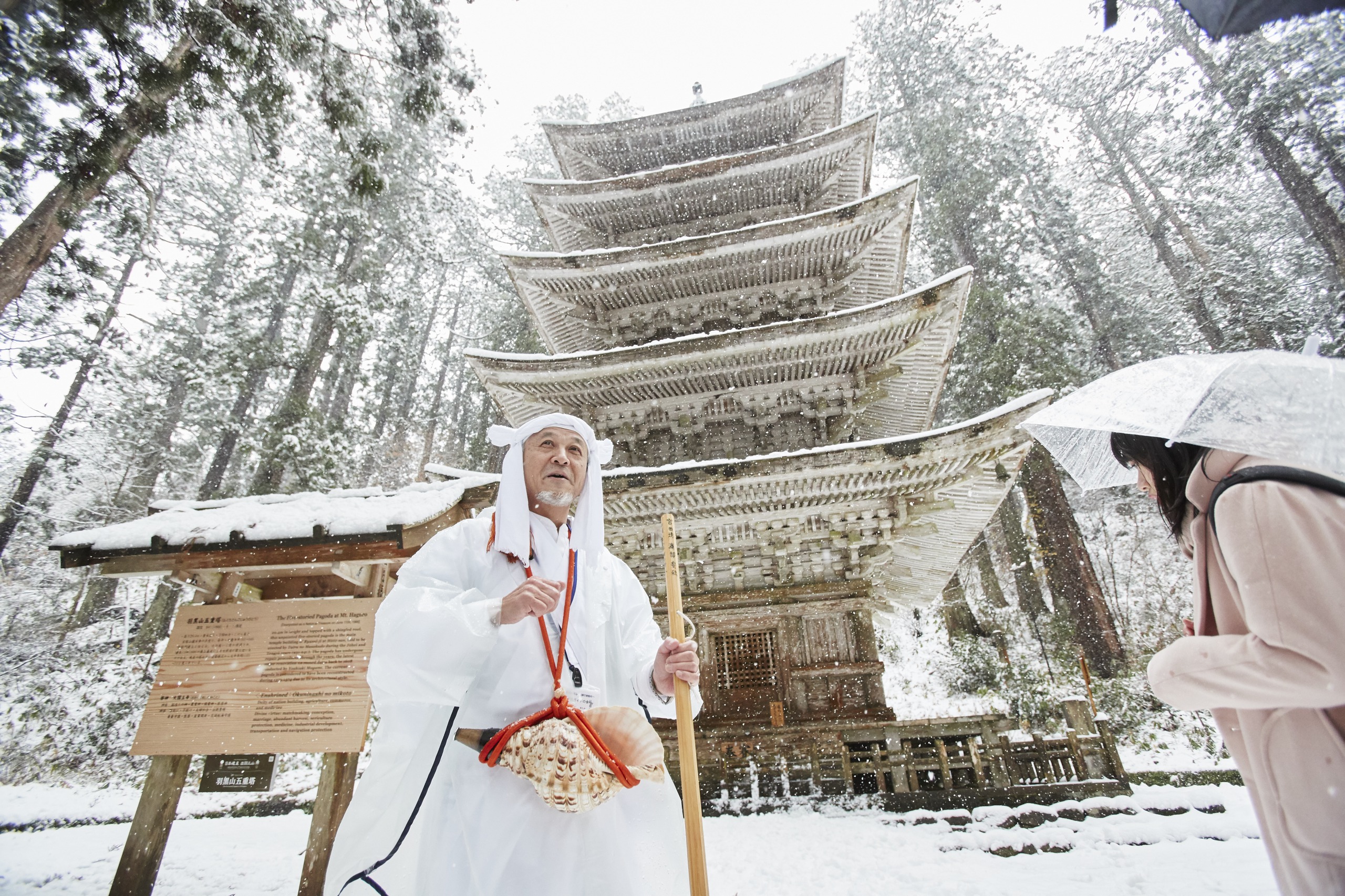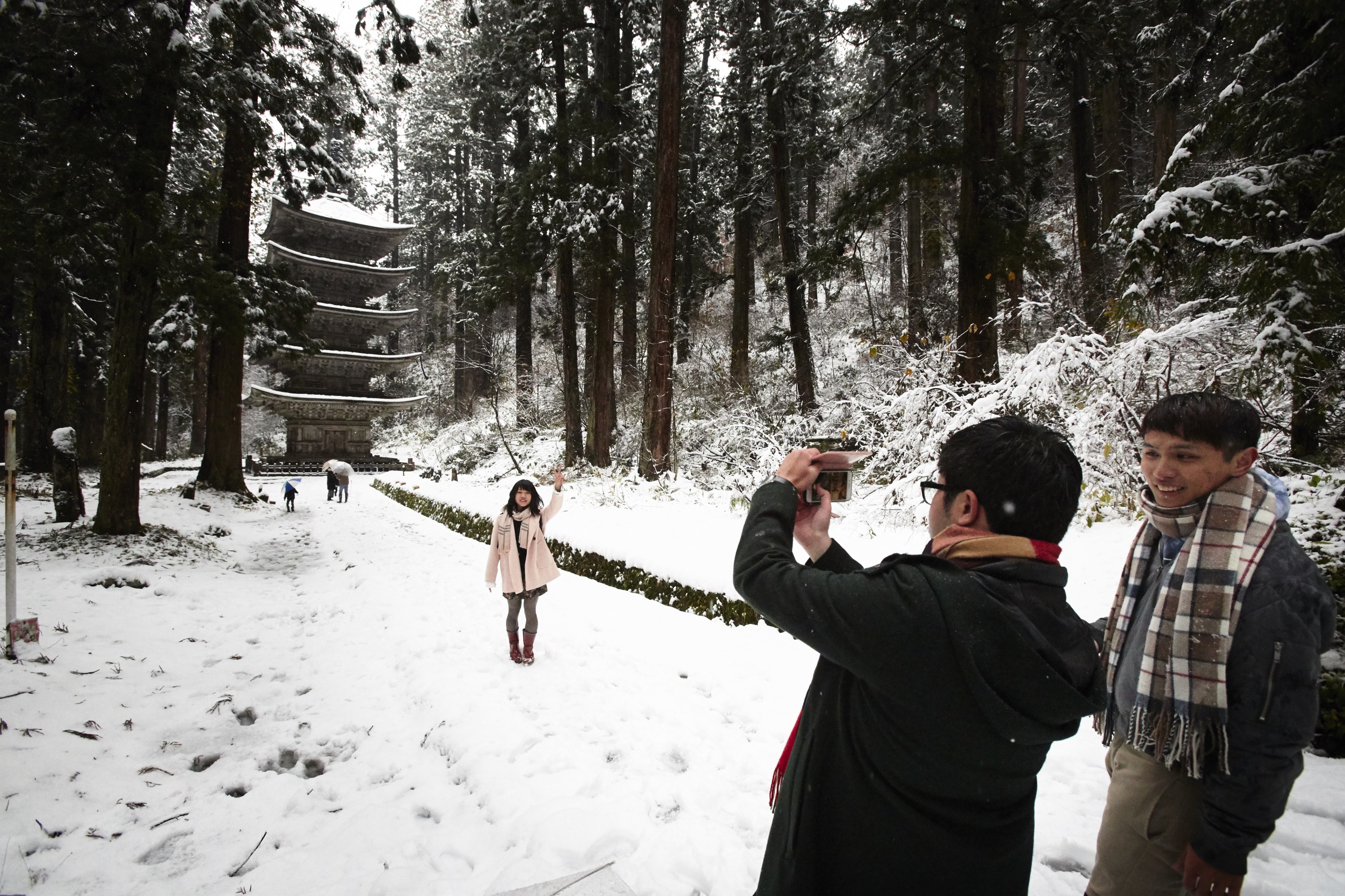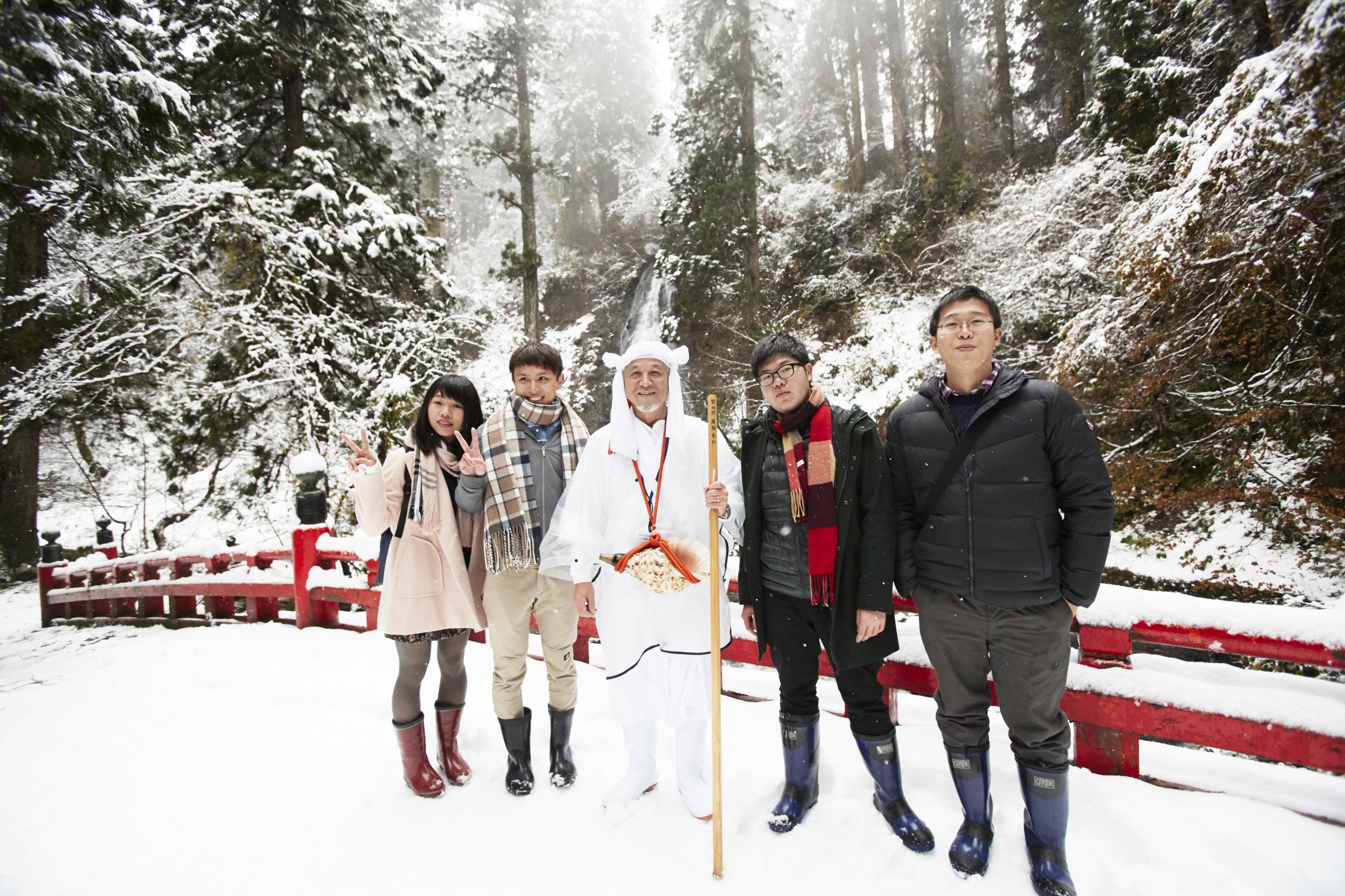 Walking up and down hundreds of stone steps, all stiffness from the long drive was soon forgotten! Right, what's in store for us next?
Ideha Cultural Museum
The tourist centre of the Dewasanzan area, introducing the culture and history of mountain worship. Yamabushi guides/ experiences can be reserved here.
Price: Ideha tourist guide 5-storey pagoda course, 2500 yen
Available times: 9:00~16:30、(December – March 9:30~16:00)
Holidays: Tuesdays, New Year period (remain open through July-August and Golden Week)
Phone: 0235-62-4727
Homepage (English): http://hagurokanko.jp/en/history/ideha-cultural-museum.html
TSURUOKA: Tea and Zazen at Gyokusen-ji Temple
Our next stop was the stunning Gyokusen-ji Temple, boasting over 760 years of history. We had heard that here you can experience 'Zazen', an ancient Japanese meditative practice of the Zen sect of Buddhism. The priest kindly took us through the steps before we got to try it for ourselves. Keeping your legs crossed and a straight posture is key (and not as easy as it looks)!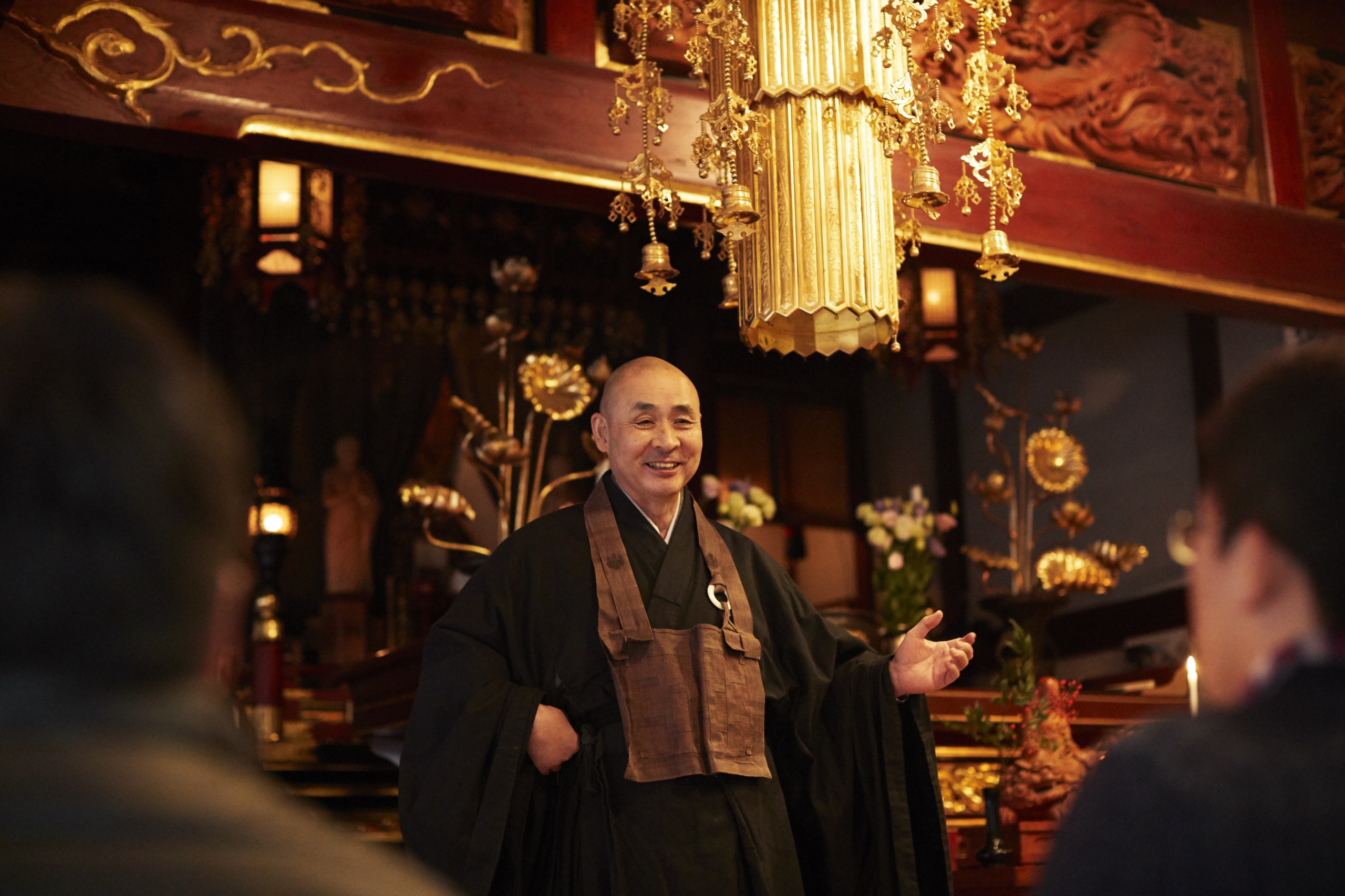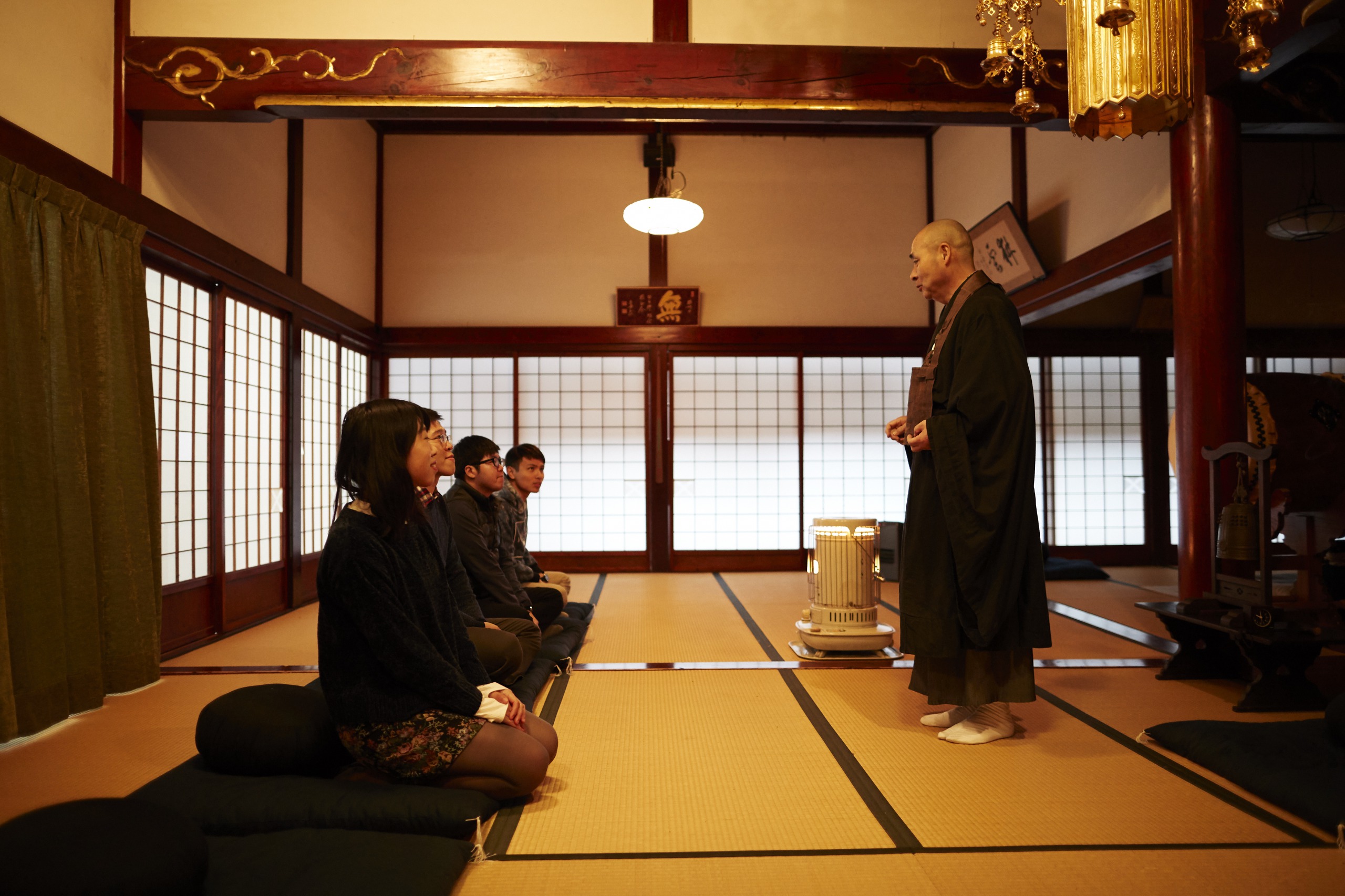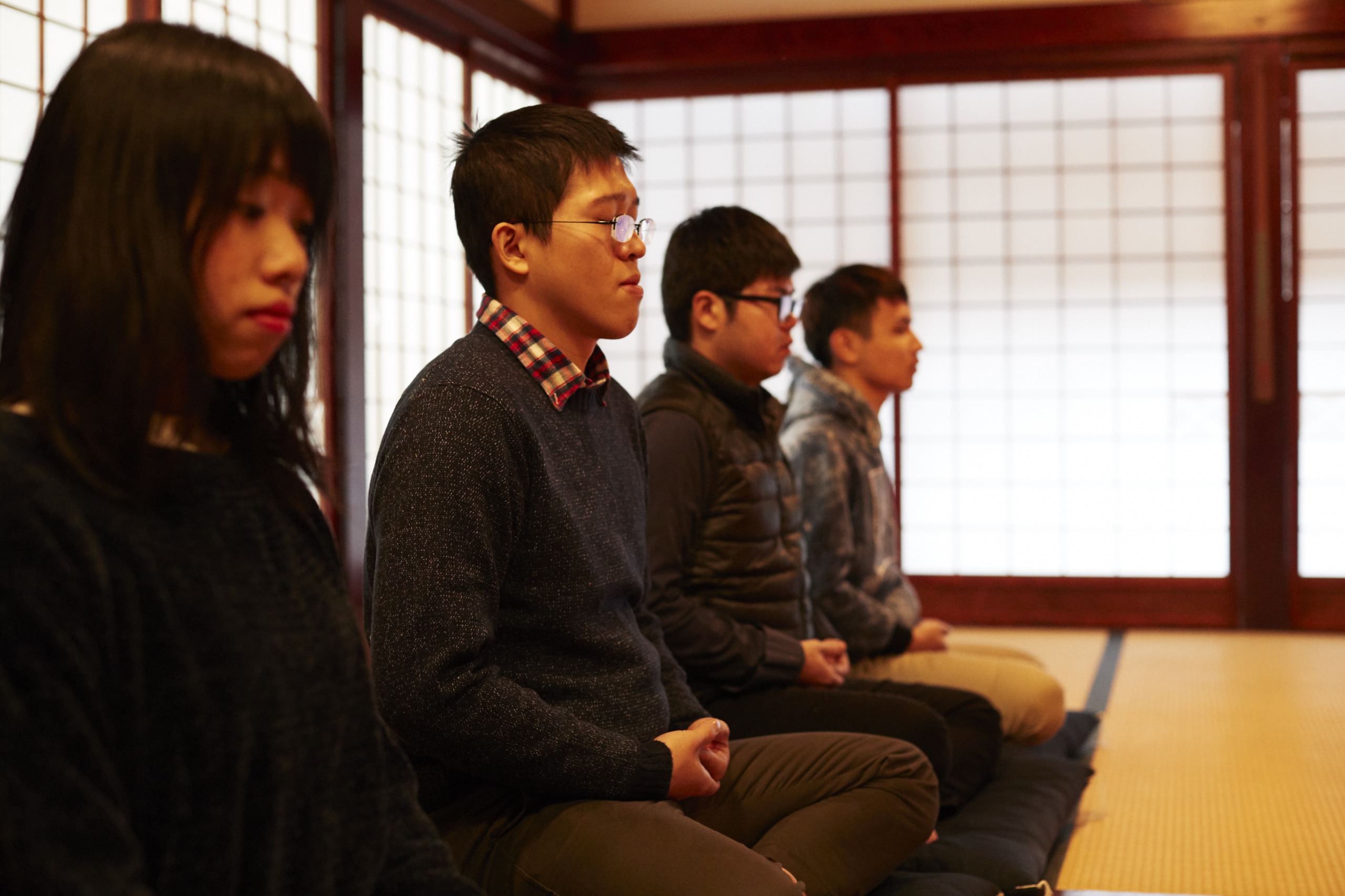 Putting our hands together in prayer, we were done. Do our faces look refreshed?
We certainly felt refreshed, especially after a warm cup of Matcha green tea, overlooking a gorgeous snow-covered Japanese garden.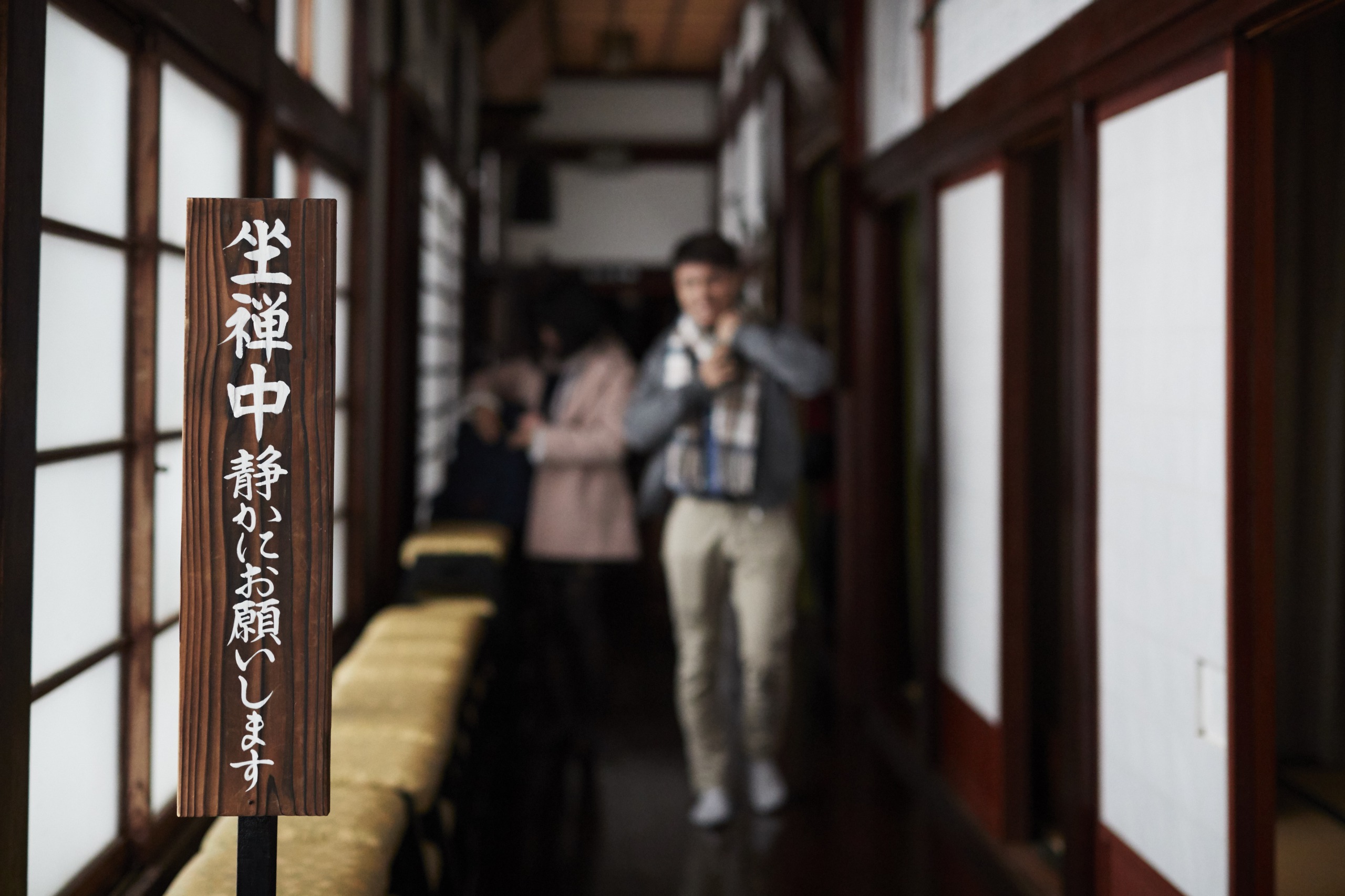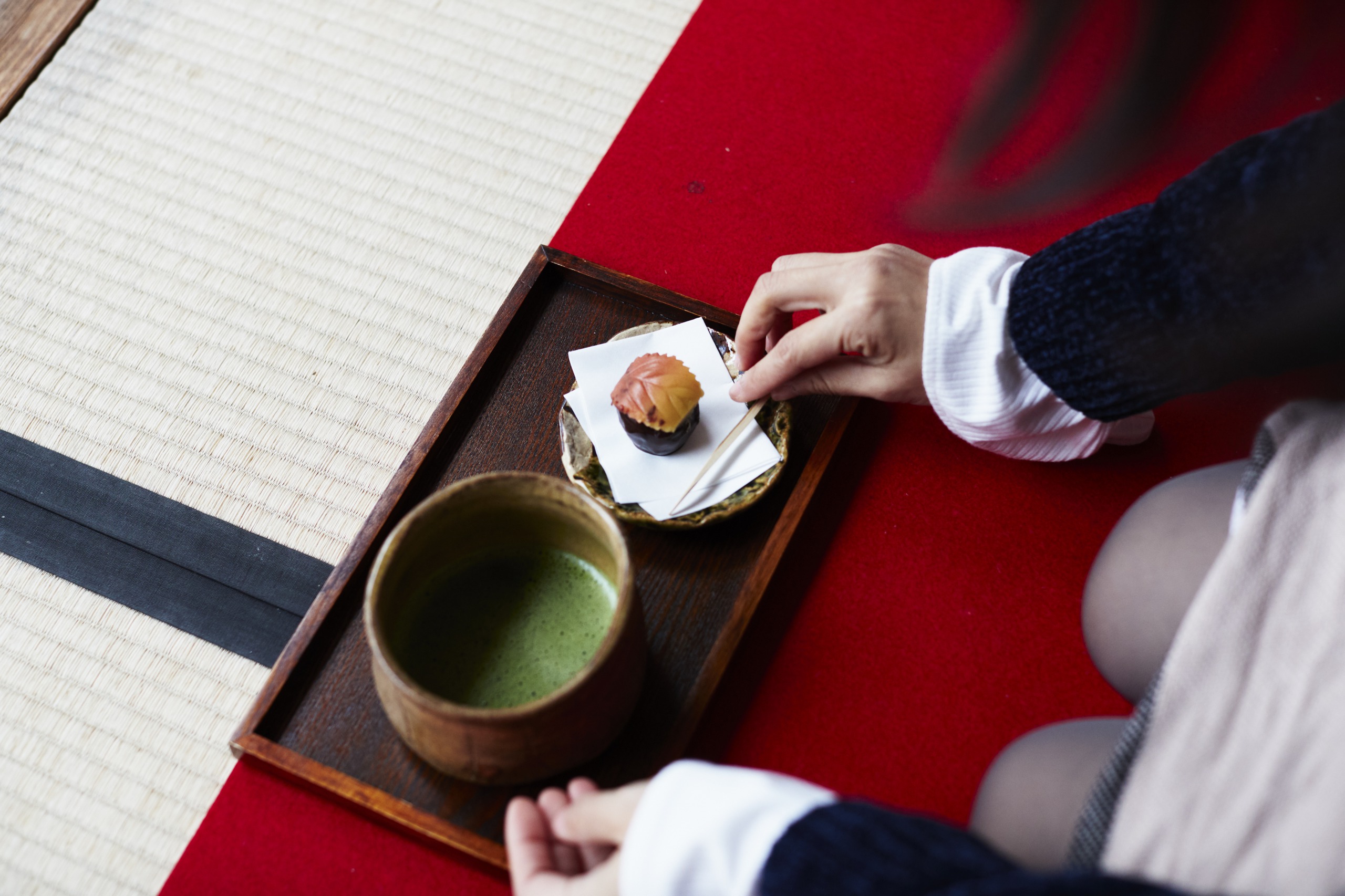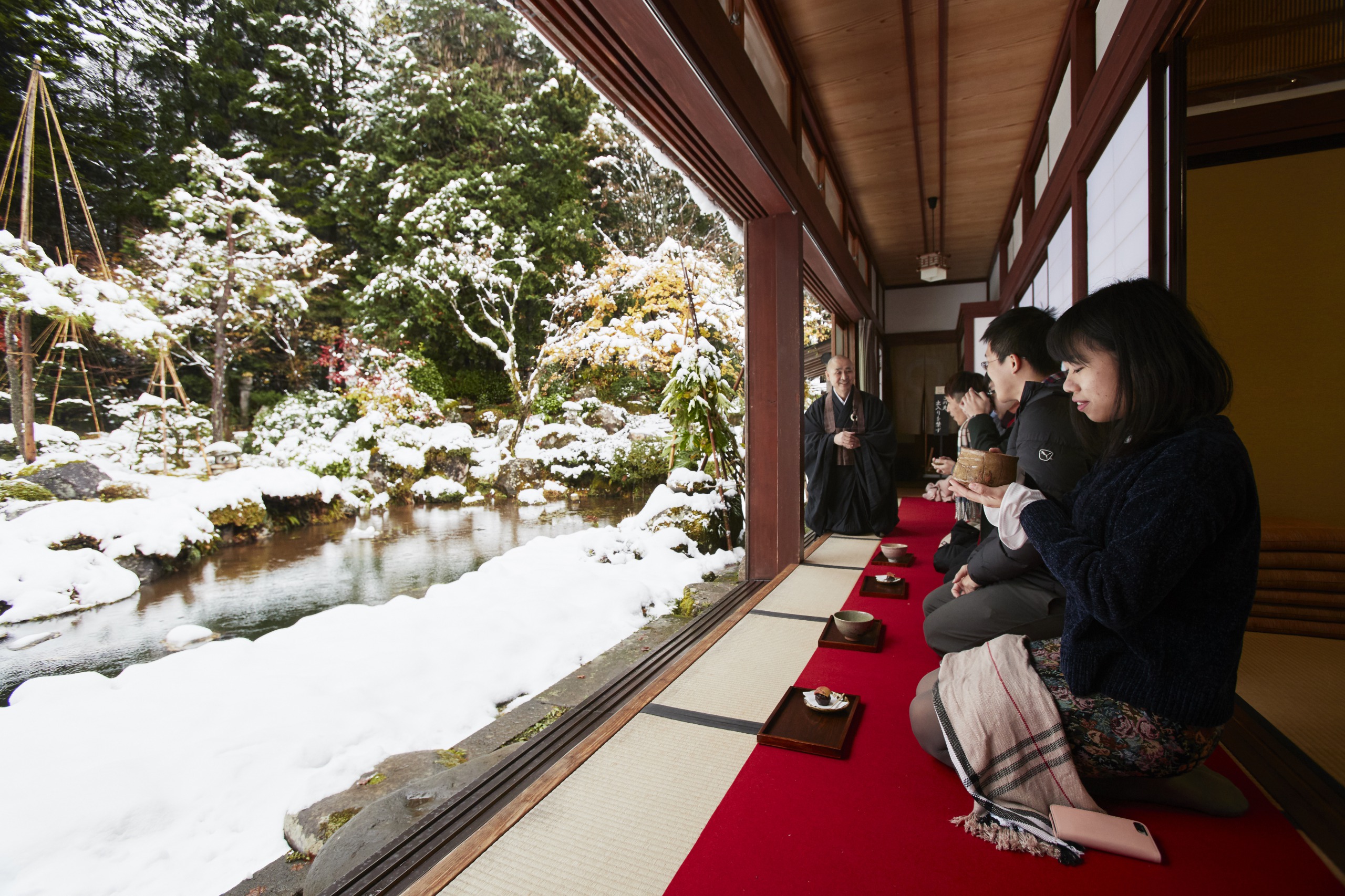 We were not surprised to hear that the garden had been nationally recognized for its beauty. The priest also showed us the correct way to accept and drink the tea.
After all these new experiences, we were more than ready for lunch!

Gyokusen-ji Temple (玉川寺)
An ancient temple built in 1251. Also known as the 'Flower Temple' due to the hundreds of flowers that bloom between Spring and Summer.
Price: Zazen Meditation 400 yen, Matcha & Japanese sweet set 500 yen (Prior reservation required for Zazen)
Hours: (April – October) 9:00-17:00, (November – March) 9:00-16:00
Holidays: none
Phone: 0235-62-2746
Homepage (Japanese): https://www.gyokusenji.or.jp
TSURUOKA: A Tasty Lunch of Rare Veggies!
Lunch was at a lovely farmhouse restaurant annexed from a large greenhouse. Not just any greenhouse, though! Here the owner is cultivating hundreds of rare native vegetables from around Japan. We received a very warm welcome (and a very detailed explanation!) from the owner and his adorable pet cats.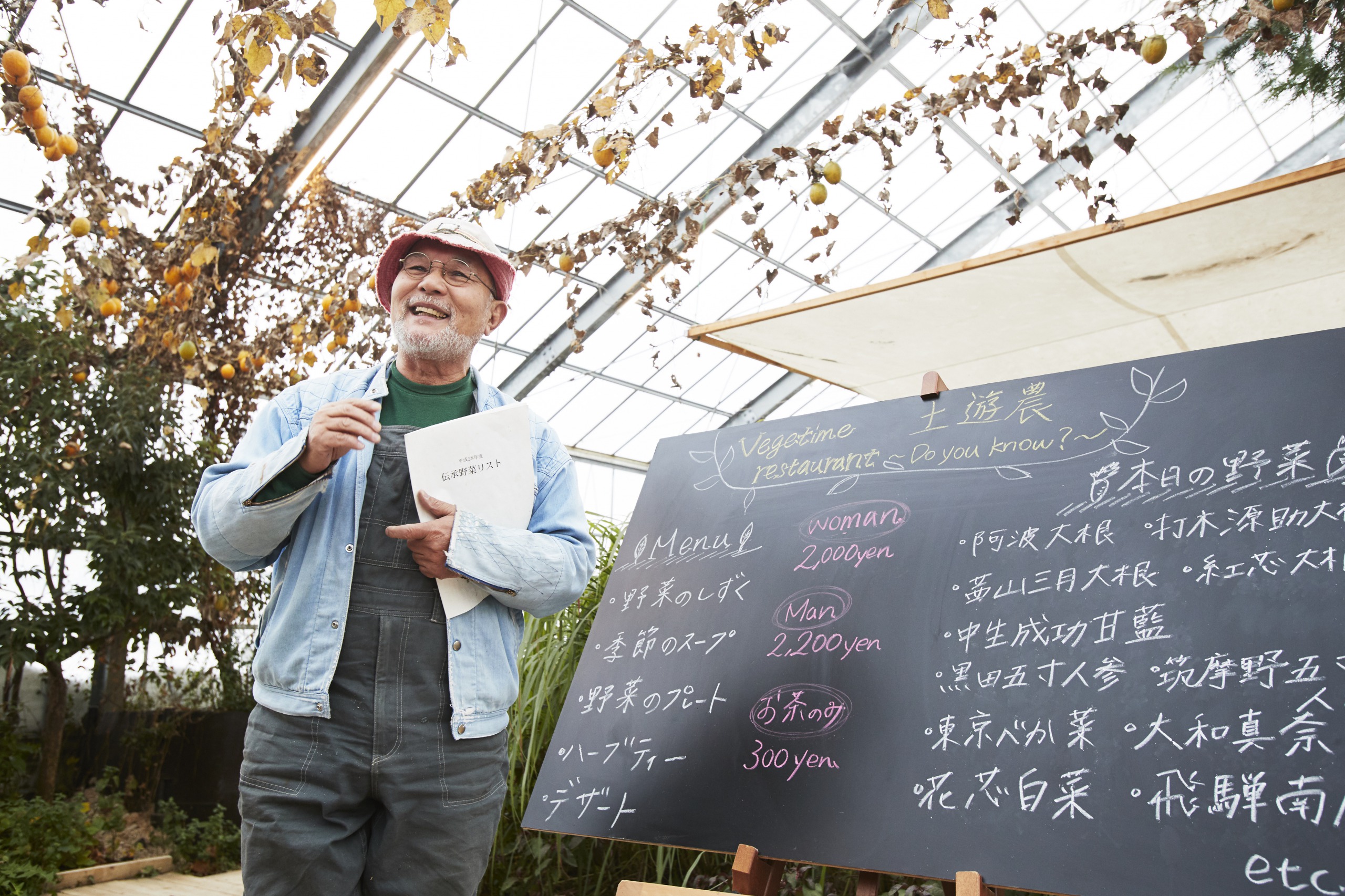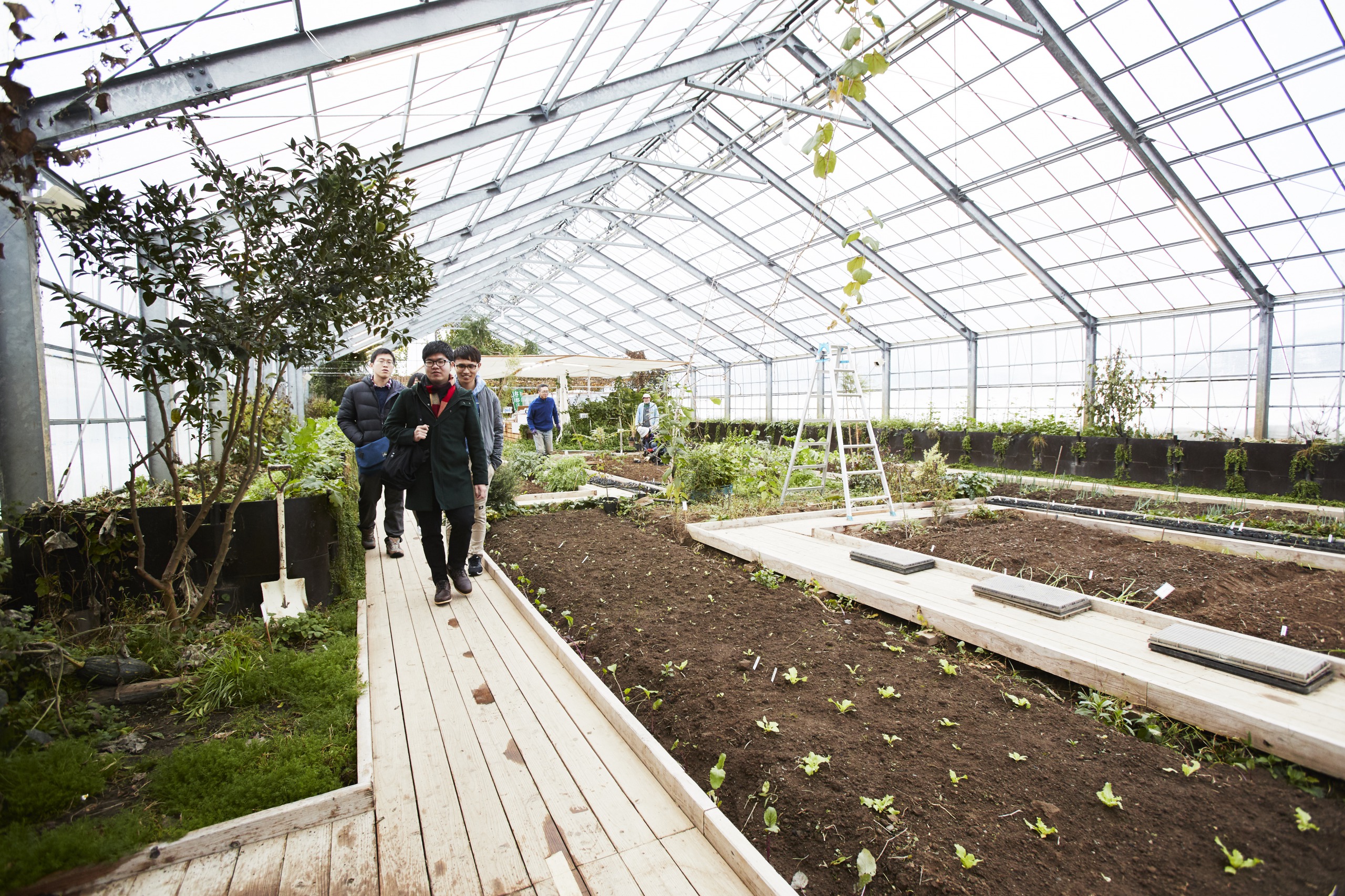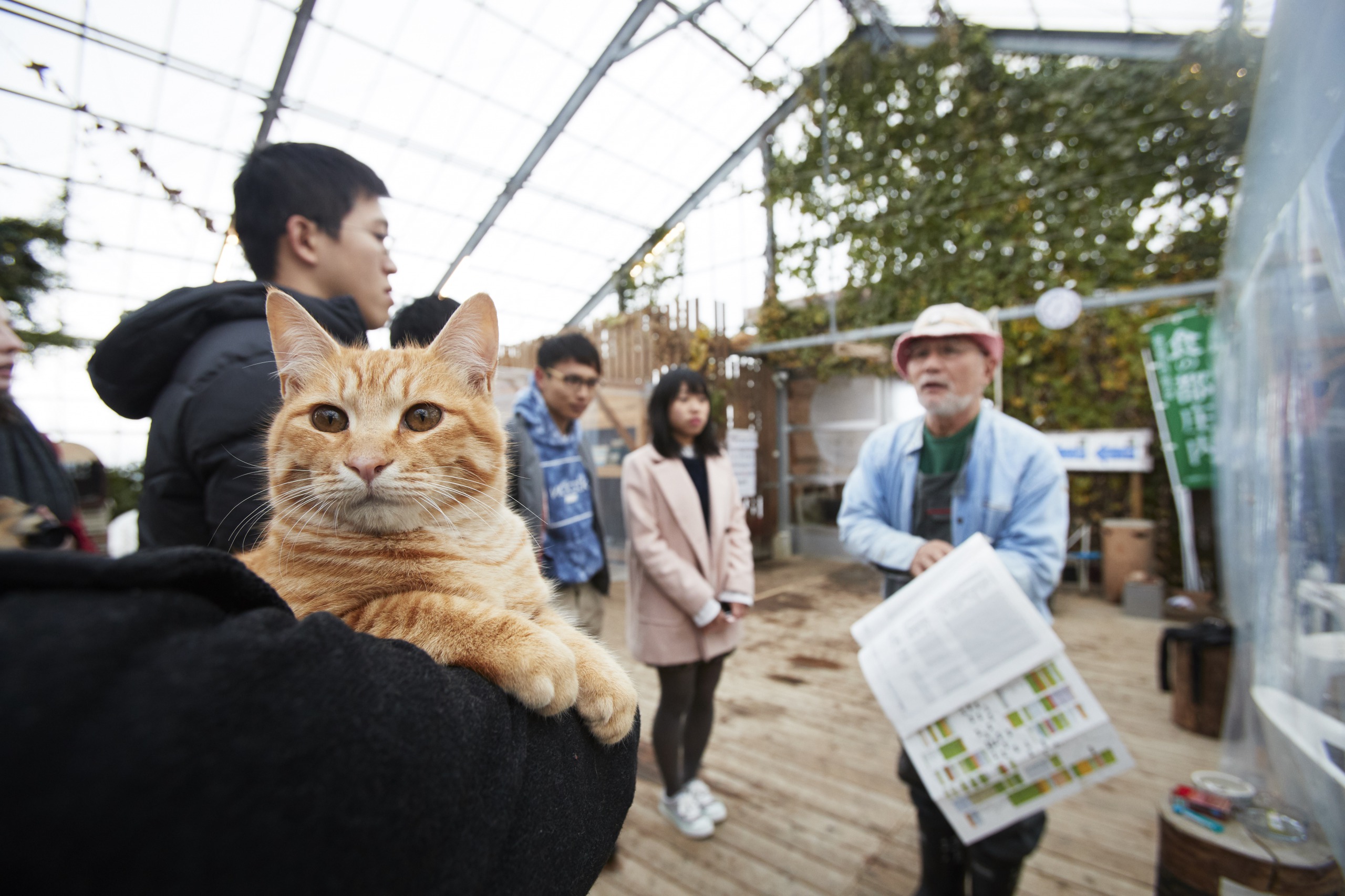 After listening to a very interesting explanation about the origin of the vegetables we were about to it, we made a bee-line for the restaurant!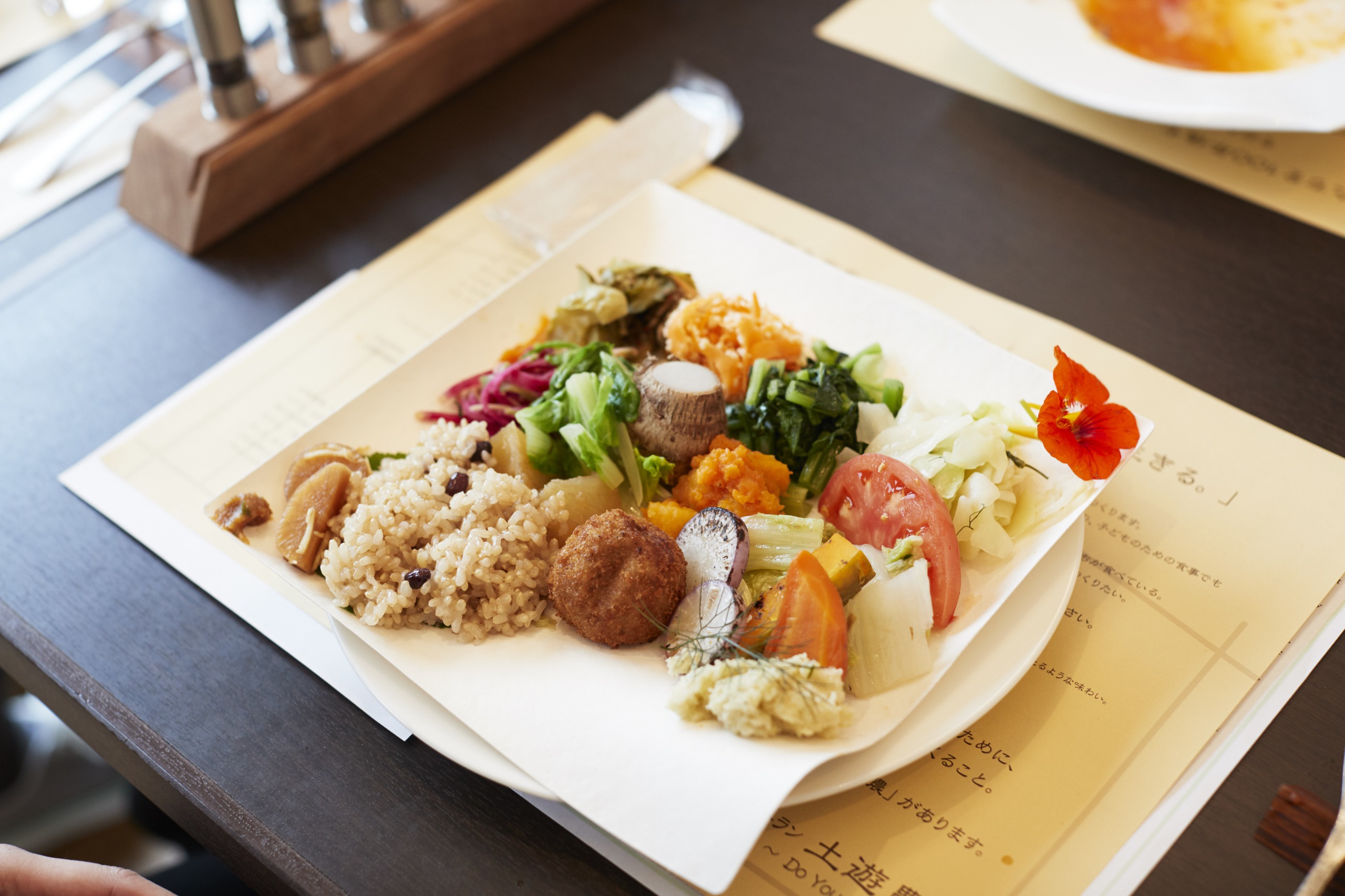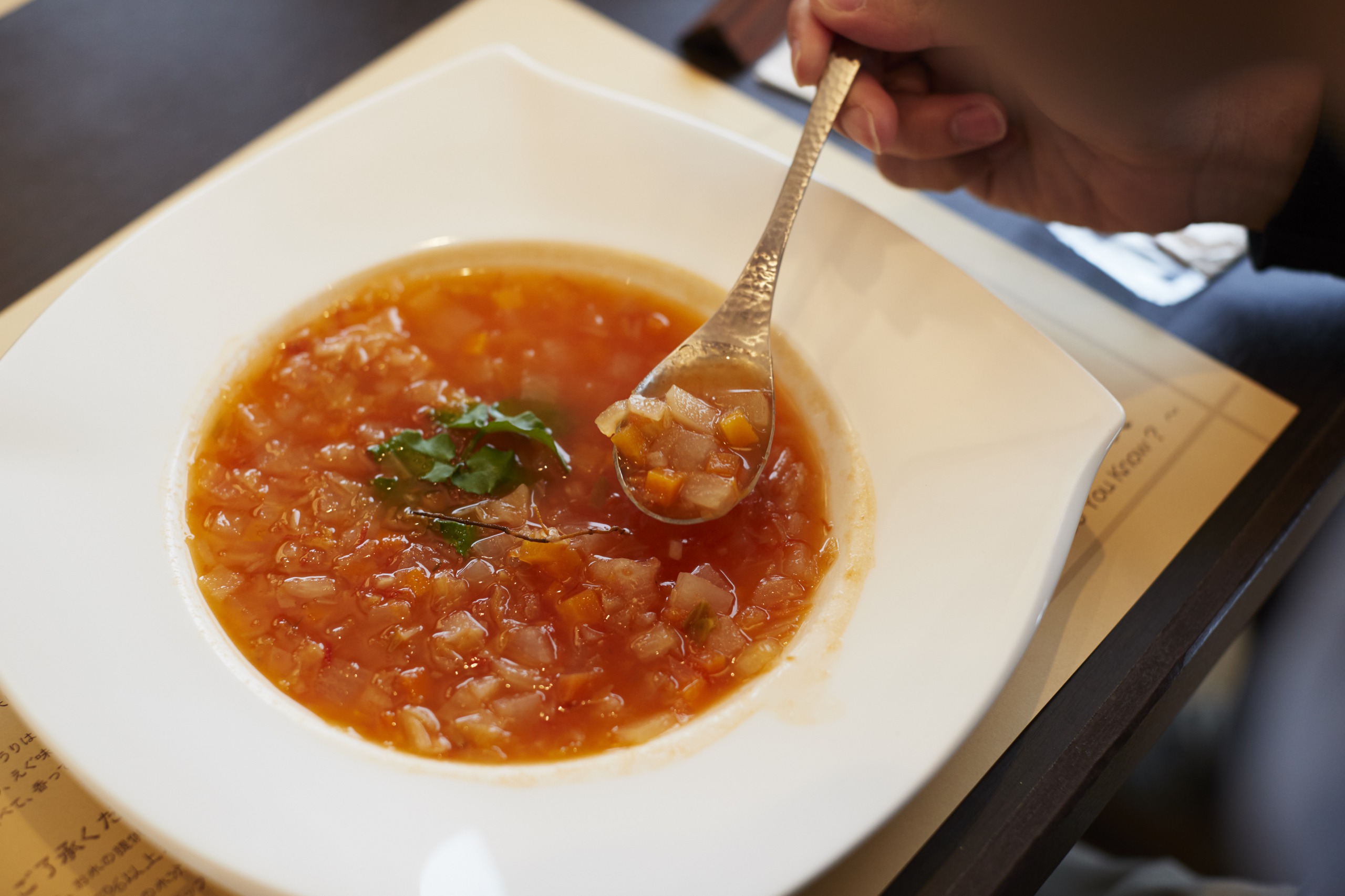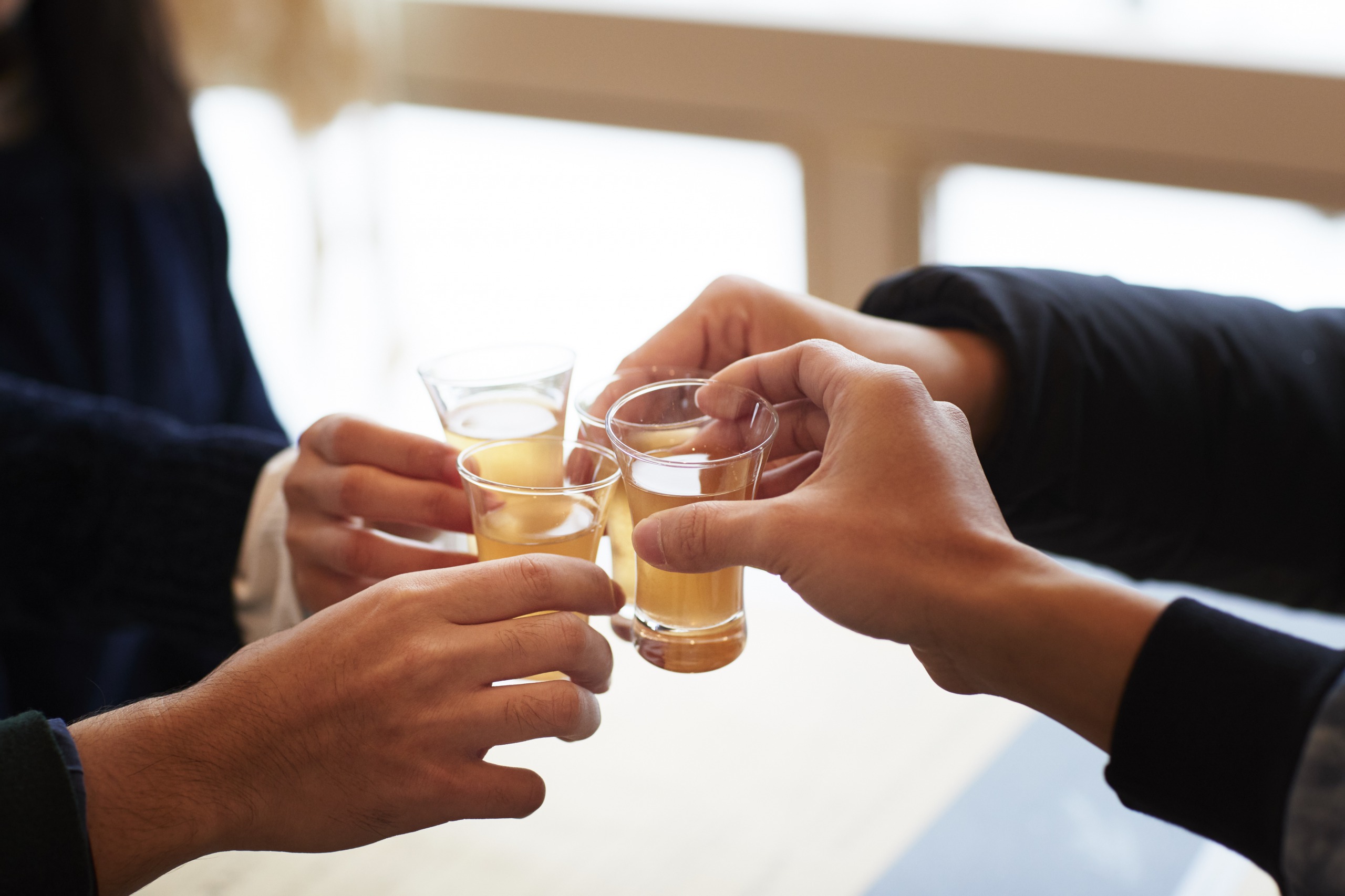 With a 'Kanpai!' of our vegetable extract juice aperitif we dug into our meal! First we warmed-up with a chunky minestrone soup before being presented with one of the most colourful meals of our lives – a plate chock-full of unique dishes made from the local vegetables.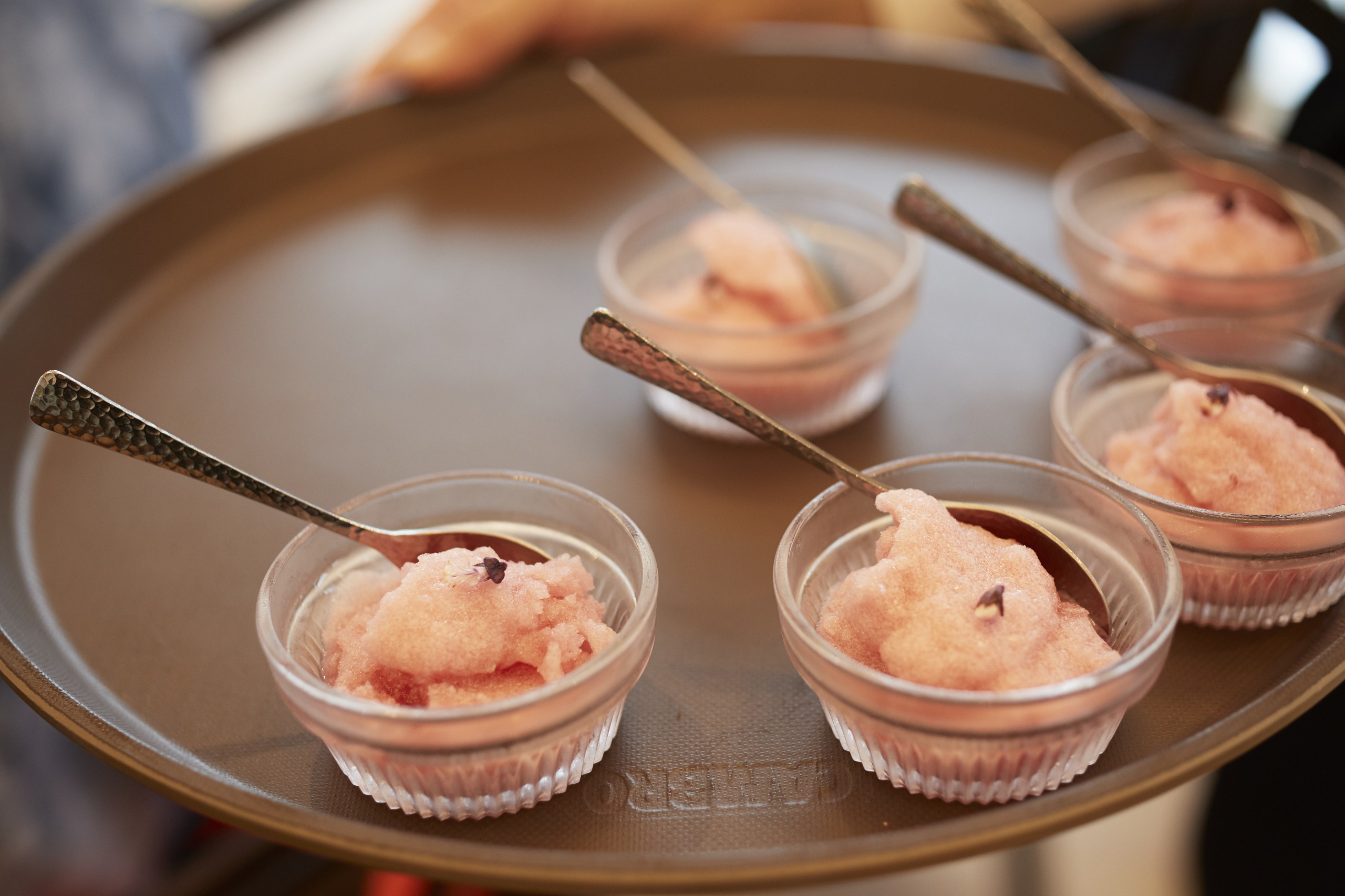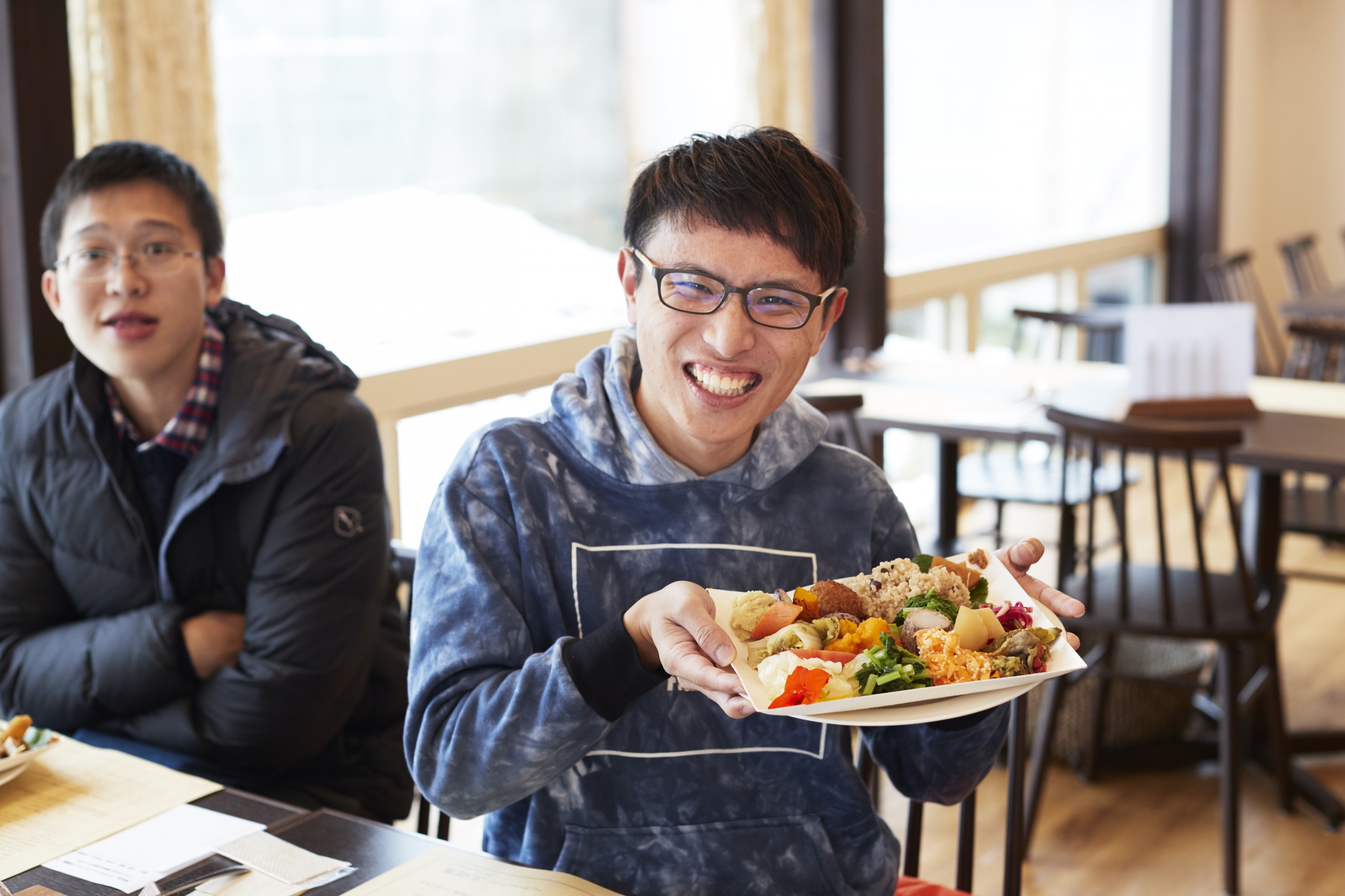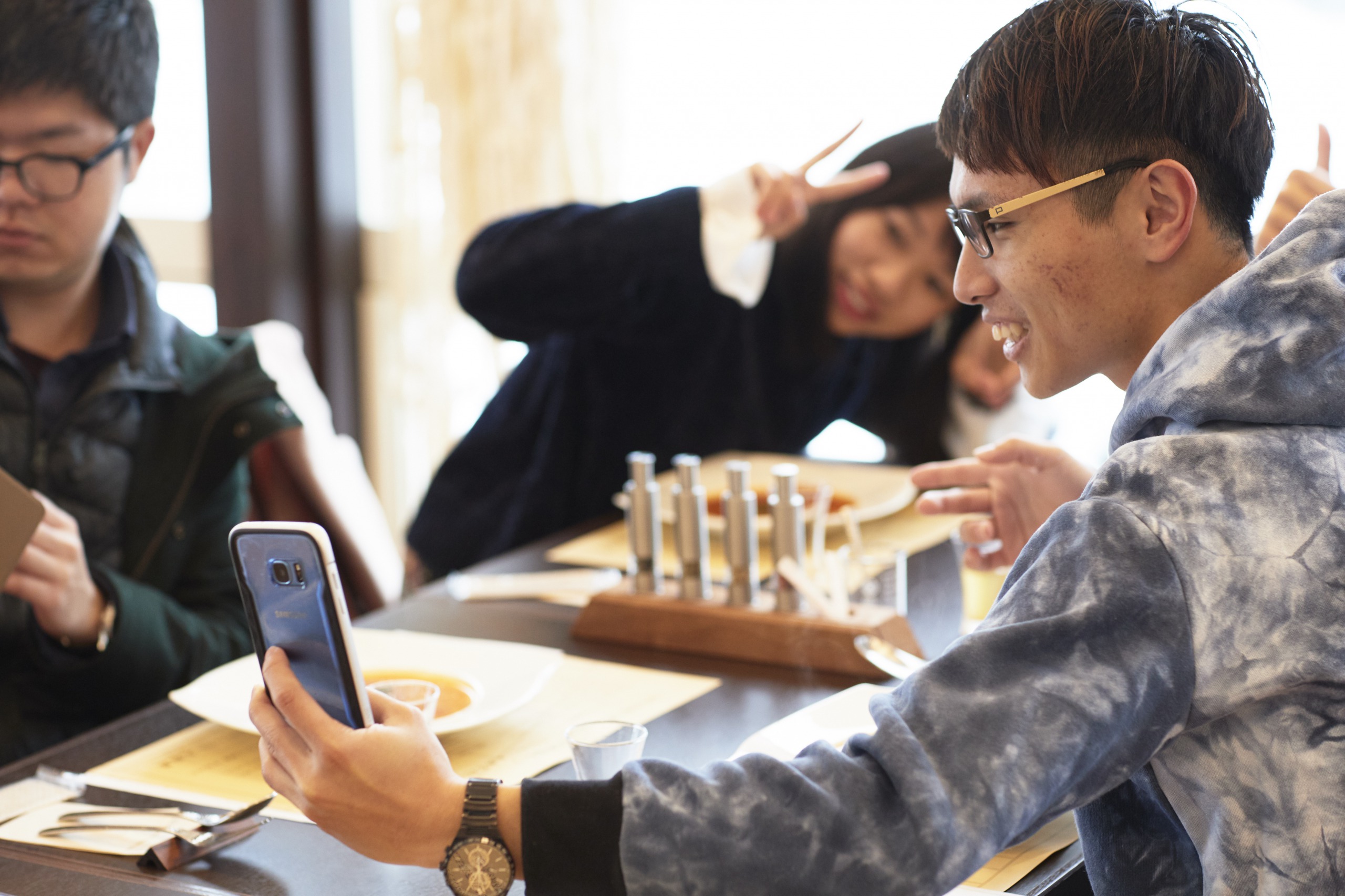 For dessert, our palates were cleansed with a refreshing 'shiso' gelato. It was a meal both satisfying for the eyes and stomach! We were fueled and ready for the next adventure.
'Veggie-time Restaurant' (sister restaurant of 'Al-checciano', Owner: Masayuki Okuda)
The restaurant was opened with the intention to not only protect the seeds of rare, native vegetables, but to pass the knowledge on the next generation. The meals are incredibly healthy, packed-to-the-brim with vegetables and absolutely zero additives.
Lunch course: Men 2200 yen, Ladies 2000 yen
Hours: 11:30~16:00
Holidays: Thursdays
Phone: 0235-33-8310
TSURUOKA: The largest jellyfish display in the world!
Jumping back in the car, we headed towards the Japan Sea to Tsuruoka's Kamo Aquarium. Recognised by Guinness World Records, this aquarium is home to over 50 different varieties of jellyfish, many from around the Shonai area. It's easy to completely lose track of time, just watching the jellies as they calmly blob about the huge tanks.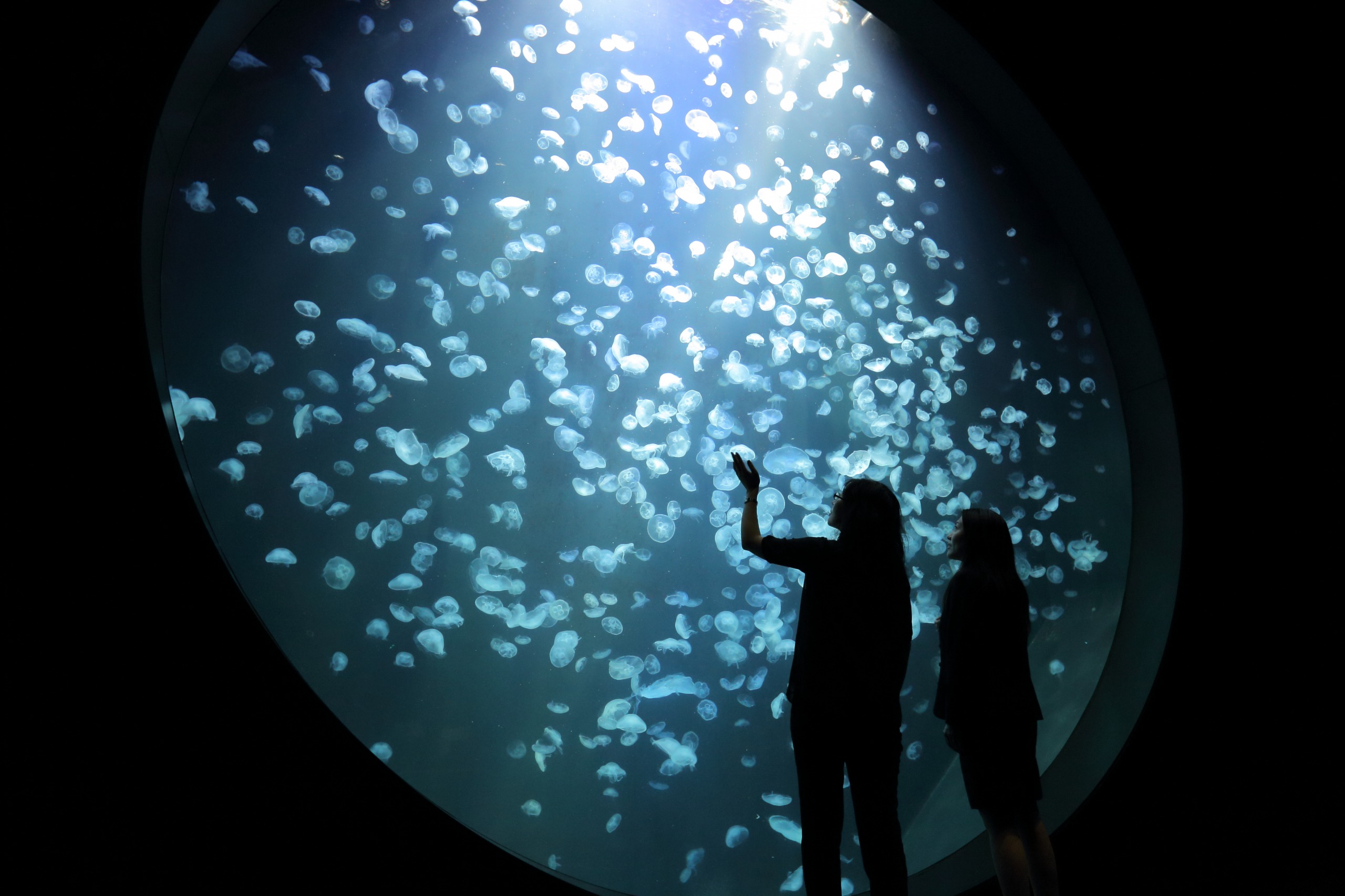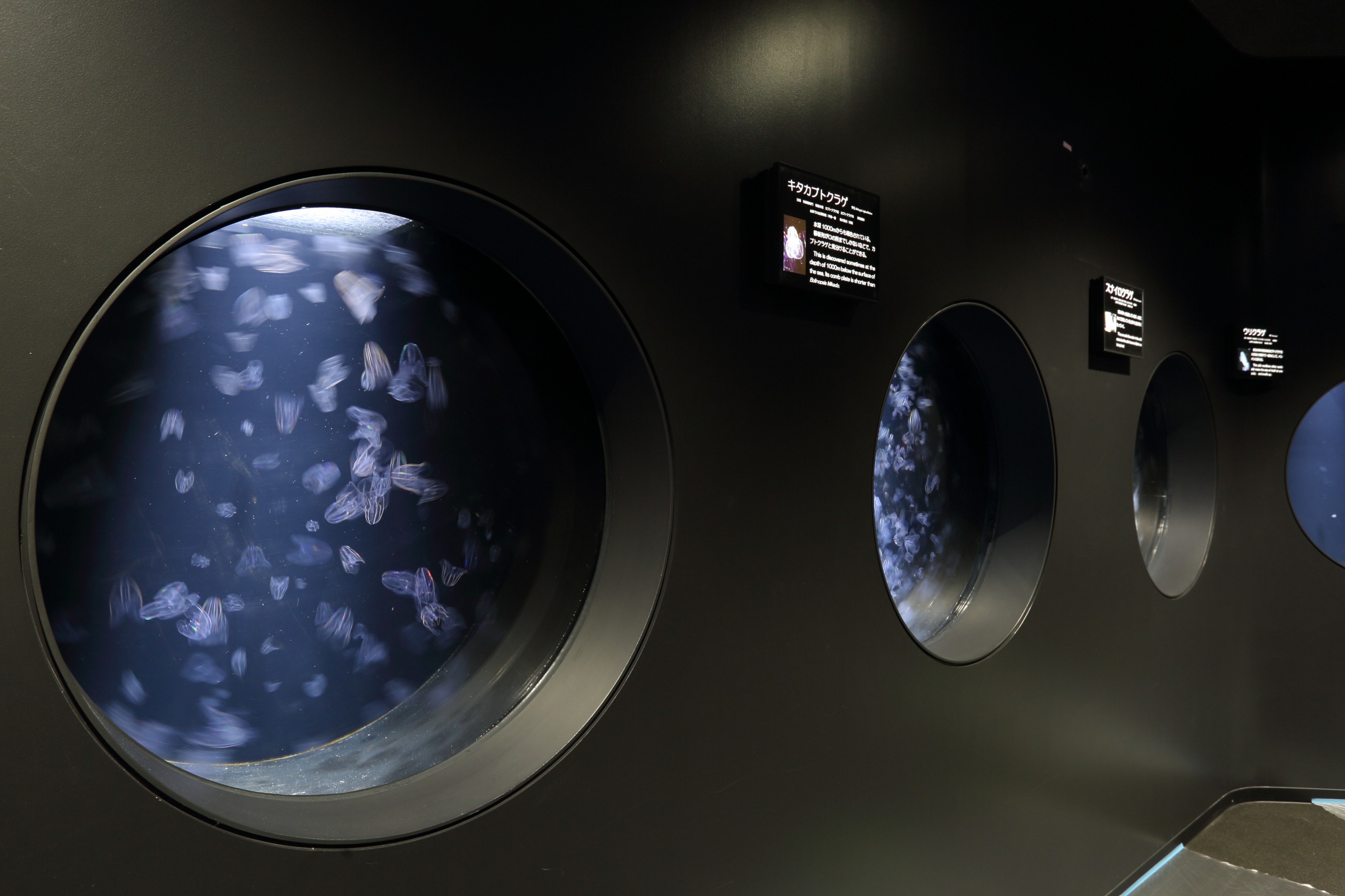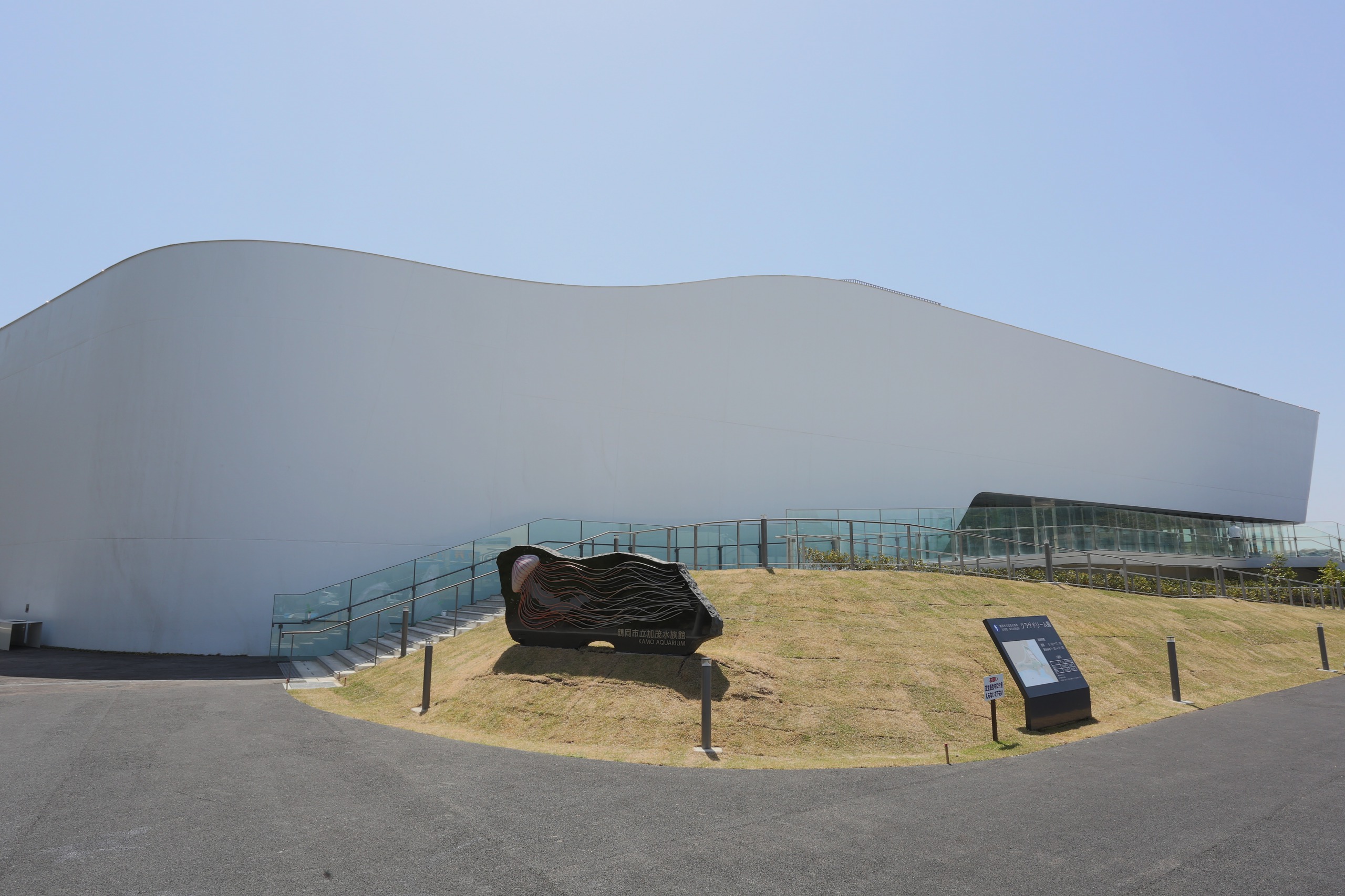 Today was a huge day of first experiences! Time for a relaxing soak in the onsen before we continue our journey tomorrow!
Tsuruoka City KAMO Aquarium
Known throughout Japan for its huge jellyfish display. Jellyfish-feeding sessions are held twice daily (in the morning and afternoon) so be sure to time your trip!
Entry: Adults 1000 yen, Primary~Junior High students 500 yen
Hours: 9:00~17:00(summer holiday period 9:00~17:30)
Holidays: none
Phone: 0235-33-3036
Homepage (Japanese): https://kamo-kurage.jp/
Atsumi Onsen (Hot Spring)
A hot-spring area boasting over 1000 years of history. There are over 8 inns to choose from, each serving up delicious seafood caught locally.
Phone: 0235-43-3547
Homepage (Japanese) http://www.atsumi-spa.or.jp/
South Tohoku Roadtrip: Day Two (Tsuruoka → Nanyo → Yonezawa → Koriyama)
After a satisfying breakfast, we took a scenic drive to the Yamairagawa area of Tsuruoka.
TSURUOKA: Become a Kabuki Star!
Time to experience Yamagata Prefecture's designated intangible cultural asset, Yamairagawa Kabuki! Following instructions of a professional Kabuki artist, paint your own face 'Kumadori' style!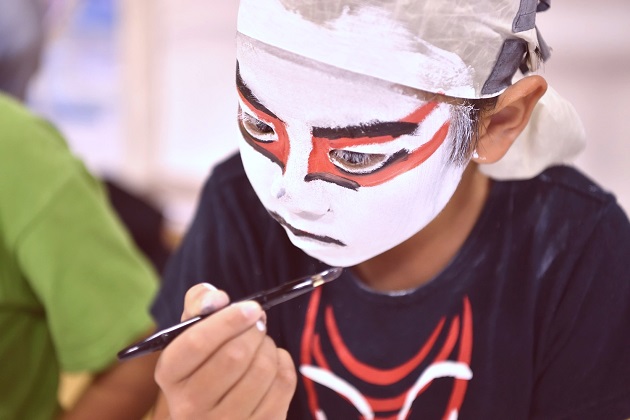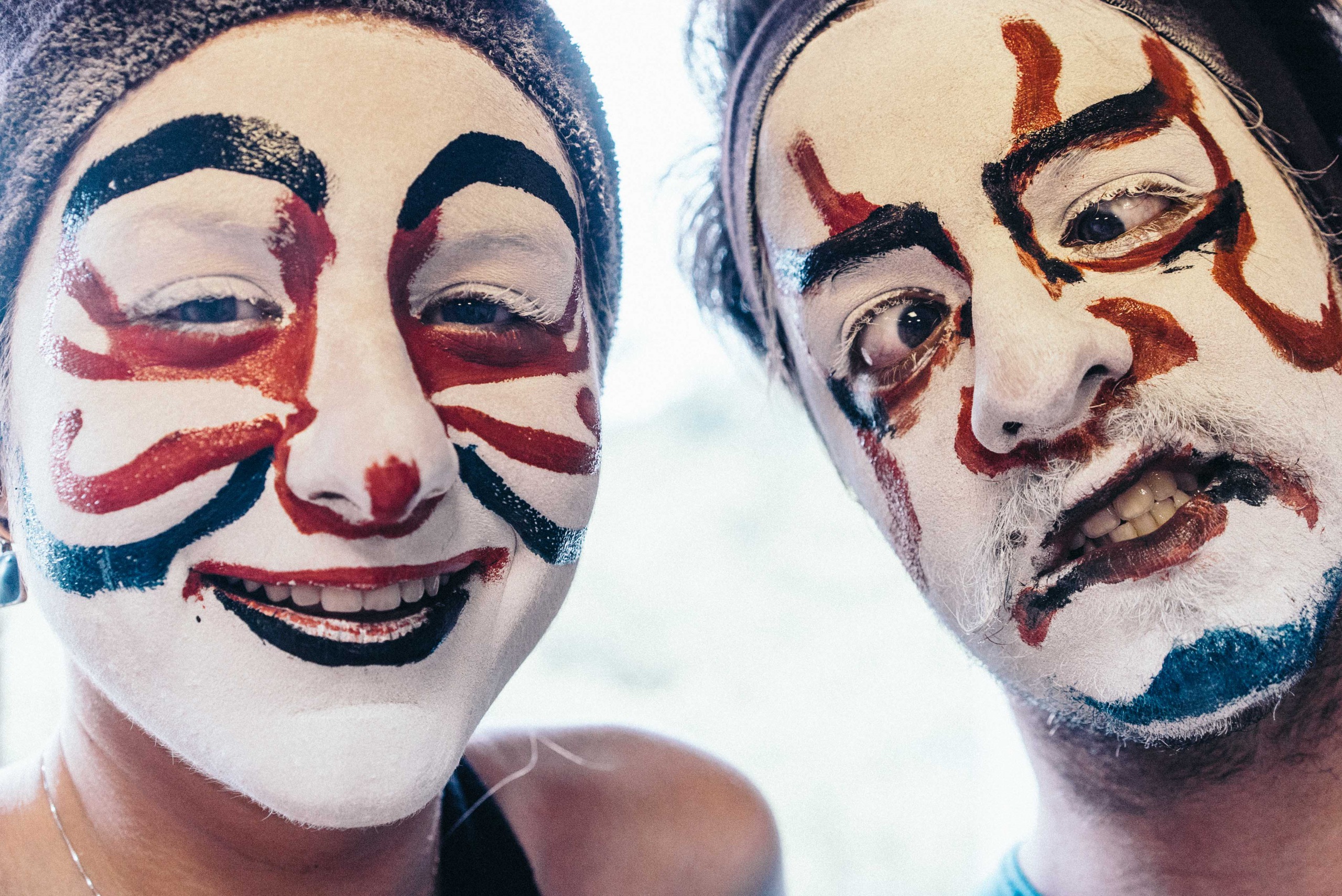 This was even more hilariously fun than it looks.
After our faces were done, they showed us some typical Kabuki poses…we are ready for our stage debut…! Once you've had enough, press your face into a cloth to make 'oshikuma', an imprint of your art work to take home as a memento of your trip!

Y

amairagawa Kabuki Experience
A rare experience instructed by members of the Yamairagawa Traditional Performing Arts Preservation Society. Recommended to wear collar-less clothing to avoid stains from the make-up.
Price: 2500 yen
Hours: Sat, Sun and holidays from either 10am or 2pm (consultation required for reservation outside these times)
Closed: Monday ~ Friday
Phone: 0235-64-1197
Homepage (Japanese) http://gb-atsumi.jp/
Tohoku-Chuo Expressway
A new expressway (Yamagata Kaminoyama ~ Nanyo-Takahata) is scheduled to be opened this year (2018).
Construction is continuing on the Tohoku-Chuo Expressway between Yamagata- Kaminoyama ~ Nanyo-Takahata and, by creating a loop that connects the administrative hubs of Tohoku's southern three prefectures with Yonezawa City, it is hoped to ease the distribution of goods and flow of non-residential population throughout the area.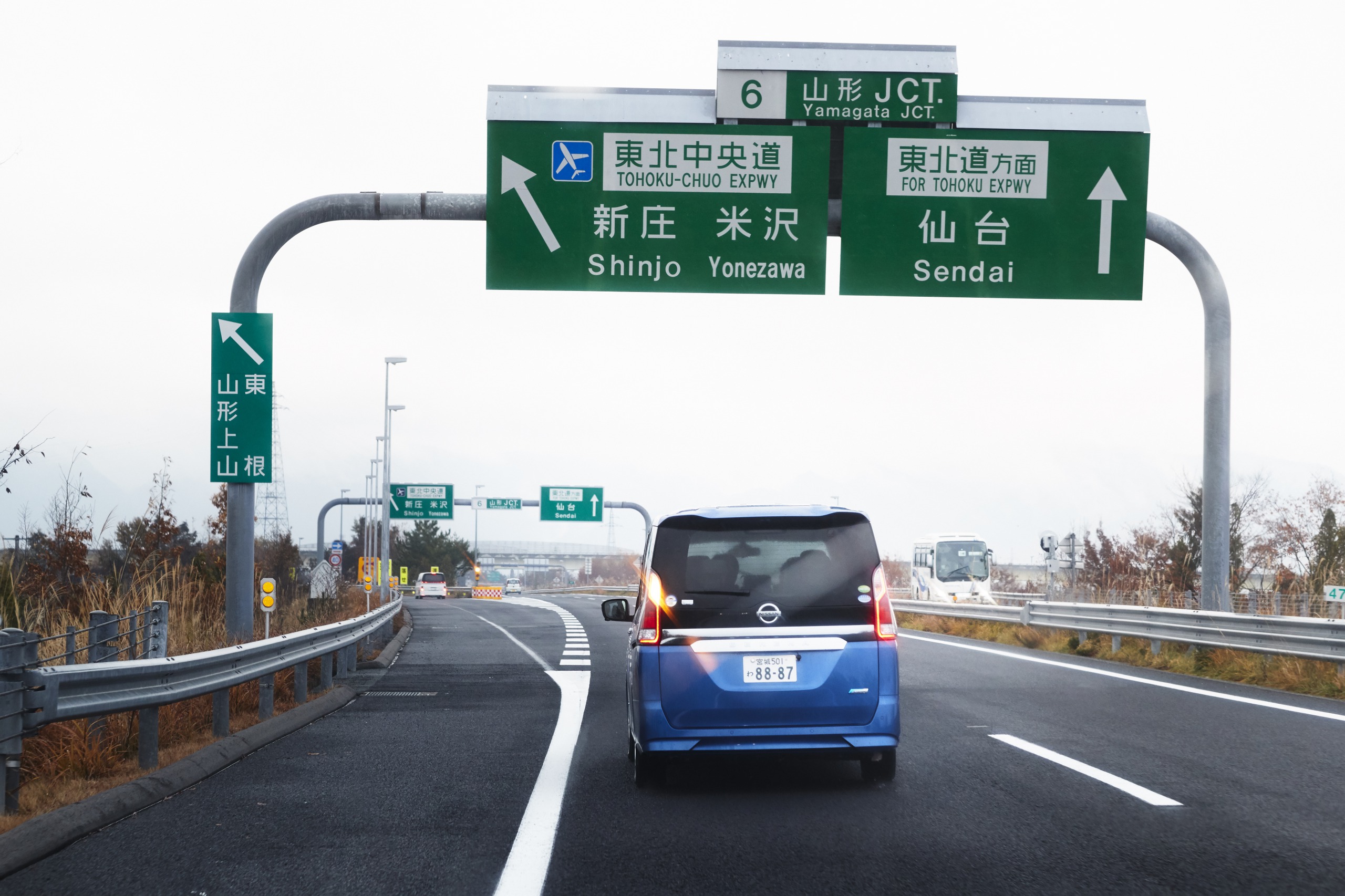 Nanyo: Finding Hidden Rabbits at the Shrine of Love
Next we headed back inland to the South-eastern part of the prefecture known as Nanyo. Here you can find Tohoku's oldest (over 1200 years) and largest shrine, Kumano Taisha.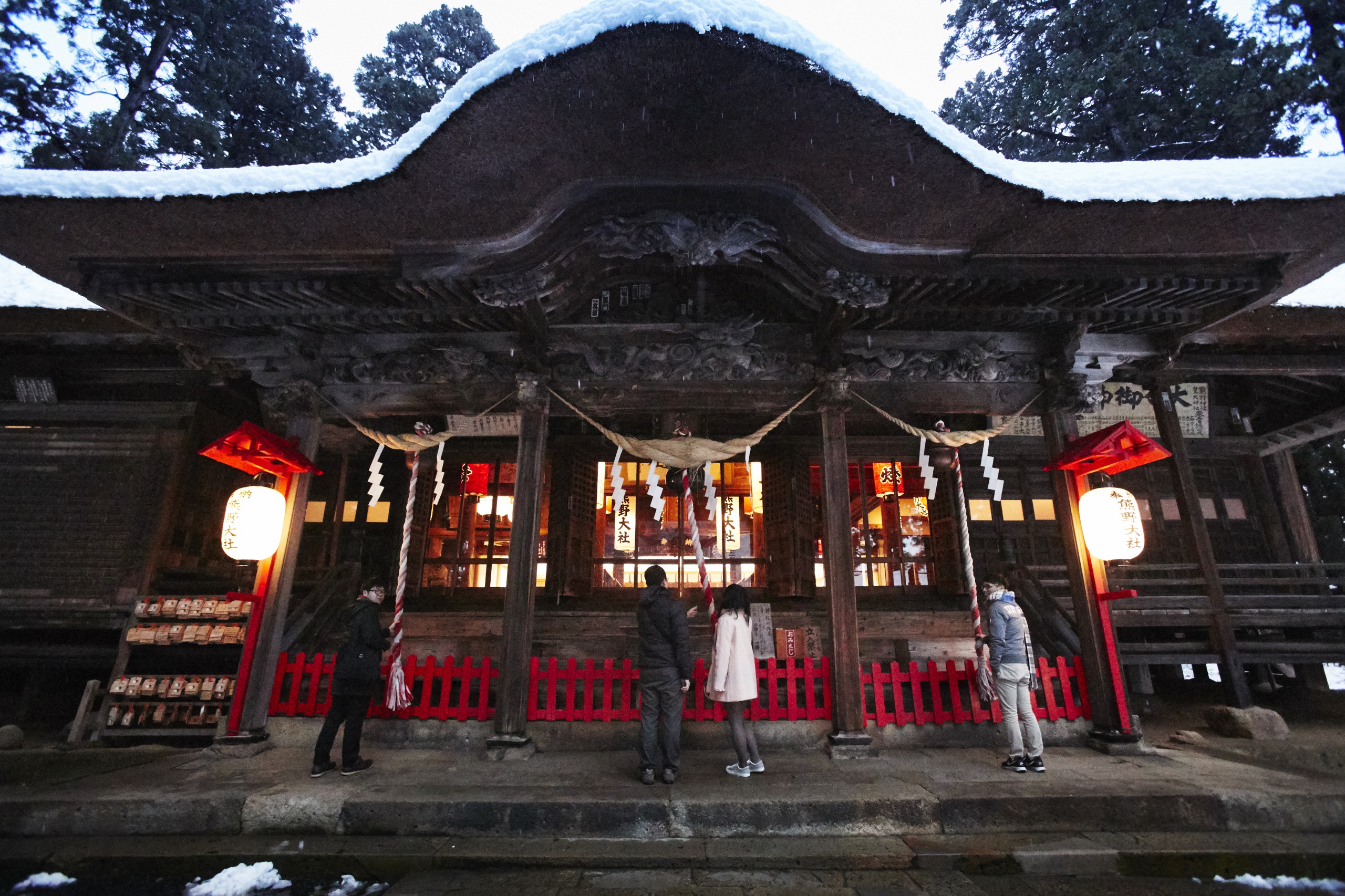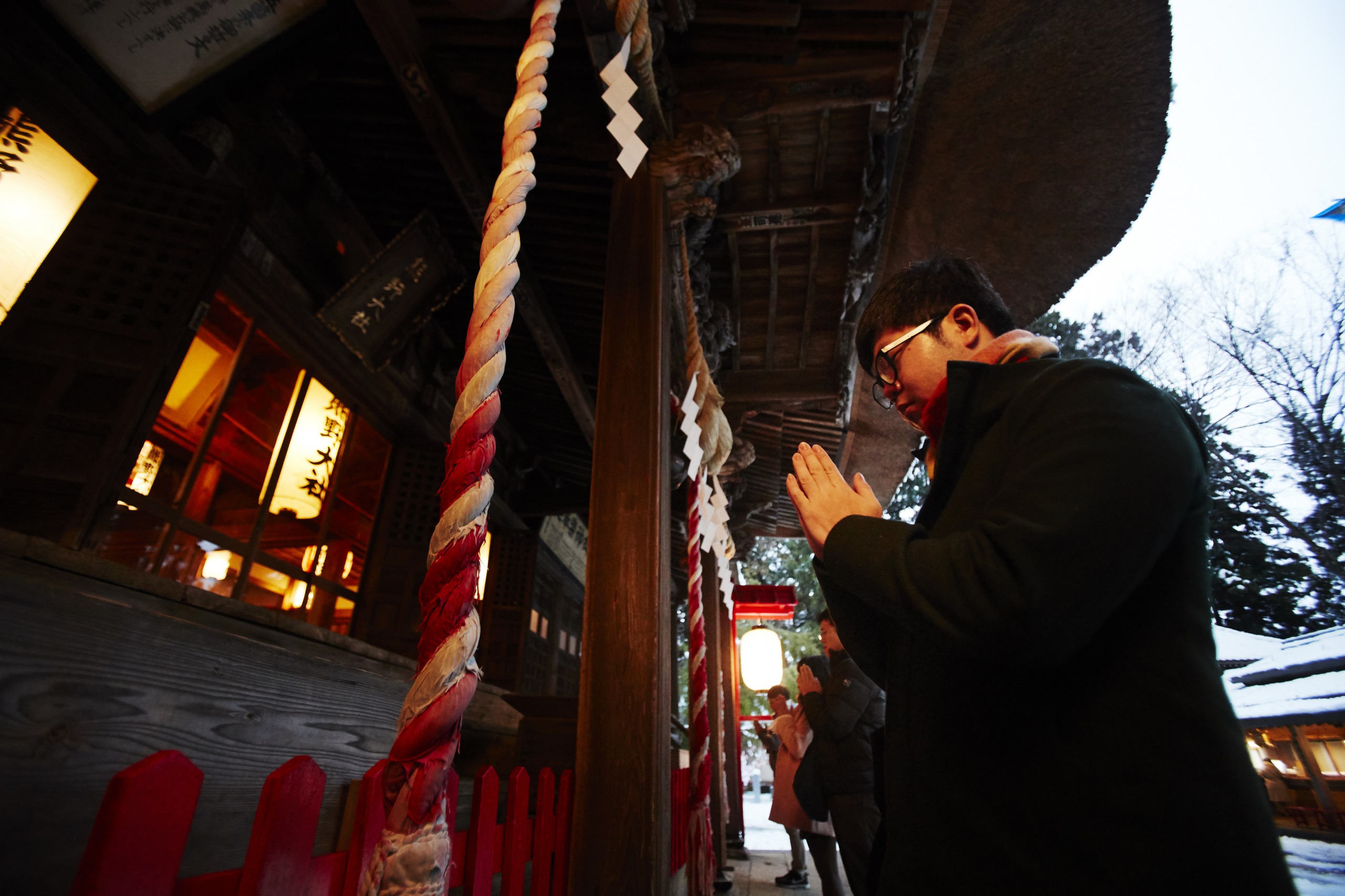 Within the intricate wooden engravings, three rabbits are hidden in the design! If you manage to find them all, your wish will be answered. The shrine staff will assist you in finding two of them (if you are having trouble) but the location of the third rabbit must remain secret lest your luck be taken away – so it's up to you to find it on your own.
The air was chilly so we took shelter in a cute, atmospheric café at the bottom of the shrine stairs. It sits under a giant ginko ('Icho' in Japanese) tree, hence the name Icho Café.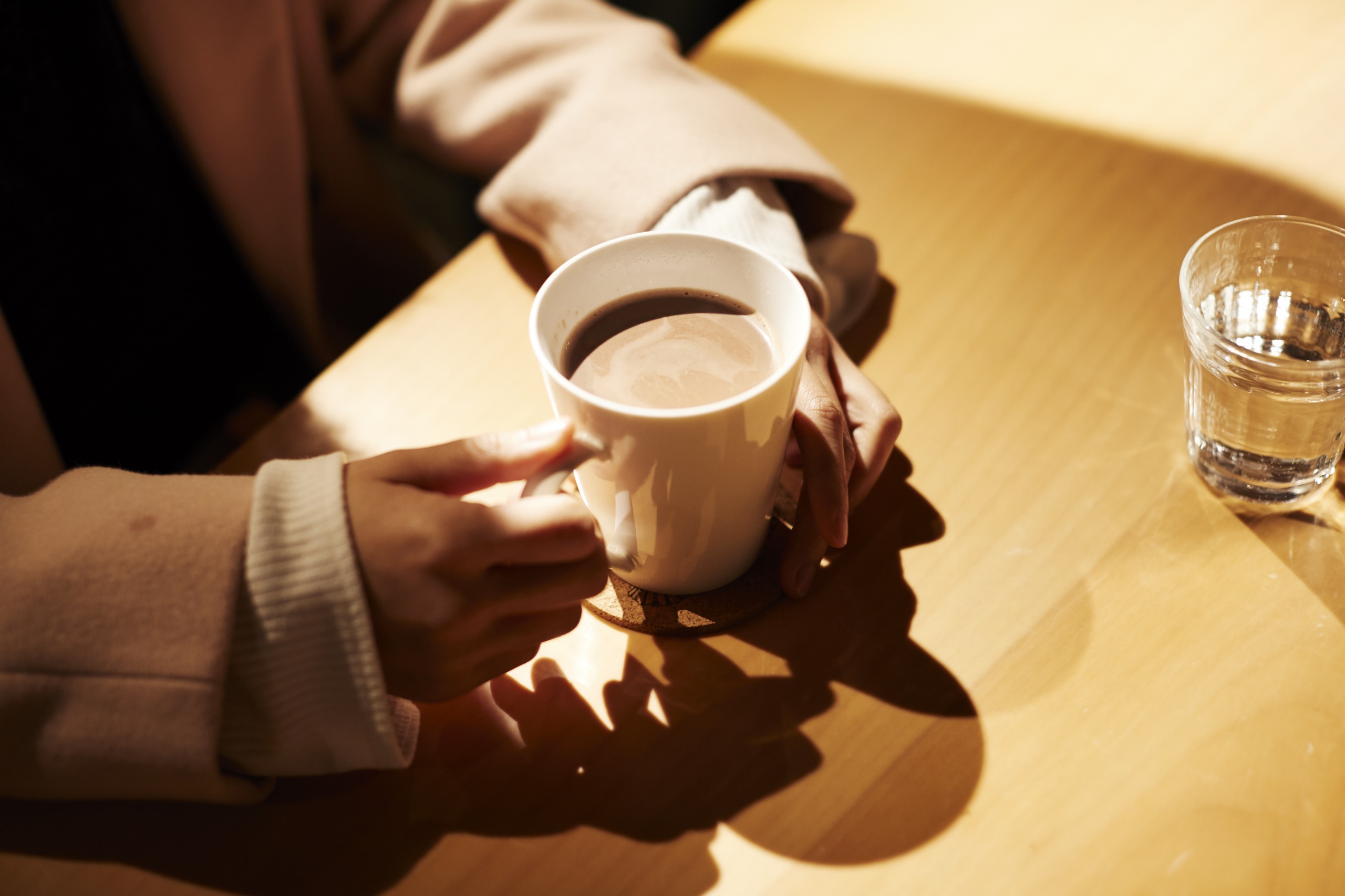 Tired and cold after searching for rabbits, the four of us ordered a nice warm drink! Checking over the rest of the day's plan it was on to our next destination – further south to the castle town of Yonezawa.
Kumano Taisha Shrine
Rebuilt in 806 by direction of the Emperor, this shrine is said to be home to two husband and wife gods of Japanese legend. If you make a prayer at this shrine it is said to bring you luck in love.
Entry: Free
Hours: Free
Holidays: none
Phone: 0238-47-7777
Homepage (Japanese):http://kumano-taisha.or.jp/
Icho cafe
Run by a local owner with the concept of serving local ingredients. Also serving light meals like pasta or desserts.
Price: Hot coffee 450 yen, hot cocoa 400 yen
Hours: 11:00~18:00
Holidays: Tuesdays
Phone: 080-5734-0909
Homepage (Japanese): http://ichocafe.com/
Yonezawa: Hot-Spring day-visit
When traveling Tohoku, one way to add an extra level of satisfaction to your itinerary is to include a visit to the hot springs! Top it off with a lunch-inclusive plan and there's nothing more you need!
We headed to the hot spring town of Onogawa onsen with over 1200 years of history. Associated with of one of the most beautiful women in the world, Heian Period poet Ono no Komachi, the waters of Onogawa onsen are also known as 'waters of beauty'. After taking a soak in waters straight from the spring, the feeling of luxurious indulgence continued into lunchtime…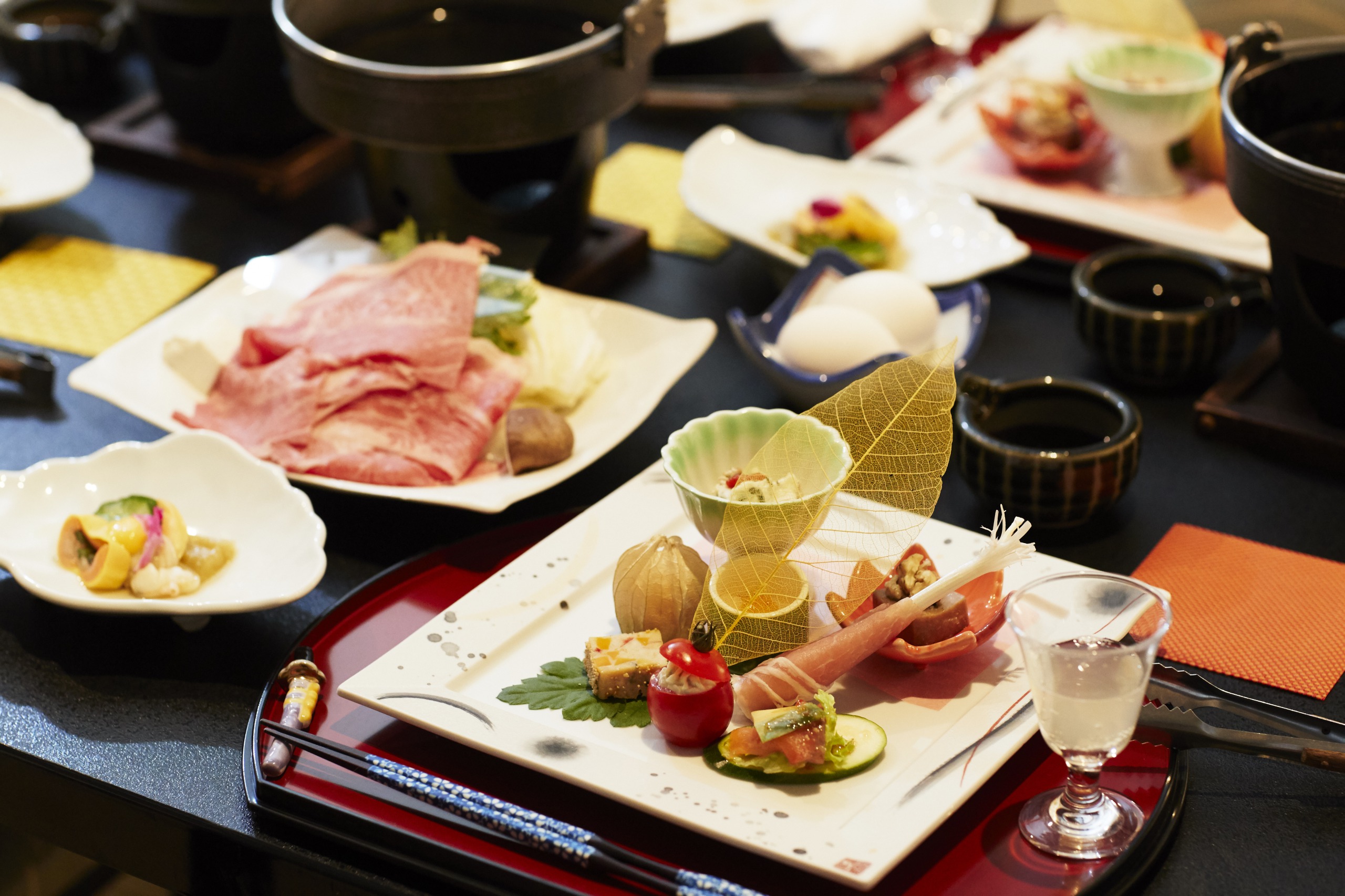 A traditional Japanese course-meal using all the best seasonal ingredients! Of course, including the local specialty, top-grade Yonezawa Wagyu beef sukiyaki! Yummmm…!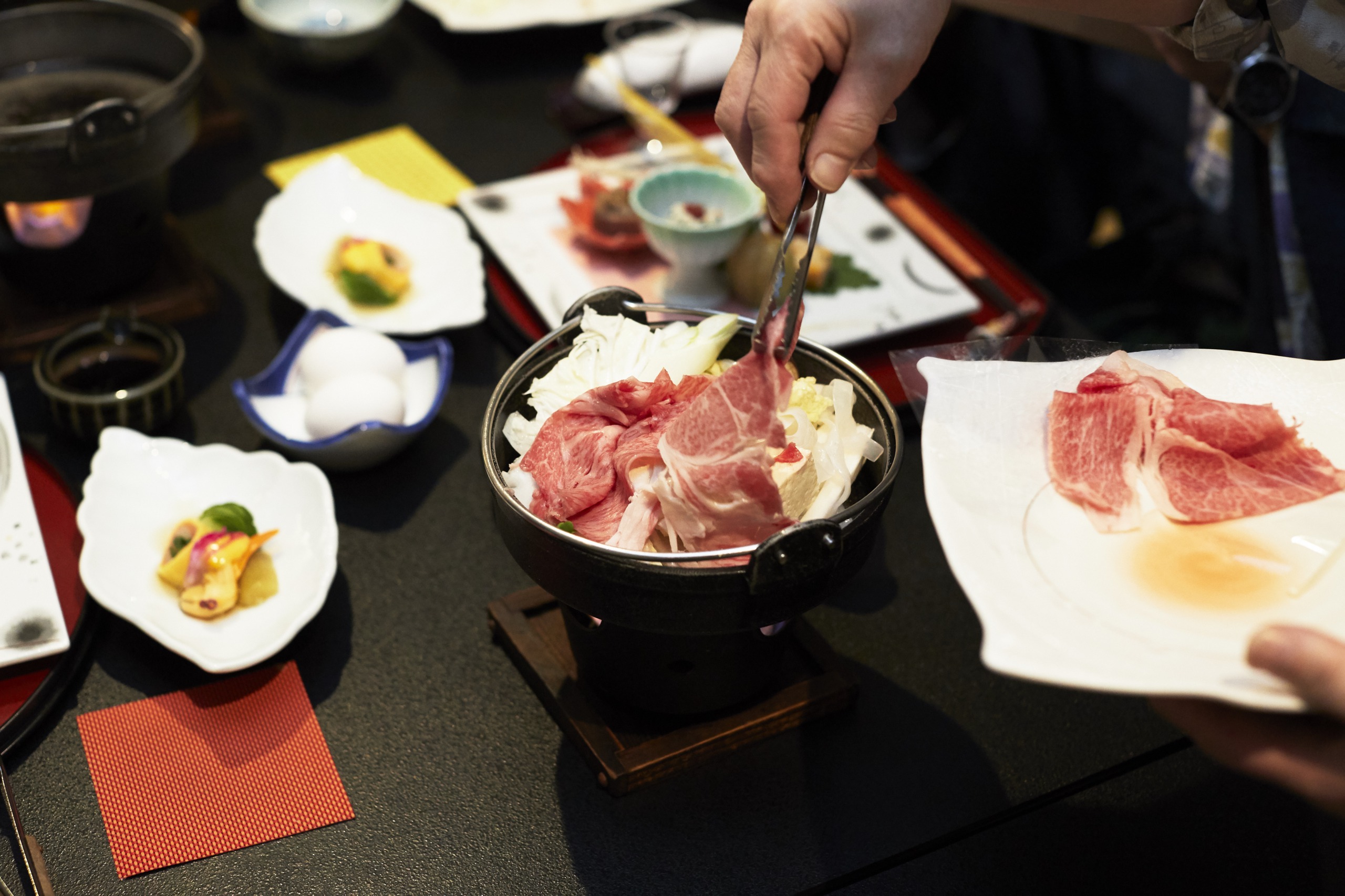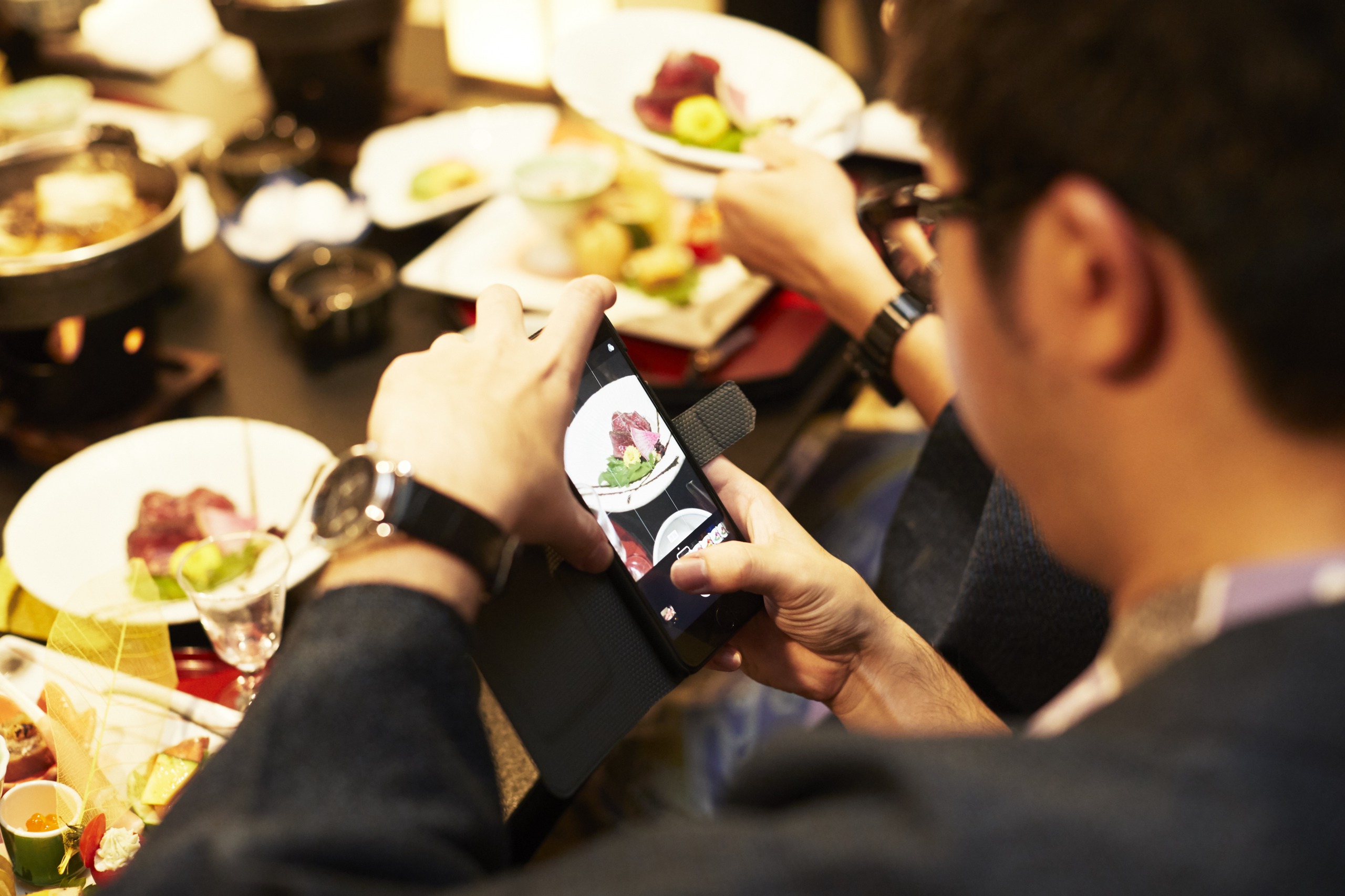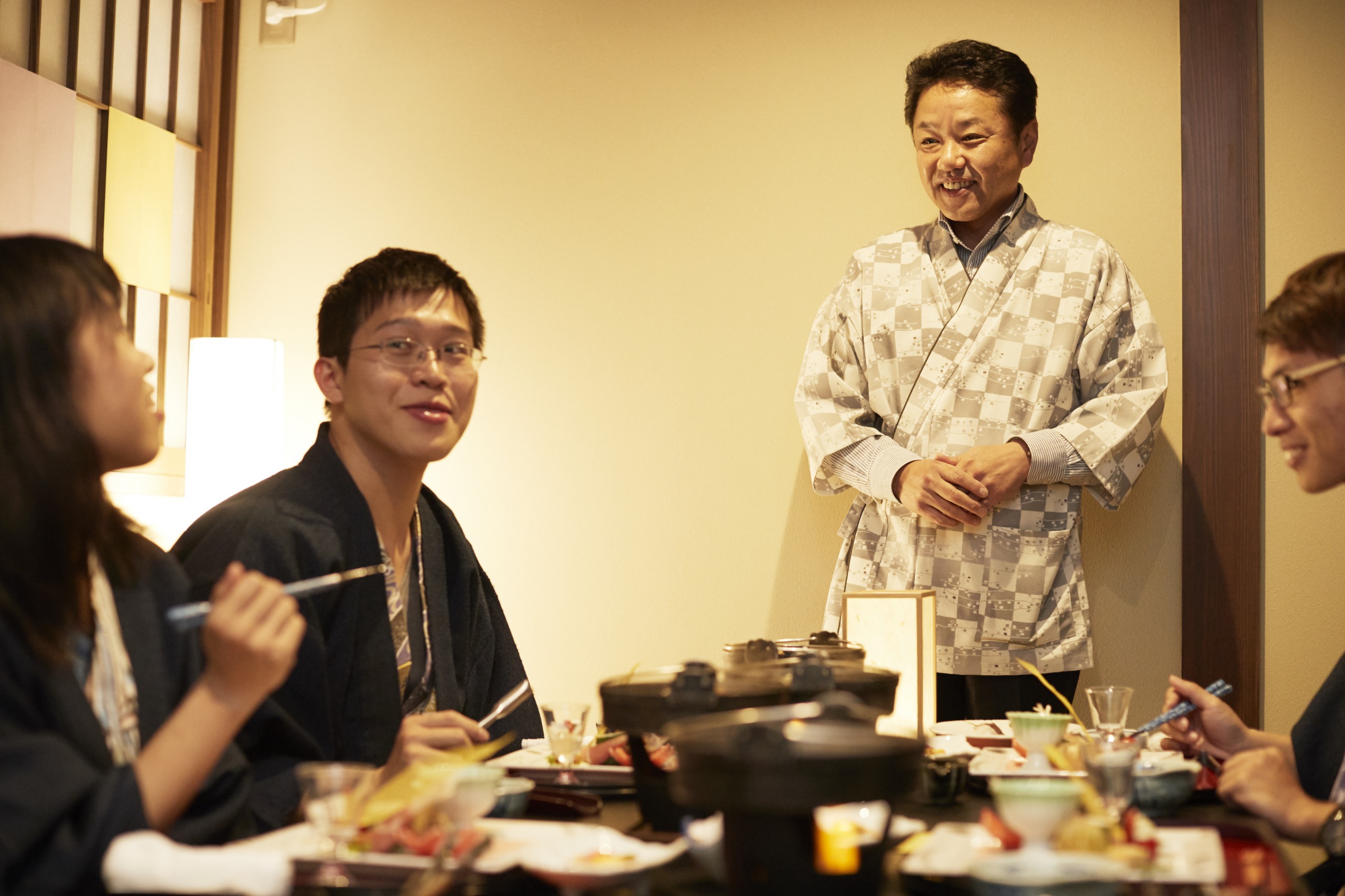 We enjoyed the hospitality of the owner of Kajikaso Inn, Mr. Sato, as he chatted to us about the food and the history of the onsen. A satisfying meal in every sense!

Owner of 'Kajikaso' inn, Onogawa Onsen, Mr. Yuji Sato
Onogawa Onsen, Kajikaso inn
The 'Ono' of 'Onogawa' Onsen is derived from Ono no Komachi, a famous poet of the Heian Era and iconic symbol of Japanese beauty. There remains legend that some 1200 years ago, Komachi left Kyoto to visit her father and fell ill on the way. After bathing in the waters of this hot spring, she was instantly healed and reborn as a beautiful woman. The hot spring was also loved by the lords of Yonezawa castle, as well as Date Masamune and Uesugi Yozan.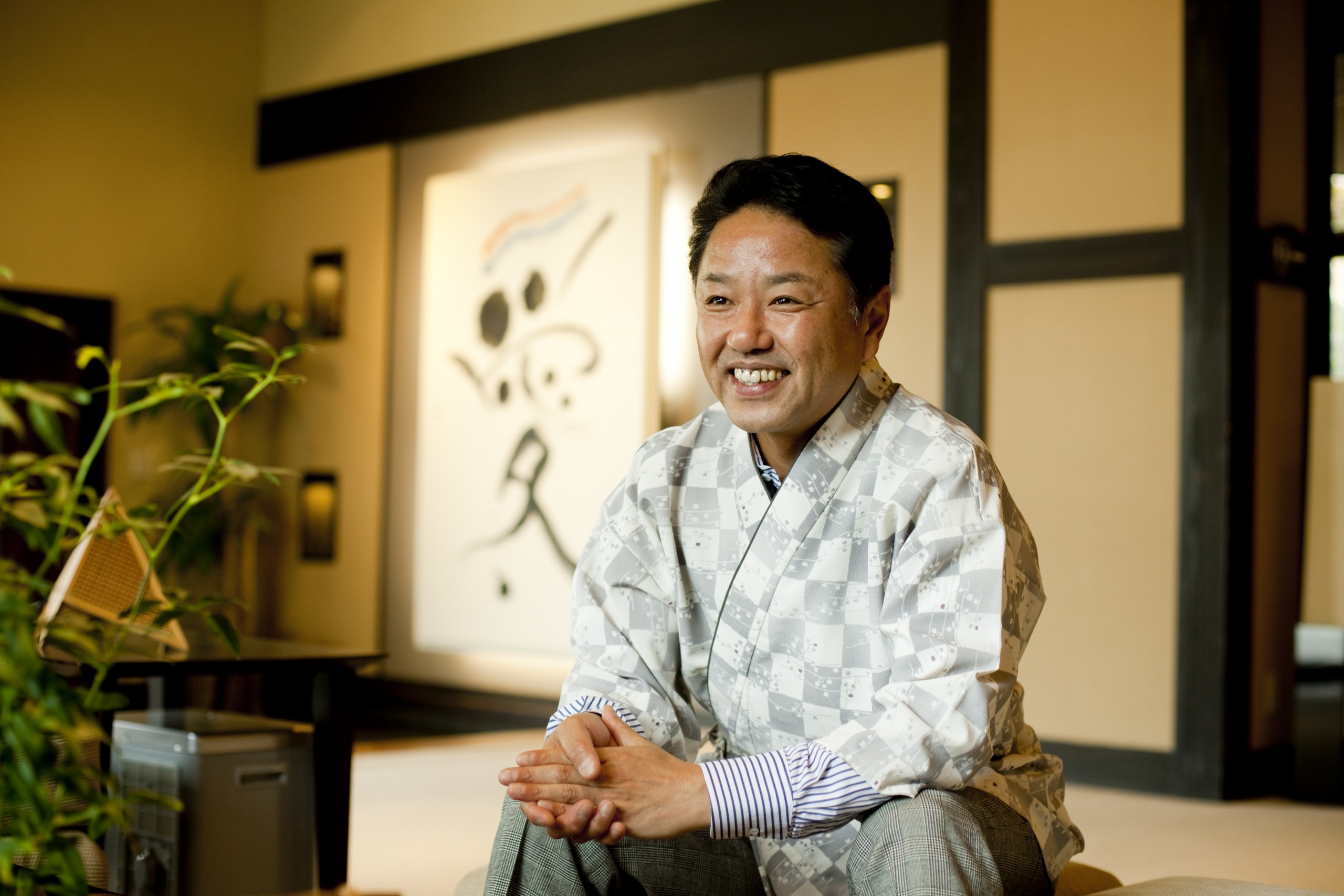 Waiting for your visit to the nostalgic & picturesque area of Okitama!
On November 4 last year, the Fukushima-Ozaso ~ Yonezawa-Kita portion of the Tohoku-Chuo Expressway was opened. The prefectural border area is known for its heavy snowfall, but thanks to the new Kuriko Tunnel, it is safe to drive even in winter. Previously, expressway access to Onogawa onsen was not so convenient, but it is hoped that this improvement will encourage to flow of both people and goods to the area.
Every year, Onogawa onsen holds a 'Kamakura' or igloo/ice-house festival. Inside the kamakura is decorated with Keiou-zakura, the earliest blooming cherry blossom in Japan, and patrons enjoy admiring the flowers over a bowl of hot ramen. In summer, you can enjoy the fantastical sight of fire-flies nearby. Together with the cherry blossoms of spring and beautiful autumn leaves, you can enjoy Japan's natural scenery throughout the seasons. Be sure to visit Onogawa onsen in Okitama, Yamagata Prefecture on your next visit!
To celebrate the opening of the Tohoku-Chuo Expressway, until May 31, 2018 the 'One night, two prefectures! Yonezawa, Fukushima, Souma' Instagram campaign is being held. If you included pictures or videos from these three areas in your Instagram or Twitter post, you have the chance to win some amazing prizes, including onsen travel vouchers, delicious Yonezawa Wagyu beef and local sake! More here → http://yonezawa8.jp/hashtag/
YONEZAWA: Take a stroll back in time
Next we took a step back in time at the Uesugi Shrine, which deifies Sengoku period military commander and Lord of Yonezawa, Uesugi Kenshin. The shrine is located in Matsu-ga-Misaki Park, created in the former grounds of Yonezawa castle. Inside the treasure repository of the park you will also find around 300 historical artefacts including swords and armory, paintings and other precious items. A must-see for history buffs!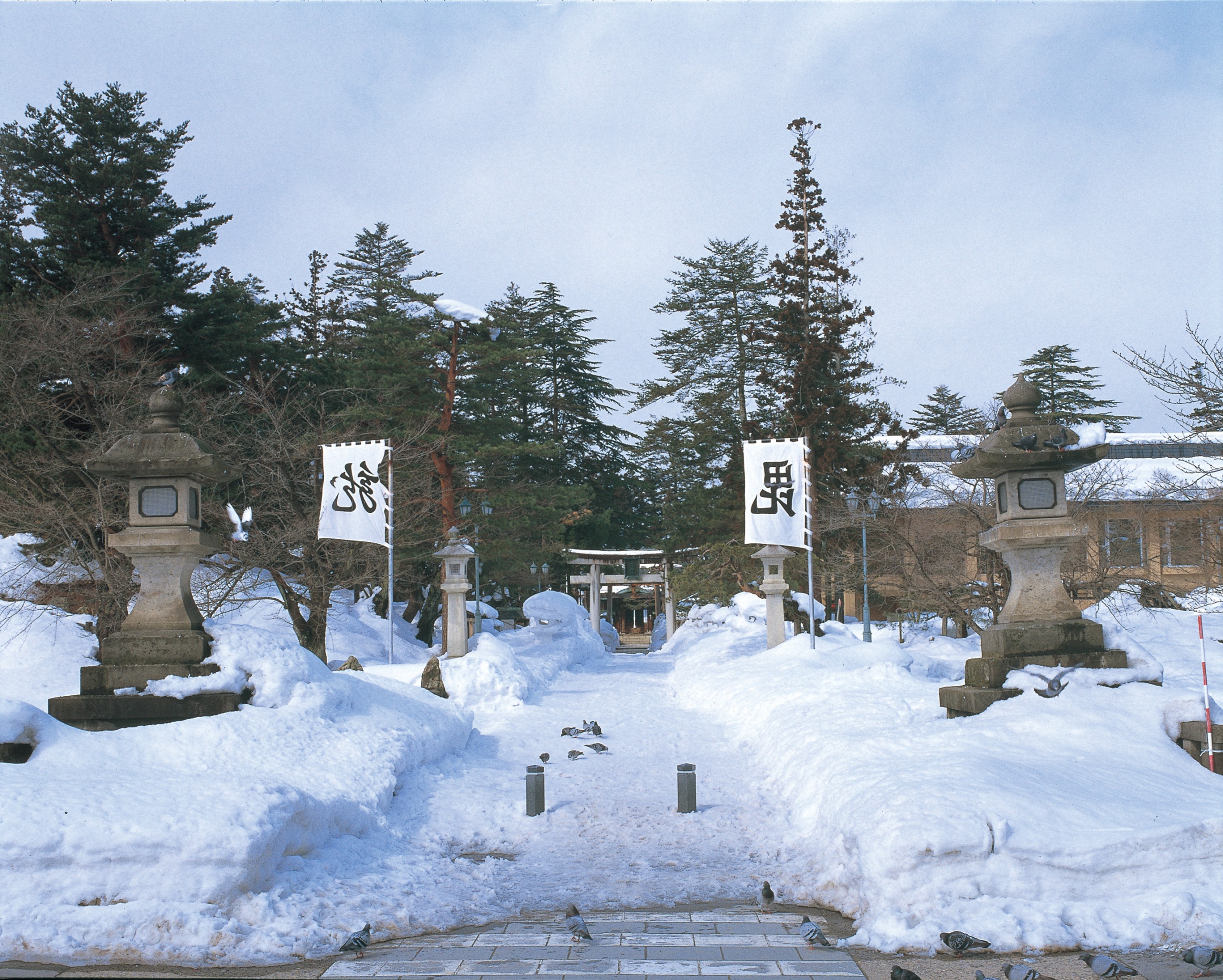 Uesugi Shrine
Built inside the ruins of Yonezawa castle, the shrine has been well-loved by locals for centuries. Many visit for 'Hatsumode', the first prayer of the New Year.
Entry: Free
Hours: Free
Holidays: none
Phone: 0238-22-3189
YONEZAWA: Making adorable cocoon craft
A quick 5 min drive from Uesugi Shrine is 'Oriento-kan', a workshop for passing down Yonezawa's traditions of silk-craft and weaving. Here you can try your hand at various crafts, including making craft from cocoons and safflower dying. A popular choice is to make an adorable 'kimono rabbit' wrapped in fabric dyed with safflower.
After unleashing our creative genius, we hit the road heading to Yonezawa-Chuo Interchange on the new Tohoku-Chuo Expressway via the Tohoku-Jido Expressway. Our accommodation for the evening was waiting for us in Koriyama. (We also passed through the Kuriko tunnel, the longest tunnel in Tohoku – 8972m! – on the way)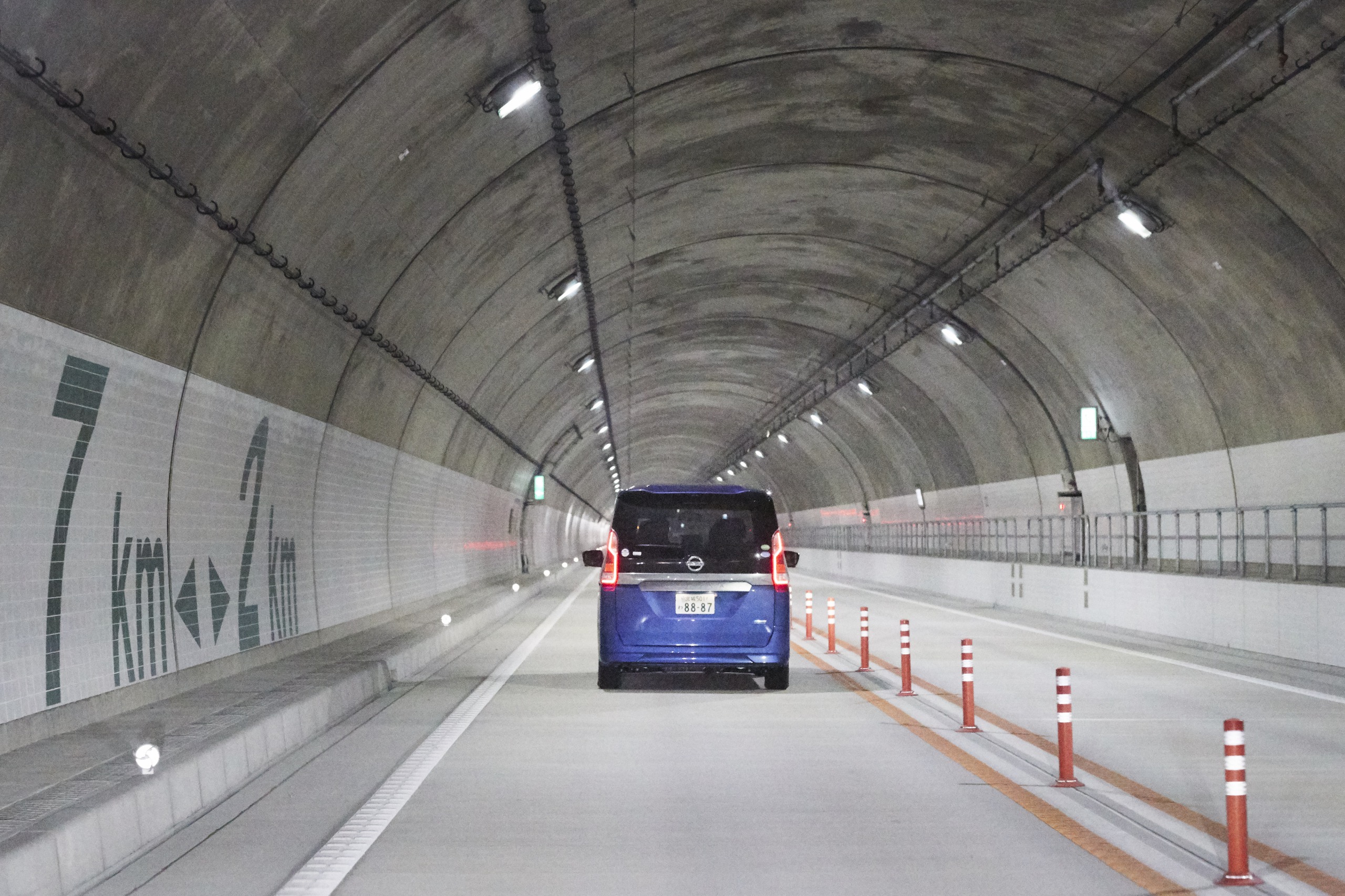 Yonezawa Weaving Workshop 'Oriento-kan'
A workshop demonstrating traditional Yonezawa silk craft and weaving. Take a look around the workshop and enjoy a spot of shopping!
Price: Kimono-rabbit making experience (40 mins) 1100 yen, safflower-dyed handkerchief making (30 mins) 1100 yen
Hours: 9:30~17:30(experience workshops between 10:00~16:30、reservation required)
Holidays: Sundays, Bon festival period, New Year period
Phone: 0238-24-5945
South Tohoku Roadtrip: Day Three (Koriyama → Tamura → Iwaki → Sendai)
Taking the Banetsu Expressway from Koriyama JCT to Ono IC, we headed to our first destination of the day, 'Abukuma-do' limestone caves, which we discovered in the Autumn edition of 'Hightabi' magazine (pg. 11) that we picked up at Sugo SA . The year 2017 marked 20 years since the opening of the Banetsu Expressway! It's the perfect place to take a drive and enjoy the beautiful scenery.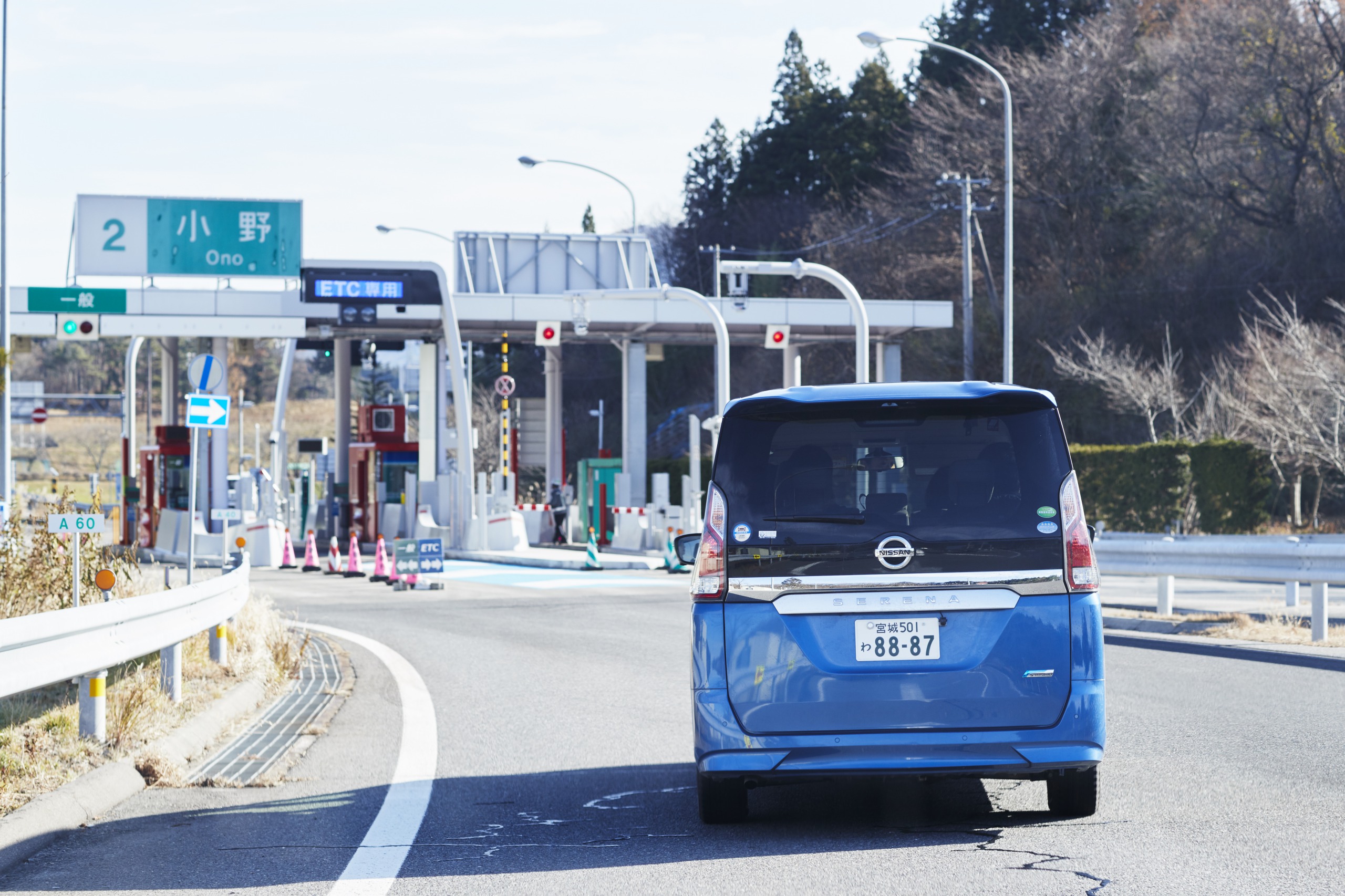 TAMURA: Abukuma-do Limestone Caves
Abukuma-do is a series of limestone caves created by the re-crystalisation of limestone melted away by rain water. Said to be the largest in the East, the cave stretches on for some 600 metres. Considering that it takes some 70~100 years to grow just one centimeter in length, it is pretty mind-boggling!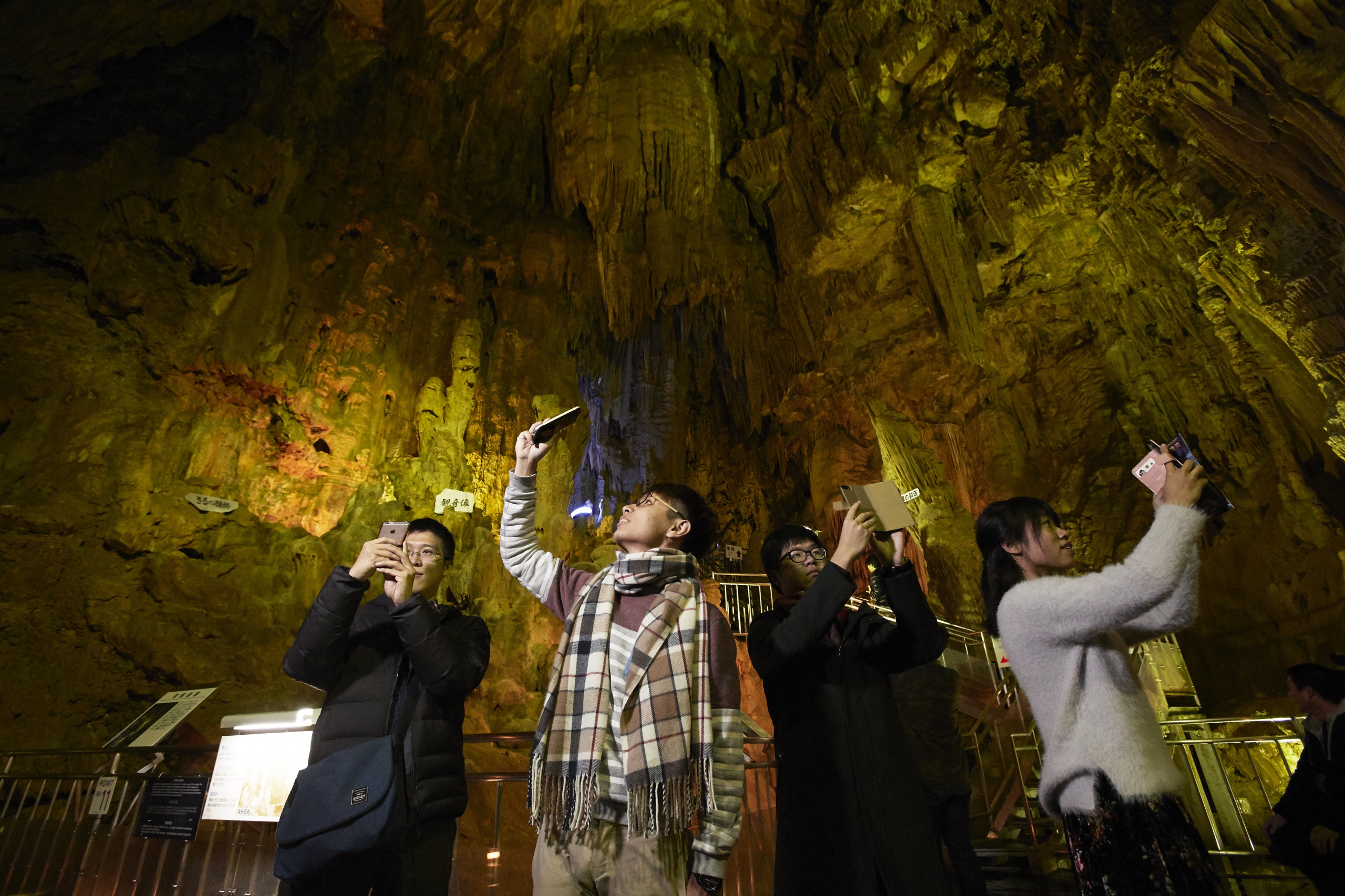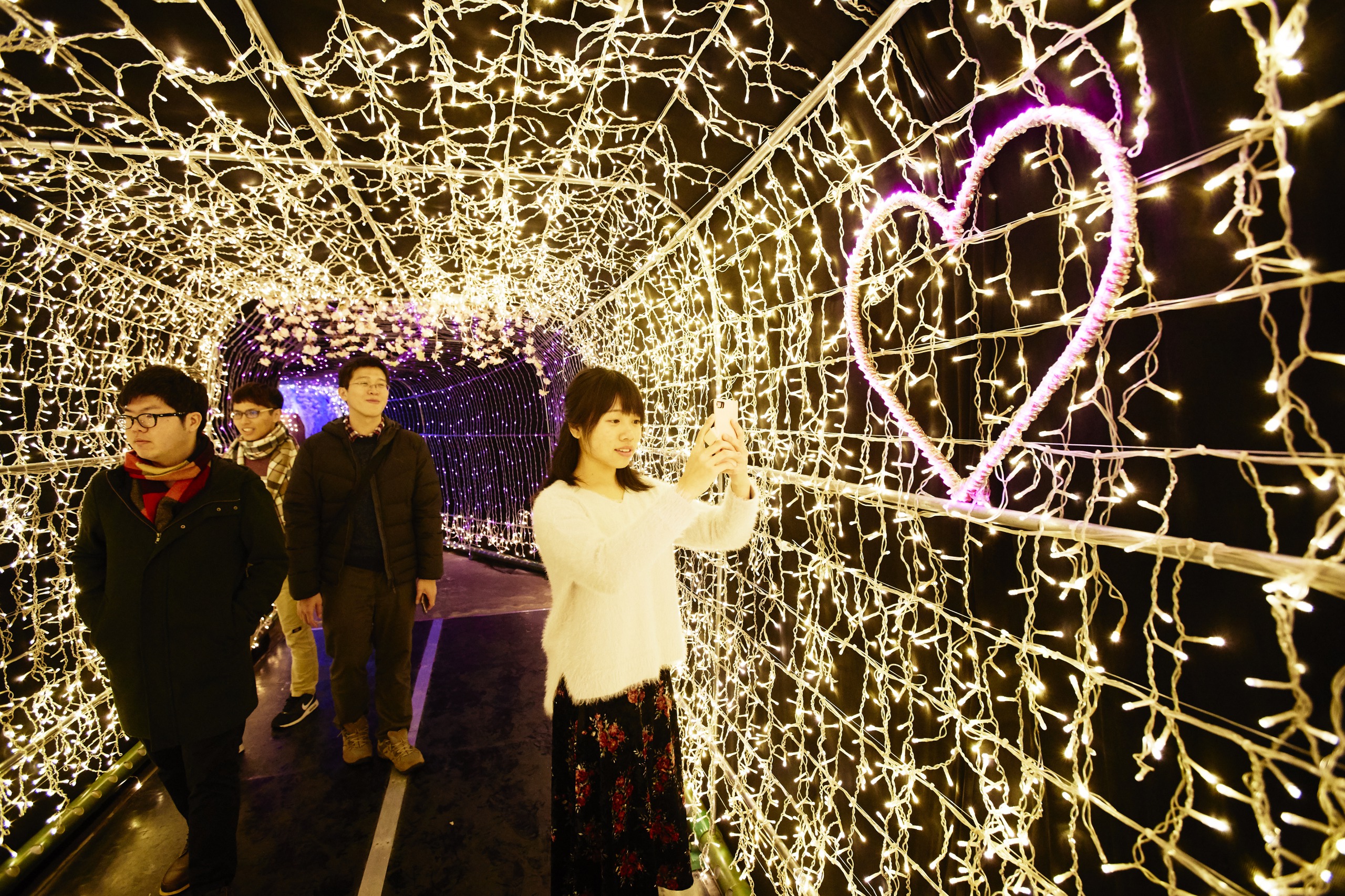 Around the cavern various areas were illuminated by pretty Christmas lights, making for some fantastic #gramming opportunities. Ducking down under rocks, climbing narrow stairs making our way through the cavern, it really did feel like we were on an adventure!
Abukuma-do Caves
Discovered by excavation in 1969. The cavern is said to stretch for a further 2500 metres beyond the section open to the public.
Entrance: Adults, 1200 yen Challenging course + 200 yen extra
Hours: 8:30~17:00 (winter 8:30~16:30)
Holidays: none
Phone: 0247-78-2125
Homepage (English): http://abukumado.com/en/index.html
TAMURA: Famous brand-pork Tonkatsu
We were all pretty hungry! Taking another look at the Autumn edition of 'Hightabi' magazine (pg. 14) that we found at a Service Area, we were unanimous – 'Egoma-Tonkatsu' set lunch it was!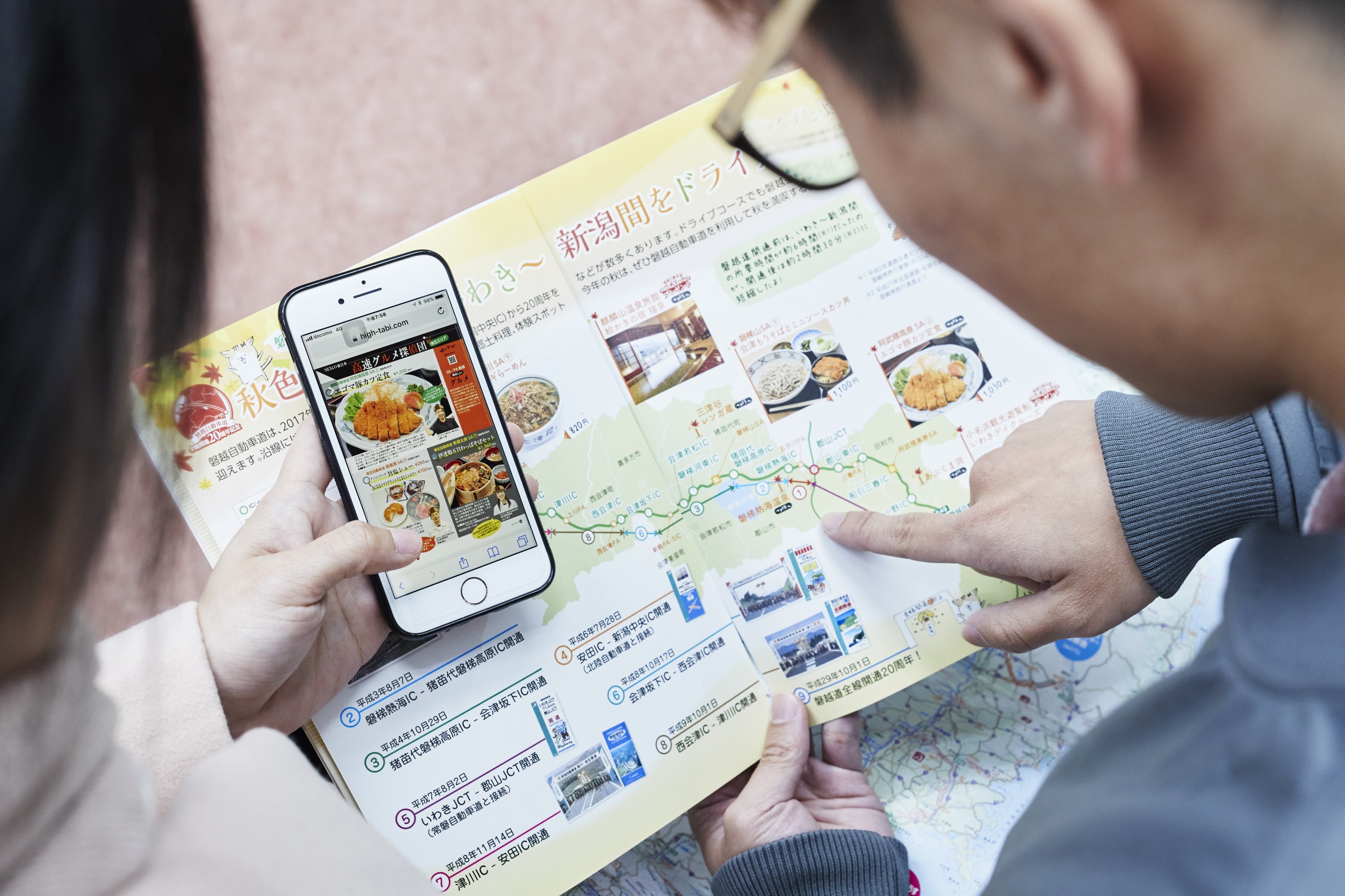 Off we went to Abukuma-Kogen SA in pursuit of lunch! 'Egoma-Tonkatsu' is made from a delicious and healthy pork fed on lean vegetation and sesame seeds (egoma), so the meat is full of essential fatty and alpha-linolenic acids.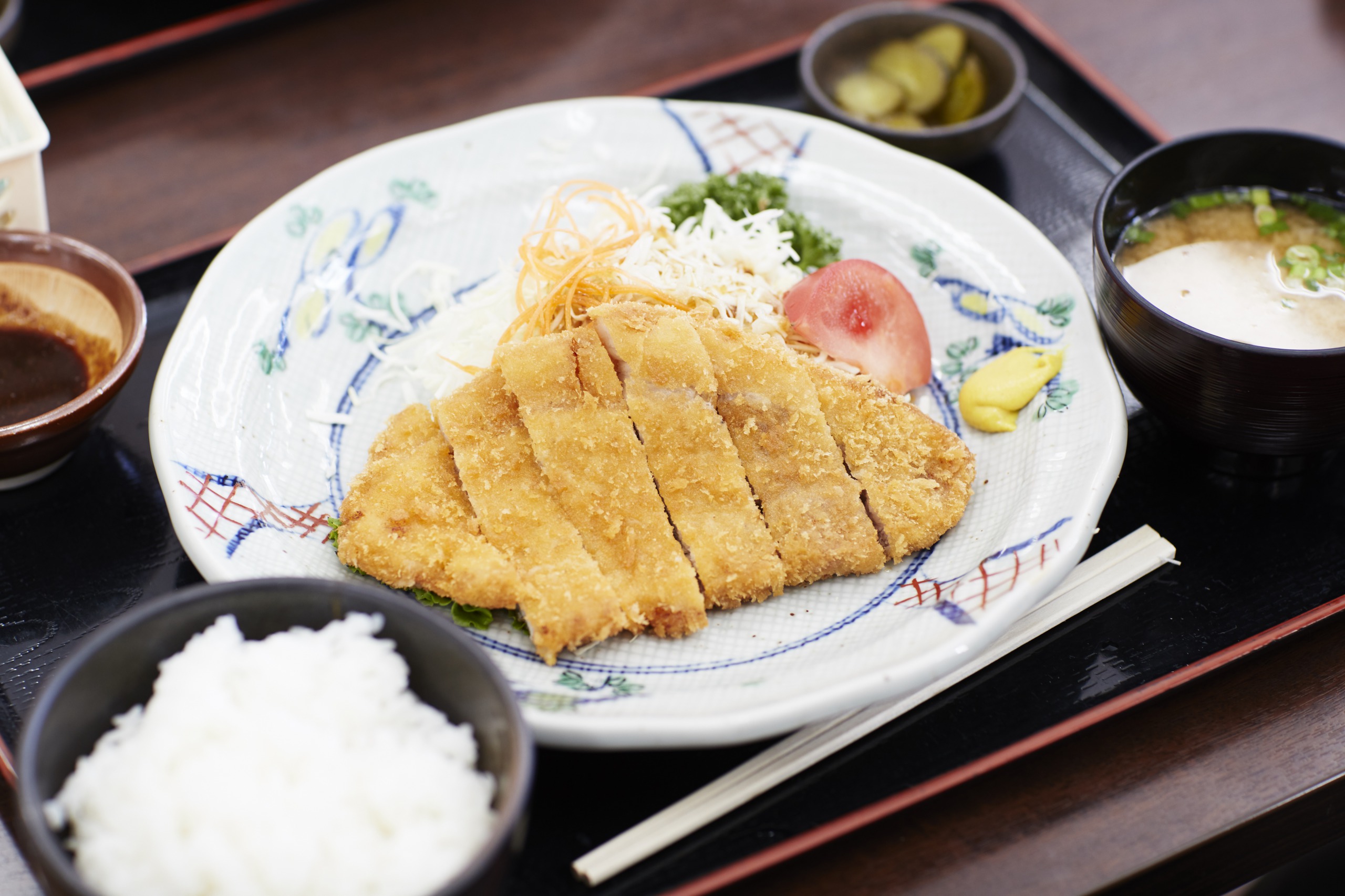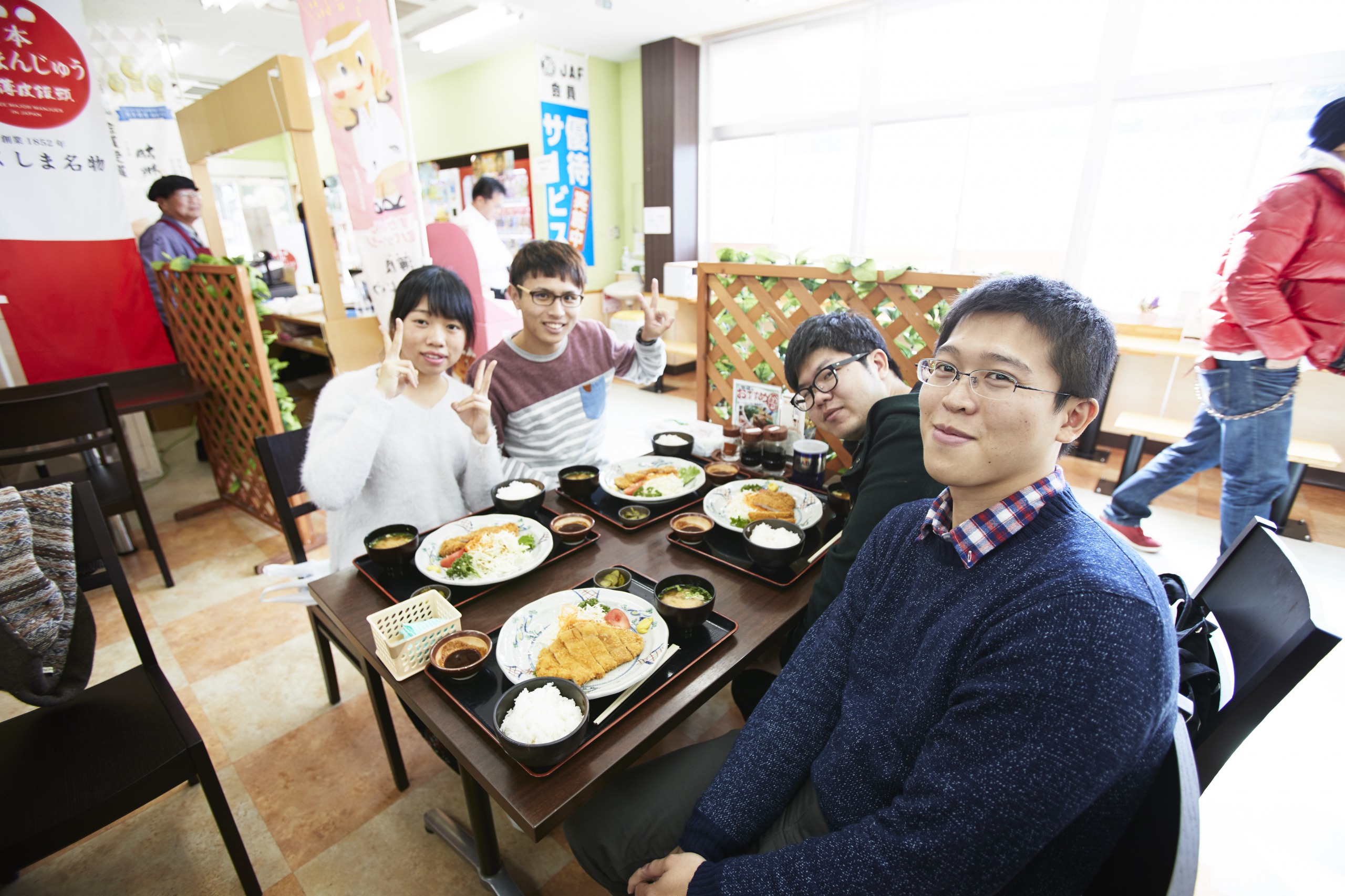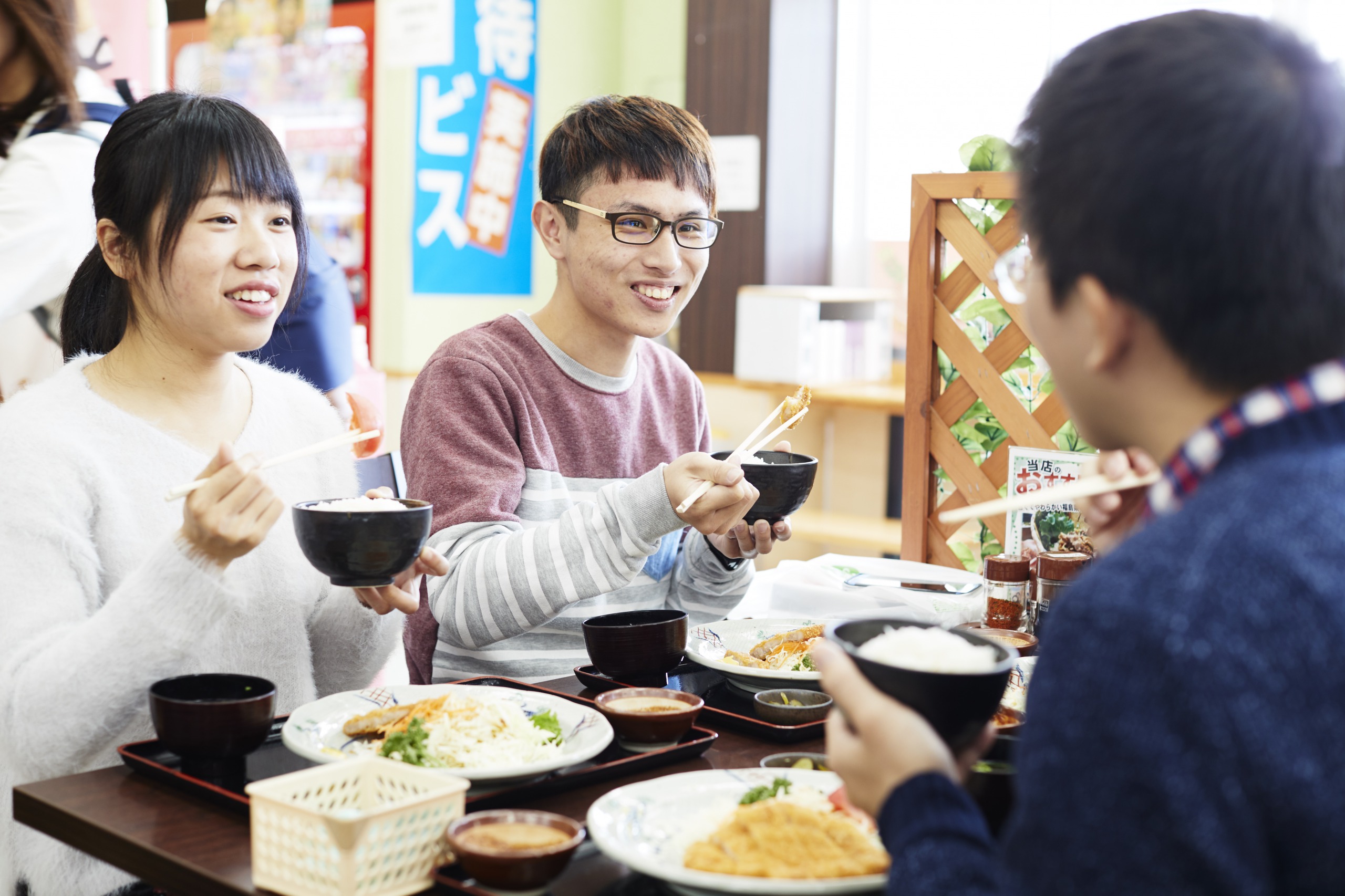 Just the right amount of fat to make the meat juicy and tender – not a crumb was left! We're stuffed!
You can fill-up at the petrol stations conveniently located at service areas and parking areas. When riding the expressway it's always recommended to fill up in advance, just in case! With a full tank, it was back on the Banetsu Expressway, and off to the Pacific coastal city of Iwaki.

Banetsu Expressway Abukuma-kogen SA
A comfortable establishment located in the attractive Abukuma highlands. The food court offers a varied menu of dishes made with local ingredients.
'Egoma-Tonkatsu Set-lunch' 1030 yen
Open hours: 7:00~22:00
Holidays: none
Phone: 0247-85-3230
Homepage (Japanese): http://www.driveplaza.com/
IWAKI: The art of tea-drinking!
Have you heard of Shoko Kanazawa? Practicing calligraphy since age 5, she has blossomed into a prodigy, despite her down-syndrome. Many of her incredible works are now lovingly displayed in this beautiful, spacious building, originally specializing in textiles (kimono).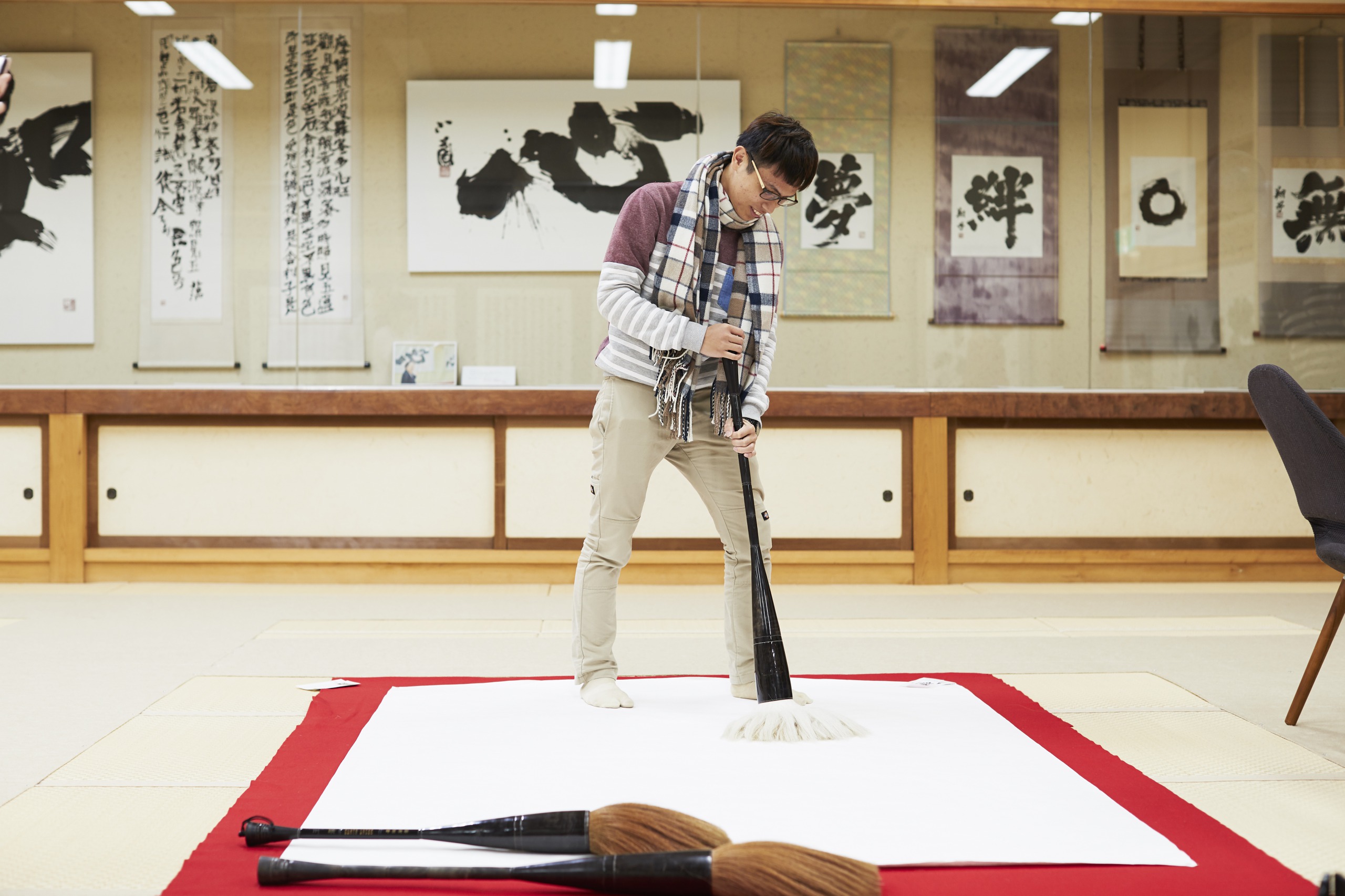 Try out your calligraphy skills with this giant brush!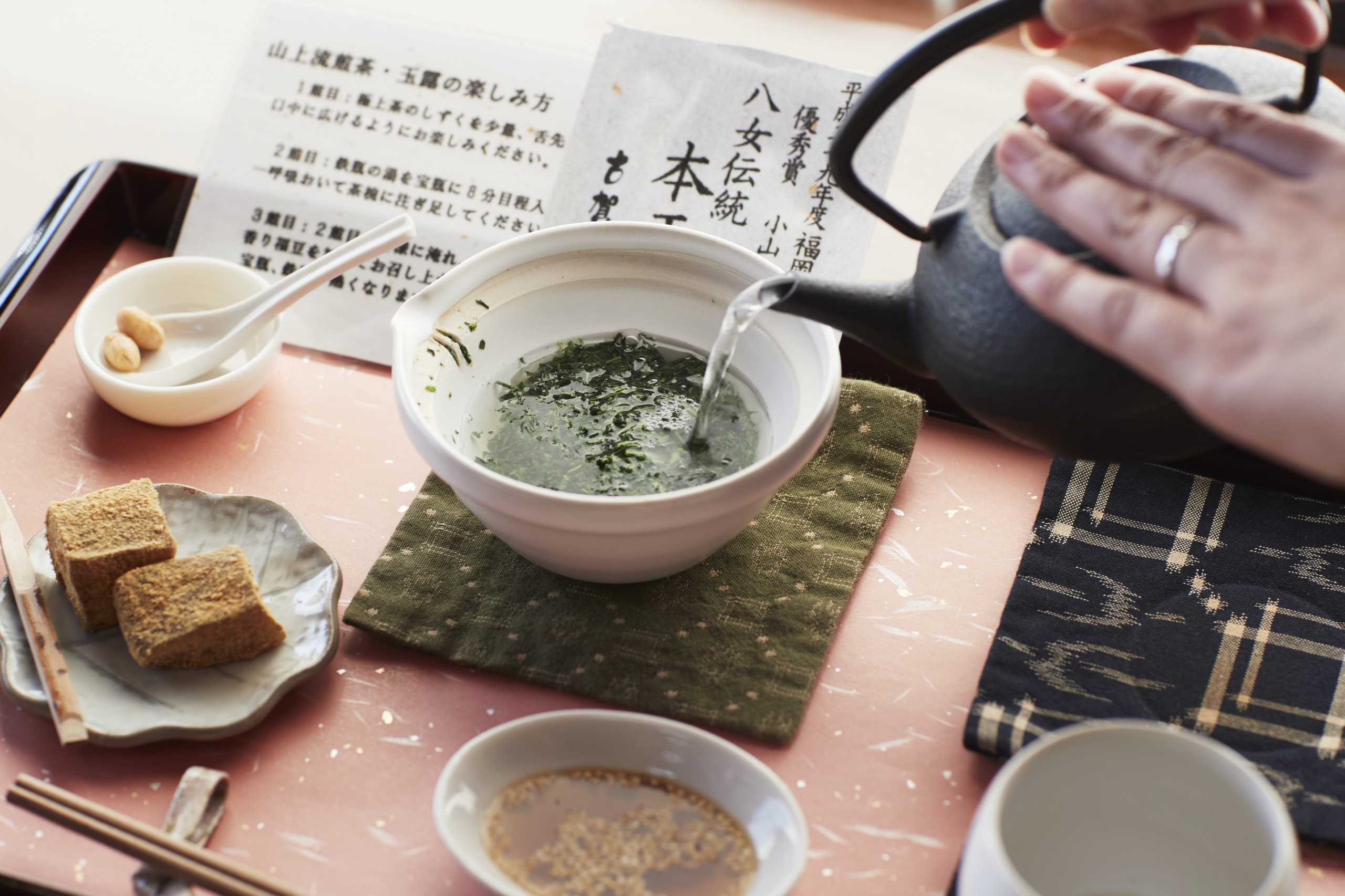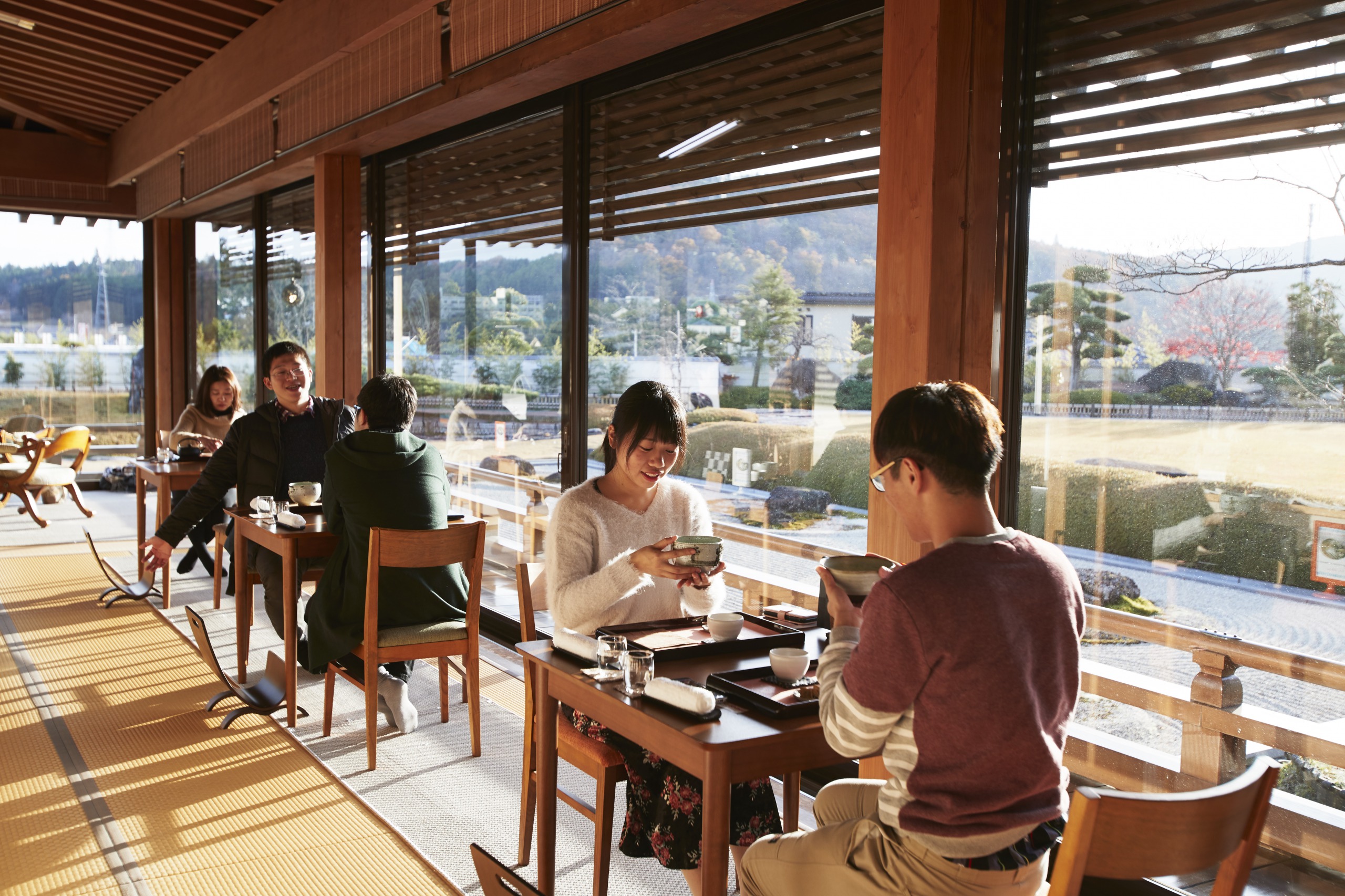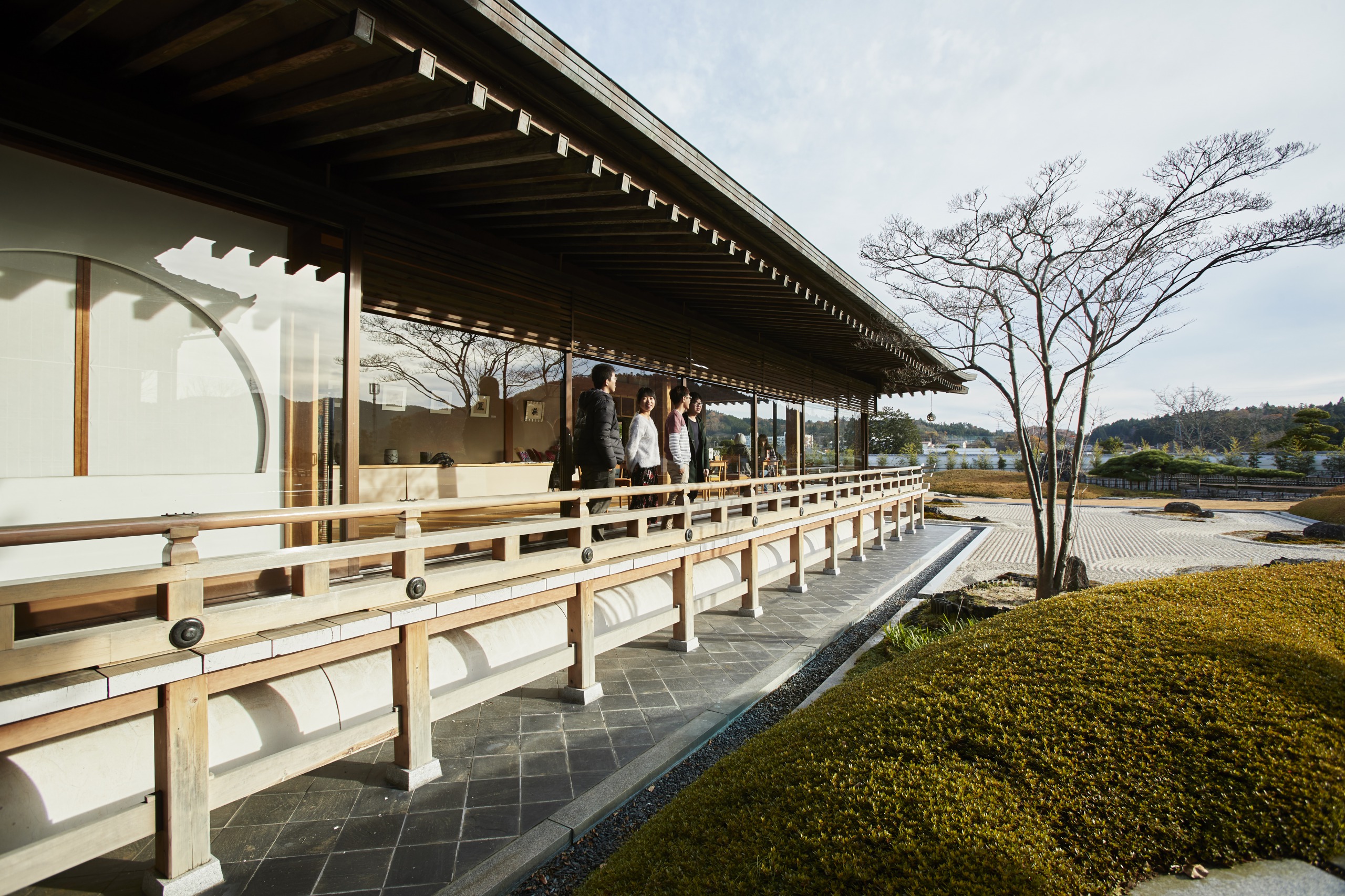 After checking out the exhibition, it was time to check-out the in house café 'Hishoan'. Catch some quiet time, looking out over a perfectly manicured Japanese garden. Here they serve a high-class variety of green tea 'Gyokuro' which has received award for 'the best tea in Japan'! The delicate flavor of the tea changes as it brews between pours. Once you've finished drinking, splash some sesame oil over the drenched tea leaves and enjoy a whole new flavor sensation. A unique way to fully enjoy a pot of tea; fit for the best tea in Japan!

Kanazawa Shoko Art Museum
The museum was opened in December, 2011, a sign of recovery following the Great East Japan Earthquake. The exhibition displays are changed with each season.
Entry: Adults 800 yen
Hours: 10:00~16:00 (last entry 15:30)
Holidays: Tuesdays and Wednesdays
Phone: 0246-89-2766
Homepage (Japanese): http://kanazawa-shoko.jp/museum/
IWAKI: Back to the Jurassic Age
Switching our curiosity from art to science, we hit the Iwaki City Coal and Fossil Museum 'Horuru'. As well as marveling at the fossils of giant dinosaurs excavated in the city area, here you can learn a thing or to about the fascinating coal-mining history of the town. (Check-out more info in the winter edition of 'High-tabi', pg.13)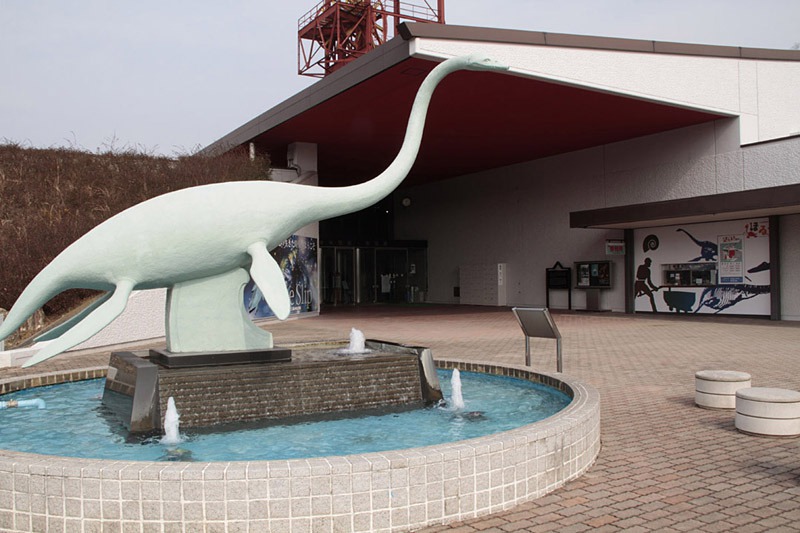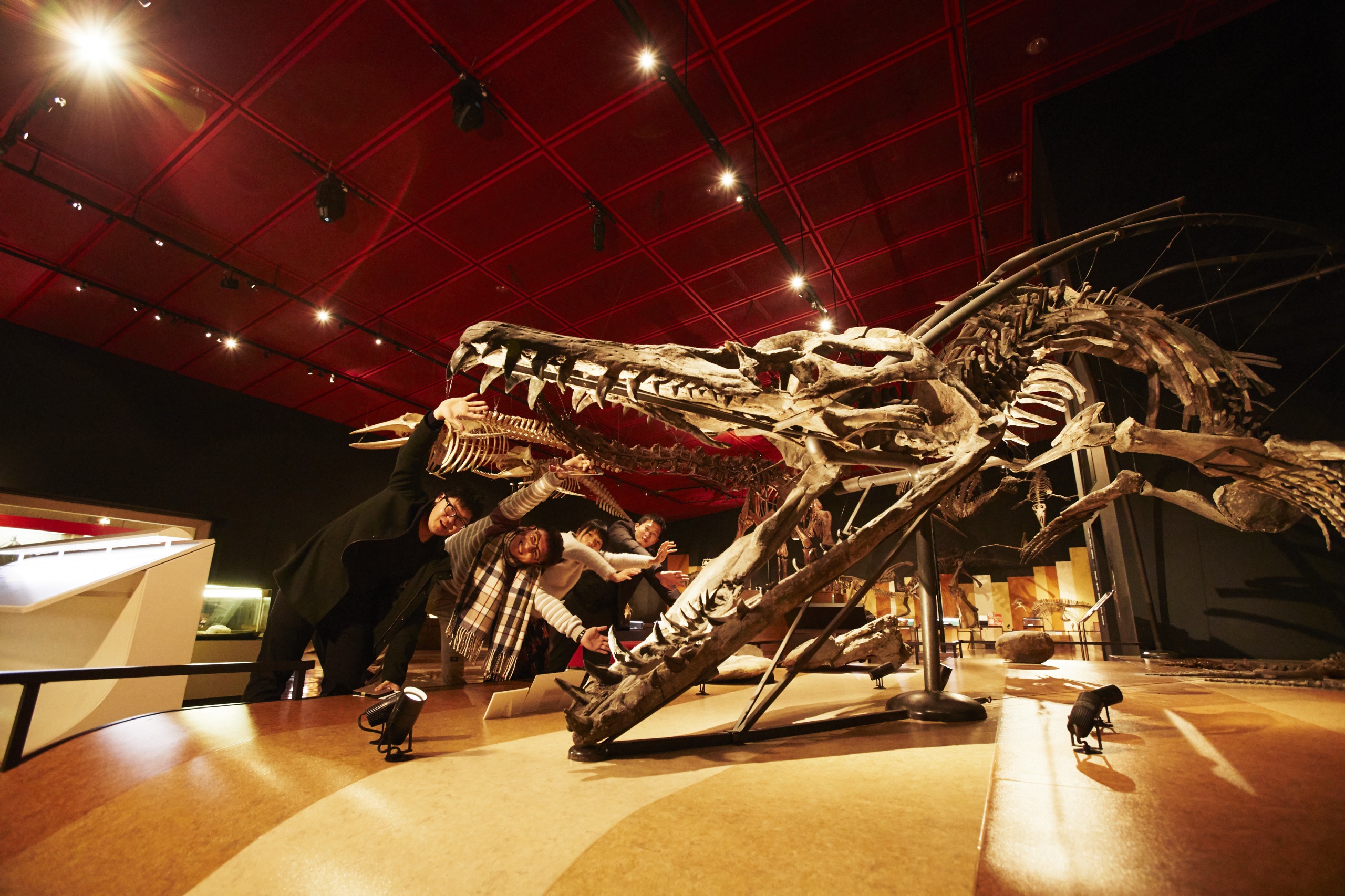 The highlight is definitely the fossil display! Huge full-scale dinosaur skeletons tower over you as you walk through the display.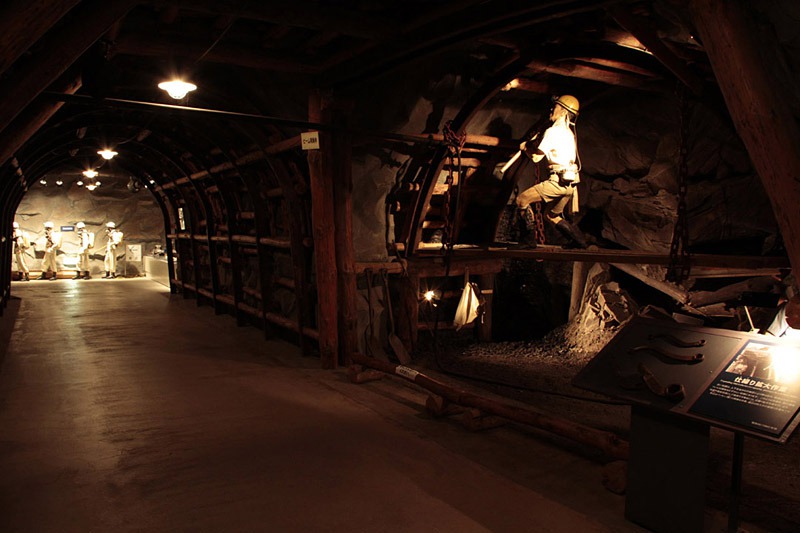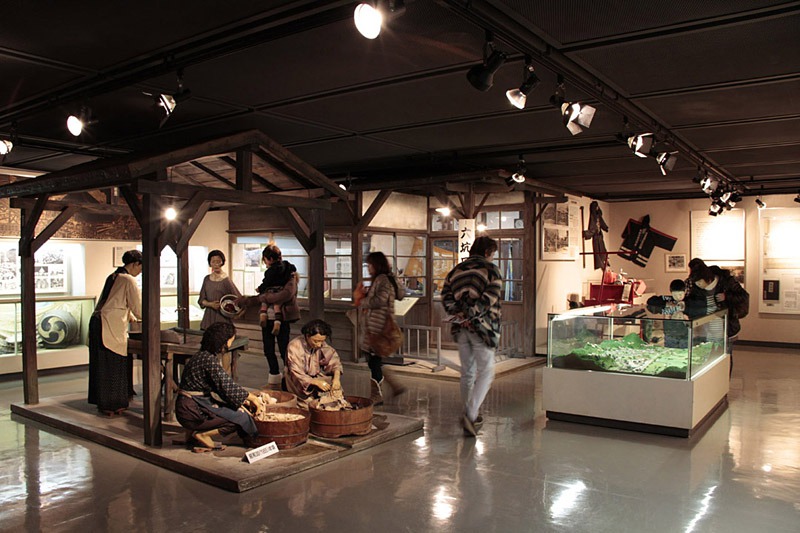 There is also a corner of recreated lifestyle scenes from the peak era of Iwaki's coal industry.
We've nearly reached the end of our adventure. But we all decided we can't leave without some souvenirs!

Iwaki City Coal and Fossil Museum
As well as permanent exhibitions of fossils and simulations demonstrating the history of the coal industry, the museum also holds season events and hands-on workshops throughout the year.
Entry: Adults, 650 yen
Open hours: 9:00~17:00(Last entry ~16:30)
Holidays: Every third Tuesday, January 1st
Phone: 0246-42-3155
Homepage (Japanese): http://www.sekitankasekikan.or.jp/
IWAKI: Tasty treasures by the sea!
By some miracle we made it to Iwaki's 'Lalamew' fish market just before it closed! Here you can find the best of Iwaki's fresh seafood and processed goods. (Check-out more info in the soon-to-be-released winter edition of 'High-tabi', pg. 13)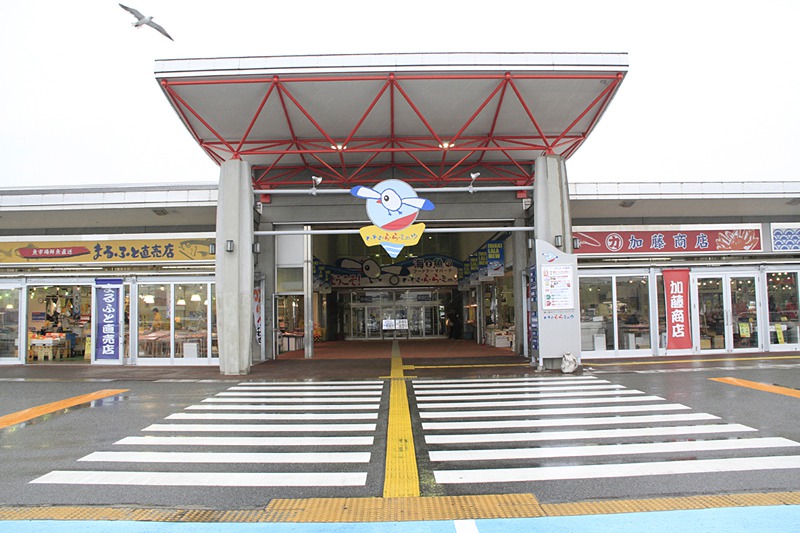 We were curious to try everything – there were all kinds of fish and tidbits that we'd never seen before. The market sellers were super friendly and welcomed us warmly. It was a struggle to choose what to take home!!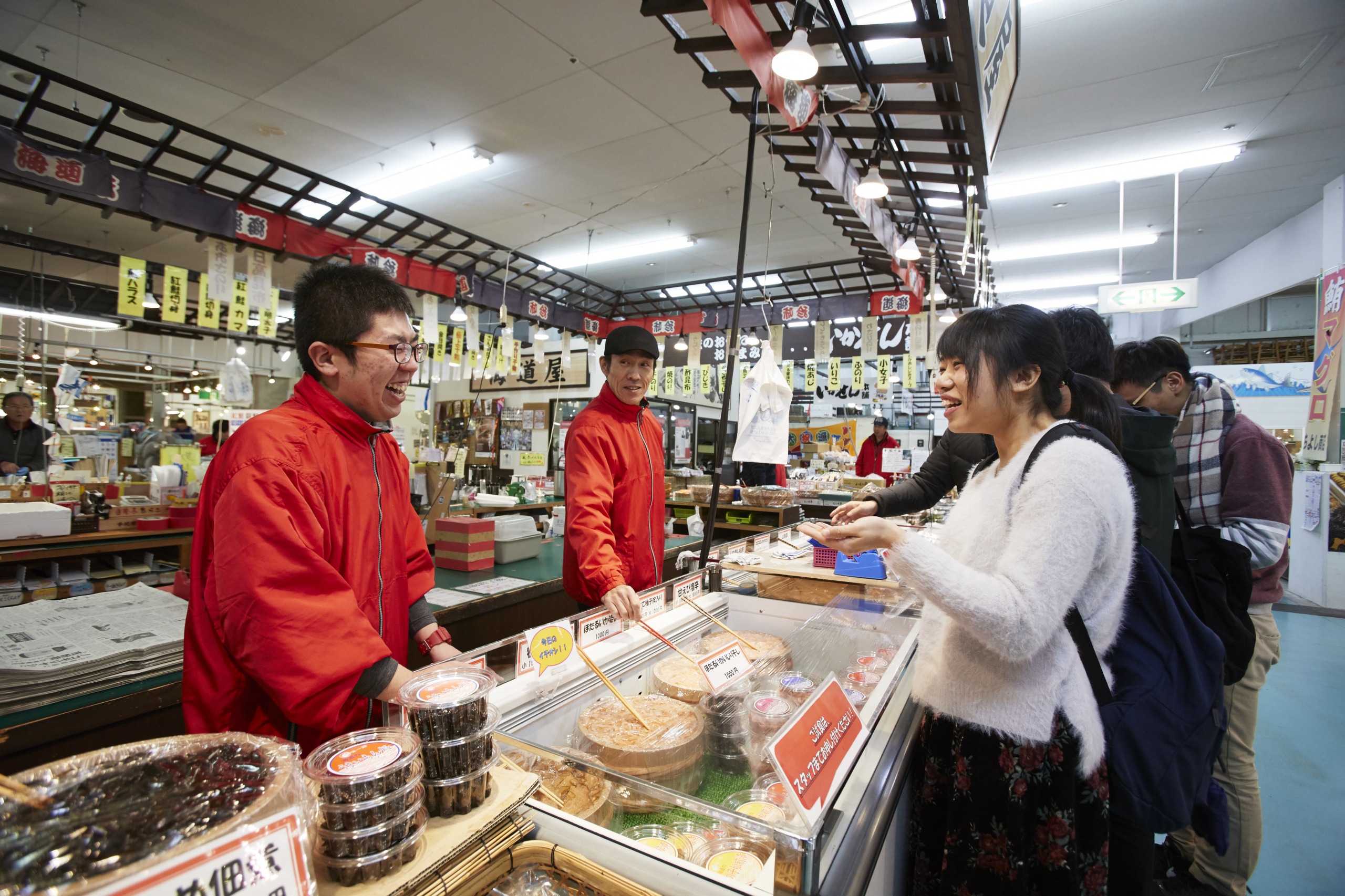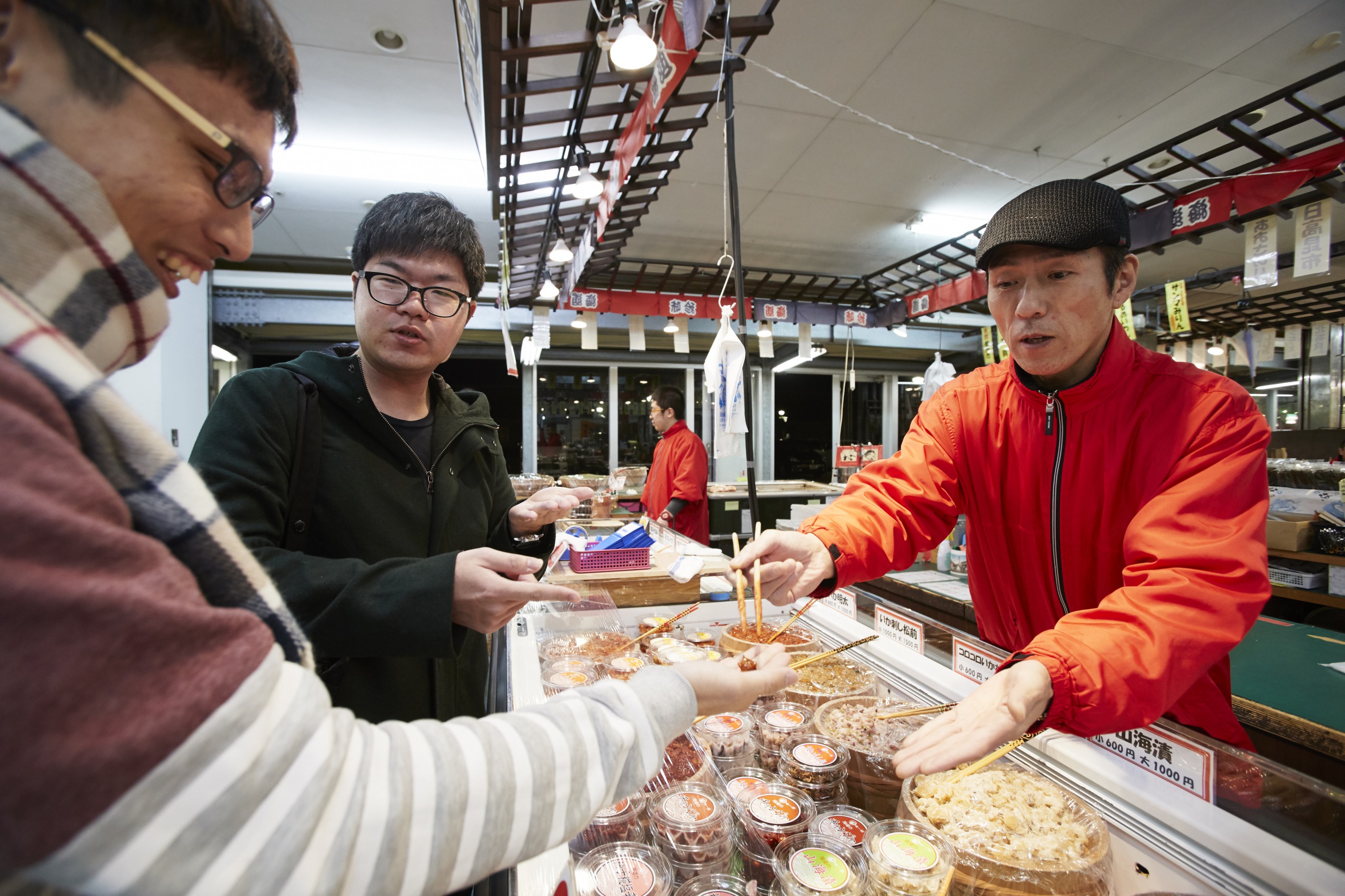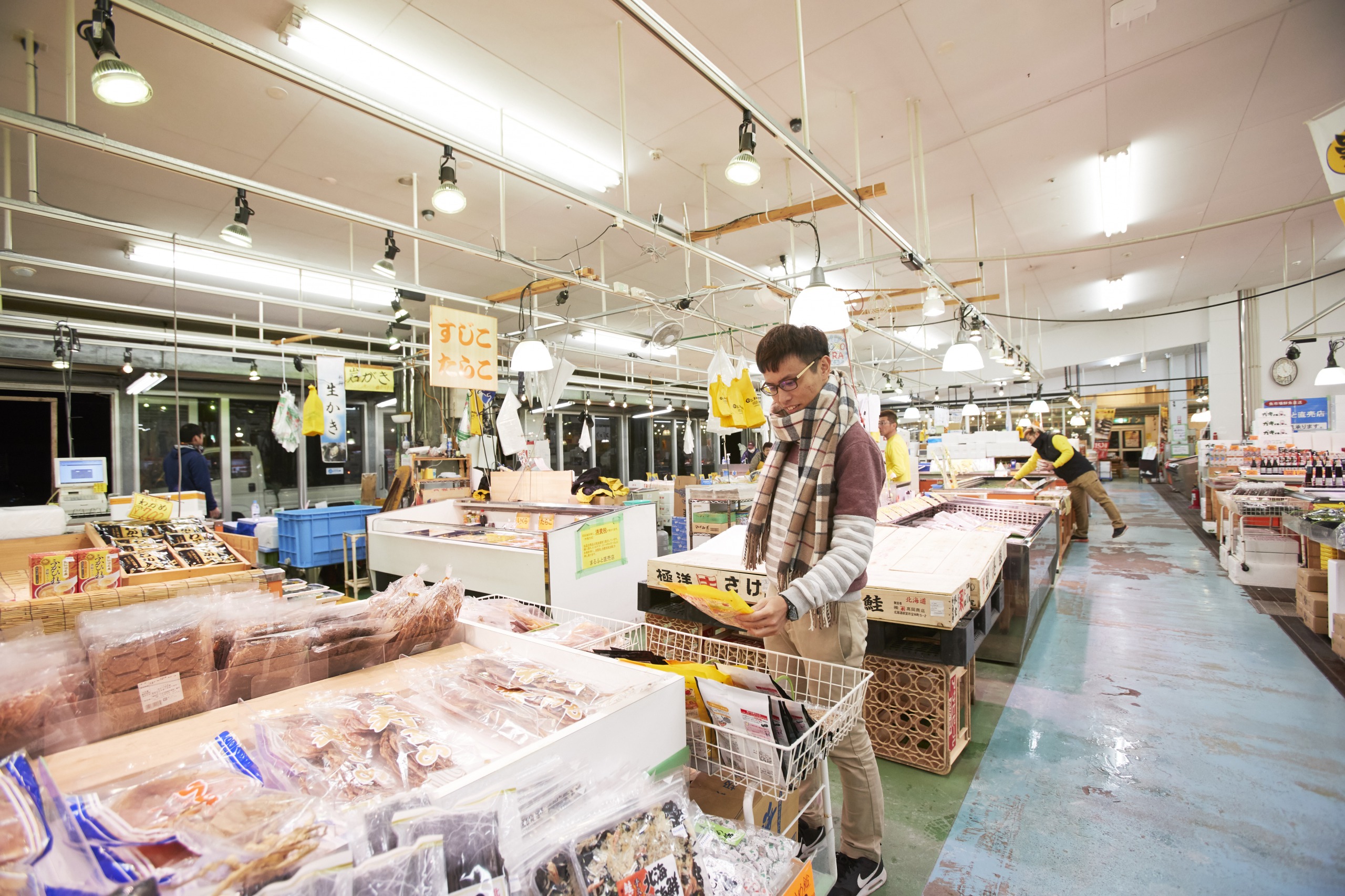 Awesome! With this we still have something to look forward to when we get home! But it is still a 2.5 hour drive back to Sendai. We will take our time, stopping for breaks at the PA and SA along the way and enjoy a safe journey home.
Iwaki Lalamew
Along with local produce market there are plenty of restaurants to enjoy! This is also the departure point for sight-seeing cruises.
Entry: Free
Hours: 09:00~18:00 (may vary depending on store)
Holidays: usually open every day, with occasional irregular holiday. Please check website for updates before visiting.
Phone: 0246-92-3701
Homepage (Japanese): http://www.lalamew.jp/
Returning the rental car, our journey had finally come to an end!
What did you think of our trip?
Especially for those coming back to Japan for a second or third time, Tohoku is the best option to experience the natural beauty and warm hospitality of the 'real' Japan. Traveling by car is the best way to make the most of your Tohoku journey; take your time exploring roads less traveled and enjoy the freedom to decide how long you want to stay and when you want to go home…or not!
Why don't you jump in the car and embrace the freedom to enjoy Tohoku's natural scenery on your next Japan adventure?