Make full of the rental car service and start at JR Yamagata station- (1) Start your fabulous trip by enjoying cherry blossoms at Kajo Park, then head to the oldest soba noodles restaurant in Yamagata; (2) Soba Restaurant, Shojiya (Saiwai-cho Main store) and head to Kaminoyama-shi's (3) Miyuki Park and be embraced by the Yoshino cherries there. (4) Afterwards, join the wagashi confection workshop at the main store of Jugoya confection specialty. With the nice sweets, now head to (5) Kaminoyama Castle and enjoy the cherry blossoms there. Go to Shiroishi-shi in the evening, first (6) check in at Yakushinoyu and enjoy a full dinner, finally enjoy a great night time at (7) Shiroishi Castle with the spectacular cherry blossoms light-up.
On the 2nd day, (8) watch the splendid flowers at Shichikashuku Dam Natural Park. (9) Be amazed by the white skunk cabbages at Tamanokihara natural habitat. (10) In lunch time, warm your stomach at Book & Café Ko ・ Rasshe. Finally, enjoy the cherry blossoms at Michinoku Lake Side Park and head back to Sendai.
Kajo Park- watching flowers
Kajo Park, at where remains of Yamagata castle located, has over 1,500 cherry blossom trees that proudly present the most striking views of flowers in Yamagata. It's the top spot in Yamagata.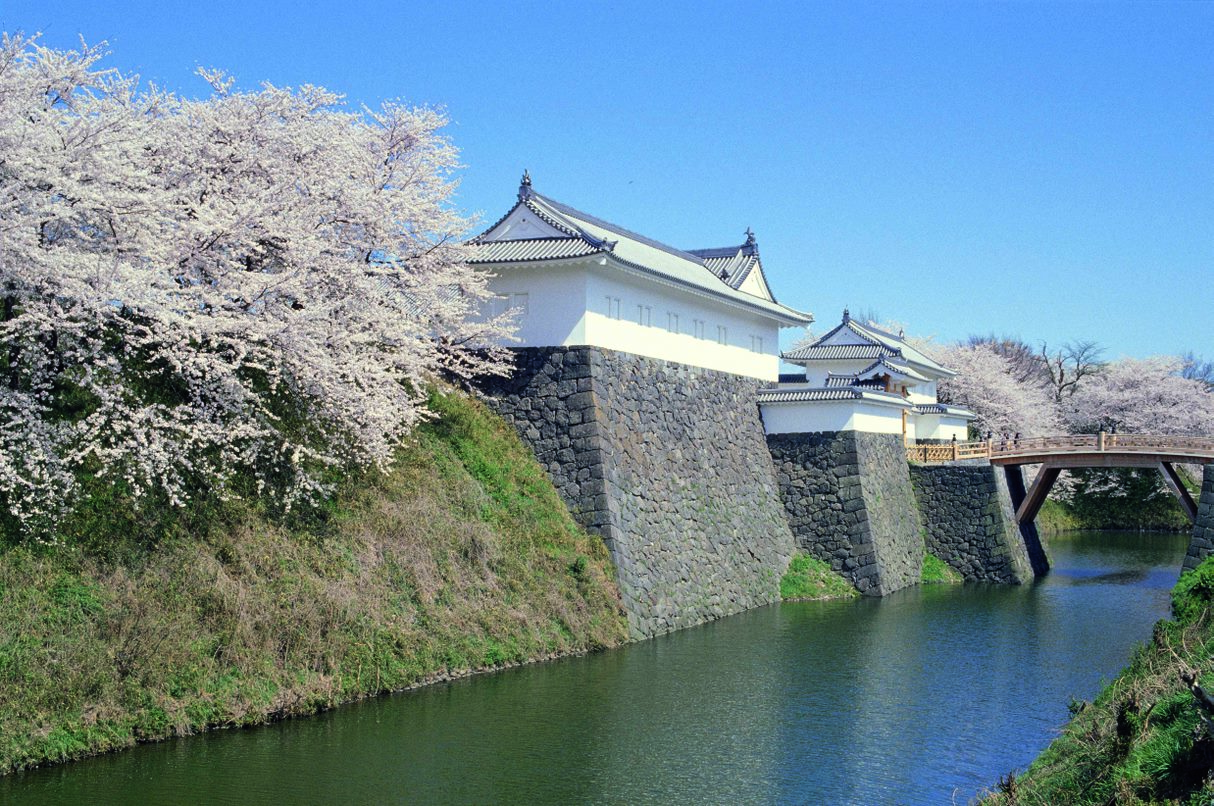 10-min drive
Soba Restaurant, Shojiya (Saiwai-cho Main store)- lunch
The traditional taste passed down from Edo period. The oldest restaurant in Yamagata. Handmade soba noodles prepared by experts in a faithful manner to the original recipe in the past generations .
10-min drive
Miyuki Park- watching flowers
A park with scenic views and direct access from Mokchi Kinenkanmae station; there is a Mokichi Saito memorial museum in the park. Besides, it is a spot to watch old trees such as the over 200 Yoshino cherries and yaezakuras blossoming in April.
30-min drive
main store of Jugoya confection specialty- wagashi workshop (2:00 p.m. by reservation
An old and promising wagashi confection brand in Kaminoyama city offering a confection-making workshop by reservation. Please try to fully experience Japanese confection through the process of making them. And, head to the next flower watching spot with your nice confections!
10-min drive
Kaminoyama Castle- watching flowers
At Kaminoyama Castle, there is a hometown museum to depict the nature of Zao and history of Kaminoyama. The Tsukioka Park, with over 100 Yoshino cherry trees, is just nearby; its beautiful view with "cherry blossoms, castle, and snow remains" all in one frame is very much famous among tourists, as well as the local residents. Besides, visitors can also enjoy the foot massage ashiyu hot spring while appreciating the cherry blossoms.
10-min drive
Shiroishi hot spring, Yakushinoyu – check in & dinner
The Nodokana hot spring hotel is secretively located deep in mountains. Have your body and spirit soothed and let all your tiredness get healed here. The hotel is pleased to provide great tastes prepared with local elements, too.
90-min drive
Shiroishi Castle- watching cherry blossoms light up
"shiroishi Castle" was once the home for Kojuro Katakura, the chef servant to Date clan. It has over 300 cherry blossom trees that a huge number of visitors come and appreciate the beautiful flowers every year. The castle is also open at night time during the cherry blossom season. Come and be amazed by the magical night time blossoms with glittering lanterns!
The best season of cherry blossoms / usually from mid to late April. (*) the blossoming process varies in every year.
" alt="" width="2560″ height="1706″ class="aligncenter size-full wp-image-7452″ />
10-min drive
Shichikashuku Dam Natural Park- watching flowers
Shichigasyuku Natural Park is simply huge- it is 28 ha large, utilizing the lake area as created by the dam. It is a leisure spot to enjoy nature, such as boats and yachts lie on the lake of the dam. It's also home for as many as 7,777 trees in 77 species.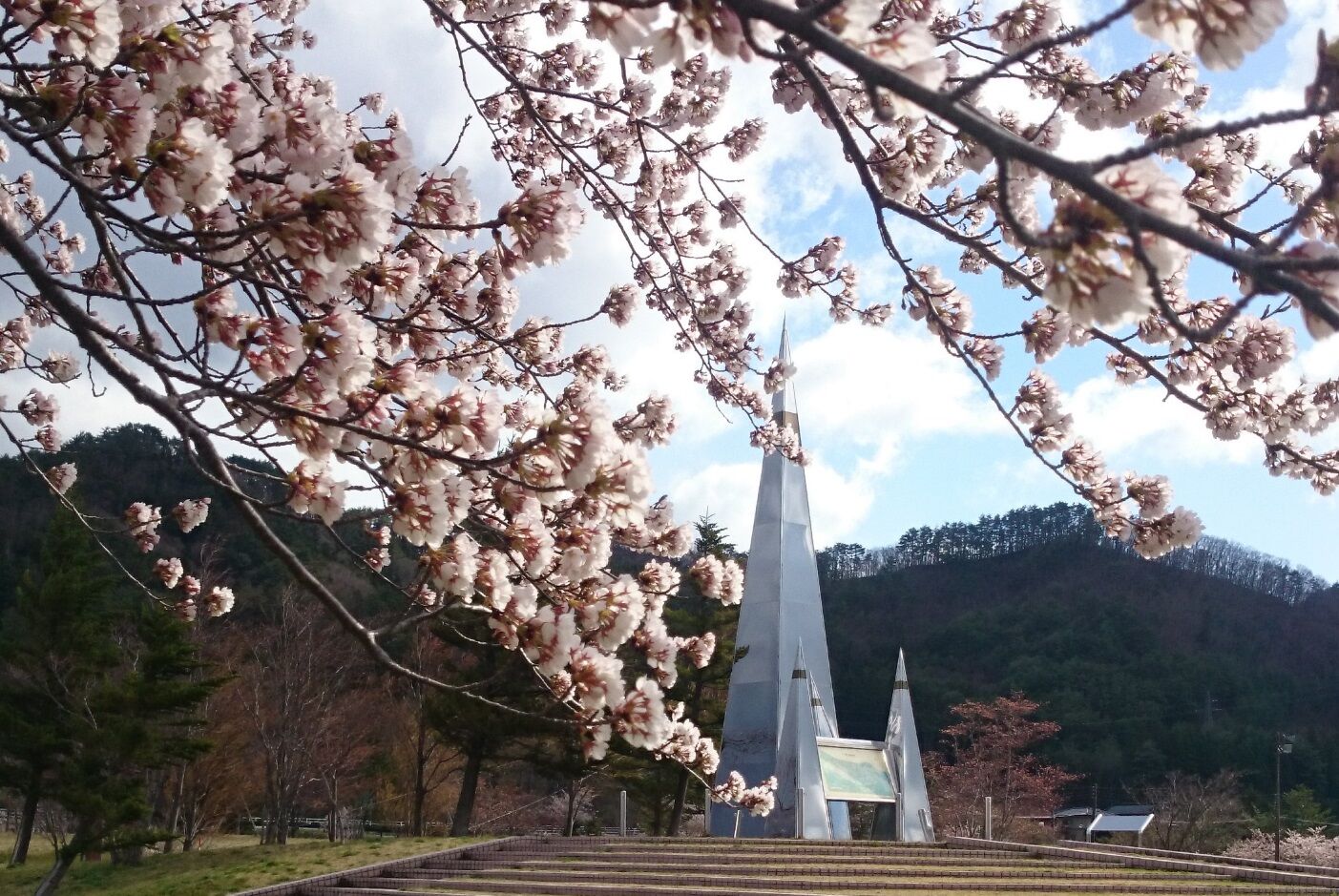 40-min drive
Tamanokihara natural habitat of white skunk cabbages
The Tamanokihara natural habitat of white skunk cabbages lies on the border of Yamagata prefecture. It's along national route no. 113, 3.5ha large and filled with 100, 000 white skunk cabbages- a plant usually found in humid mountains with 20 to 30cm large white flowers blossom in spring. From mid-April to early May, the decent flowers simply tells that spring is around!
40-min drive
Book & Café Ko ・ Rasshe- lunch
It is a café, a restaurant, a library, and facility for exchange and communication. The café corner serves drip coffee, chewy paste, and many other great dishes and beverages. The "seven-color plate", which is prepared with local ingredients and strictly limited on weekends, is highly recommended.
10-min drive
Michinoku Lake Side Park- watching flowers
This beautiful park lies beside Lake Kamafusa is the only state-managed park in Tohoku region. In the south, there is a 7,000 m2 large "Plaza of Colors" with a flower garden filled with over 100,000 splendid flowers, outlined beautifully by fountains, and water pathways. The park is especially colorful in spring, as dyed by Yoshino cherries, yaezakura, tulips, pansy, and moss phlox.
80-min drive
The tour ends at Sendai Station