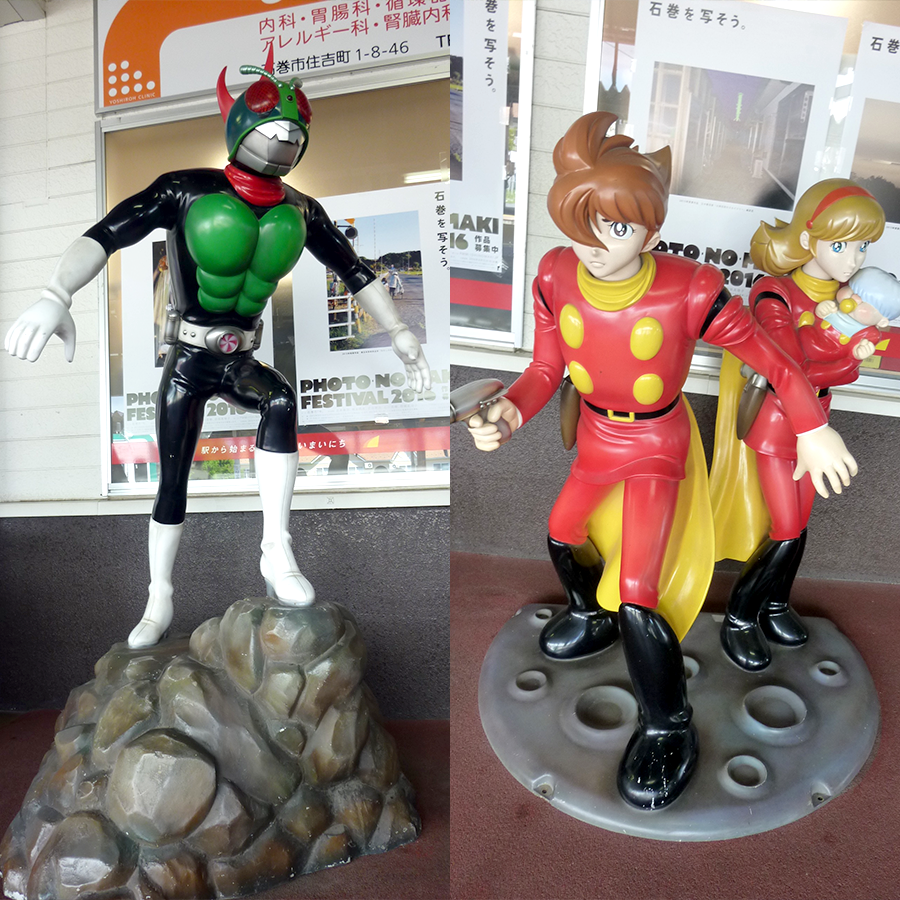 In Miyagi prefecture Ishinomaki city we are promoting  a city with Manga and named the raod from the station in a distant of 1km to the Ishinomori Manga Museum [Manga road] to praise the witter  Ishinomori Shoutarou that has a strong relationship with Ishinomaki.
Through the road there are cyborg009 and Masked Rider etc, and many other famous character is standing.
Today  I will introduce  the Manga road.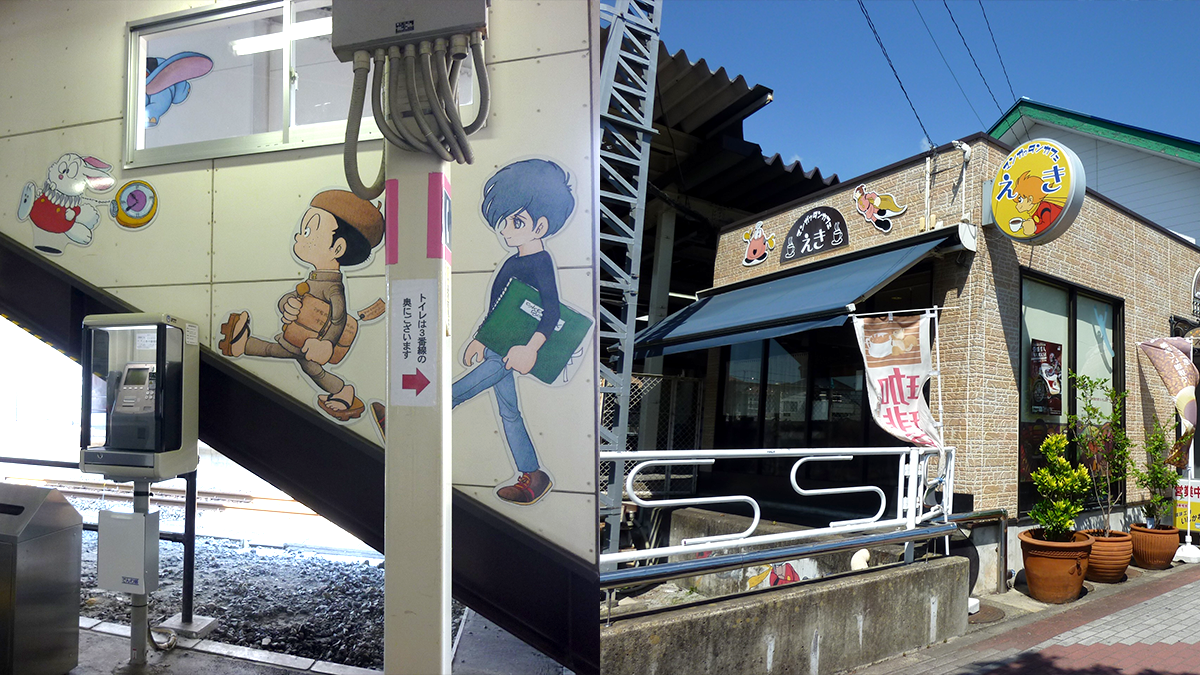 About Miyagi Ishinomaki city
Ishinomaki city is located in the east area of Miyagi prefecture.
It is a one hour trip from Sendai station on the Senski line and good for a one day trip.
Oyashio current and the black current mix and  Ishinomaki is called one of the biggest fishing ground and the attractiveness is the fresh seafood of Ishinomaki.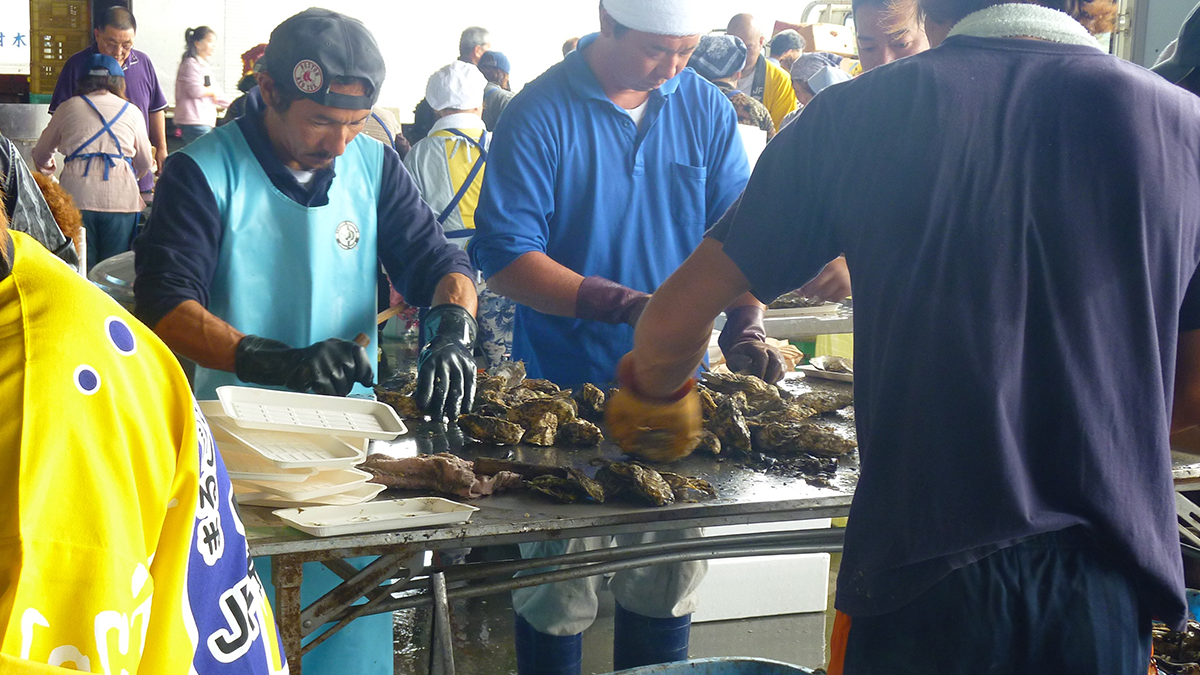 The Manga road starts from Ishinomaki station 
There is a train named [Mangattaliner] operating on only Sunday and when I get off the train cyborg009 and Masked Rider was there to meet me.
There were many illustration on the wall and the stairs. Also you can receive a commemorating certificate  after riding the train.
Try get it.
Let's go to Manga road! I'm using a tour map to know where I am.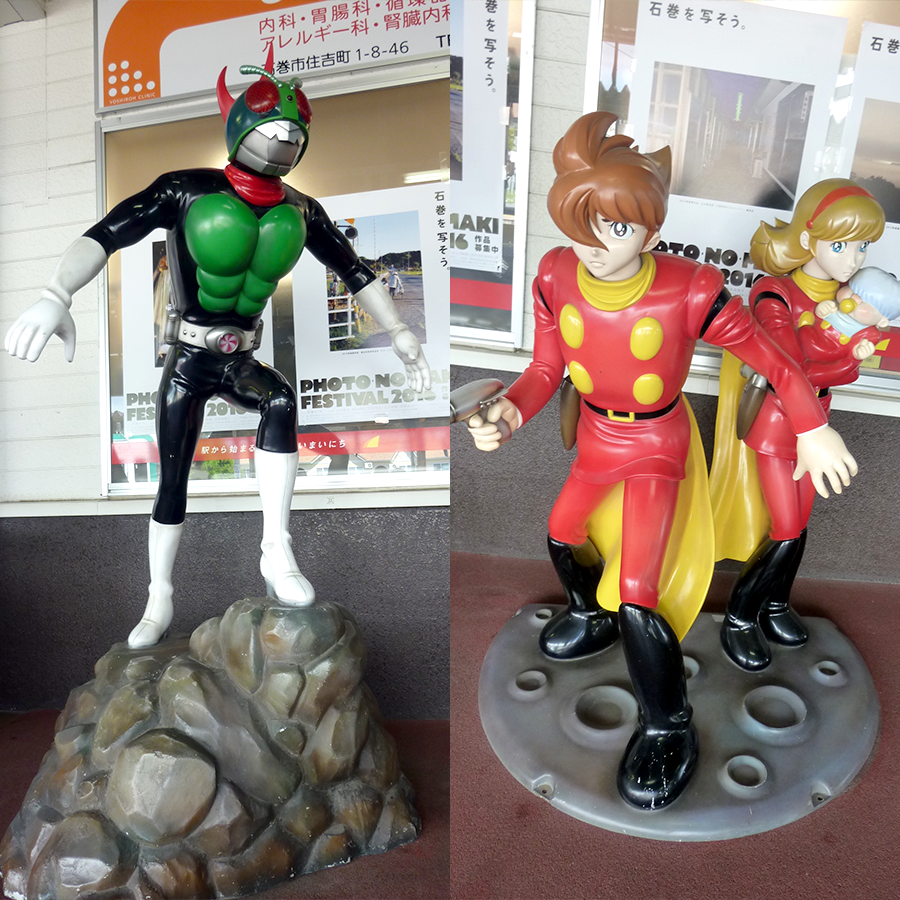 There are many monuments of character in Ishinomaki city. 
There are 17 of the character from the starting from the station.
Let's start from the top left picture.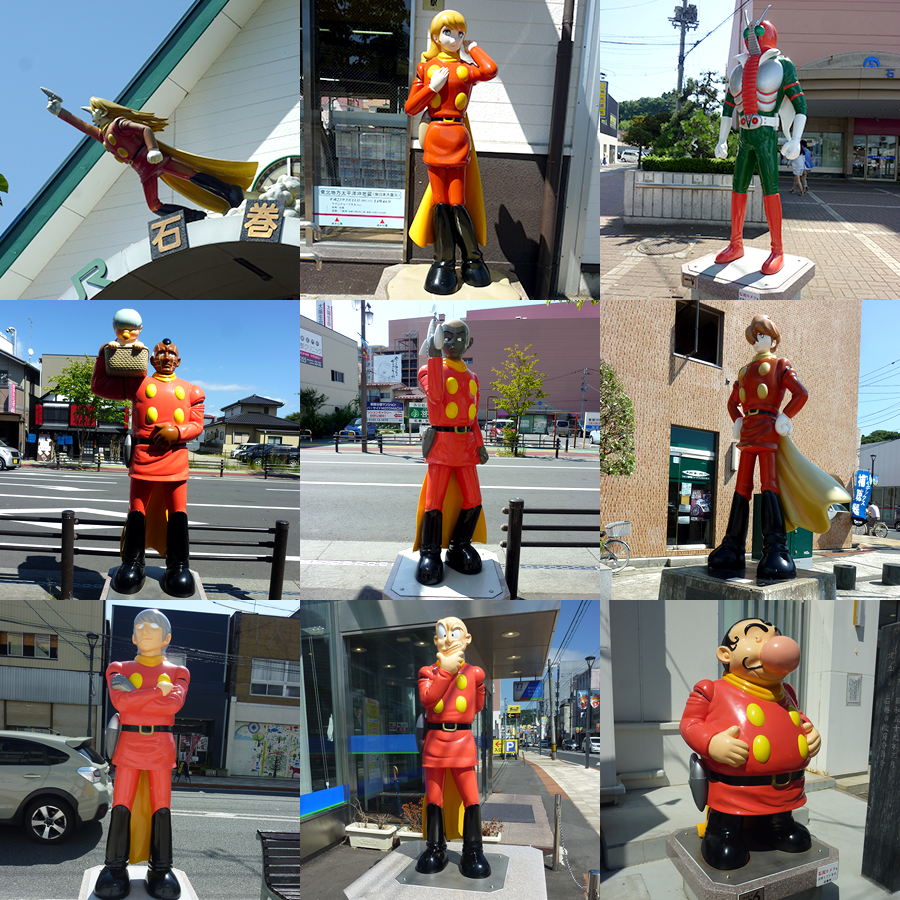 002(cyborg 009)
003(cyborg009)
MaskriderV3(MaskrideV3)
001&005(cyborg 009)
008(cyborg009)
009(cyborg009)
004(cyborg009)
007(cyborg009)
006(cyborg009)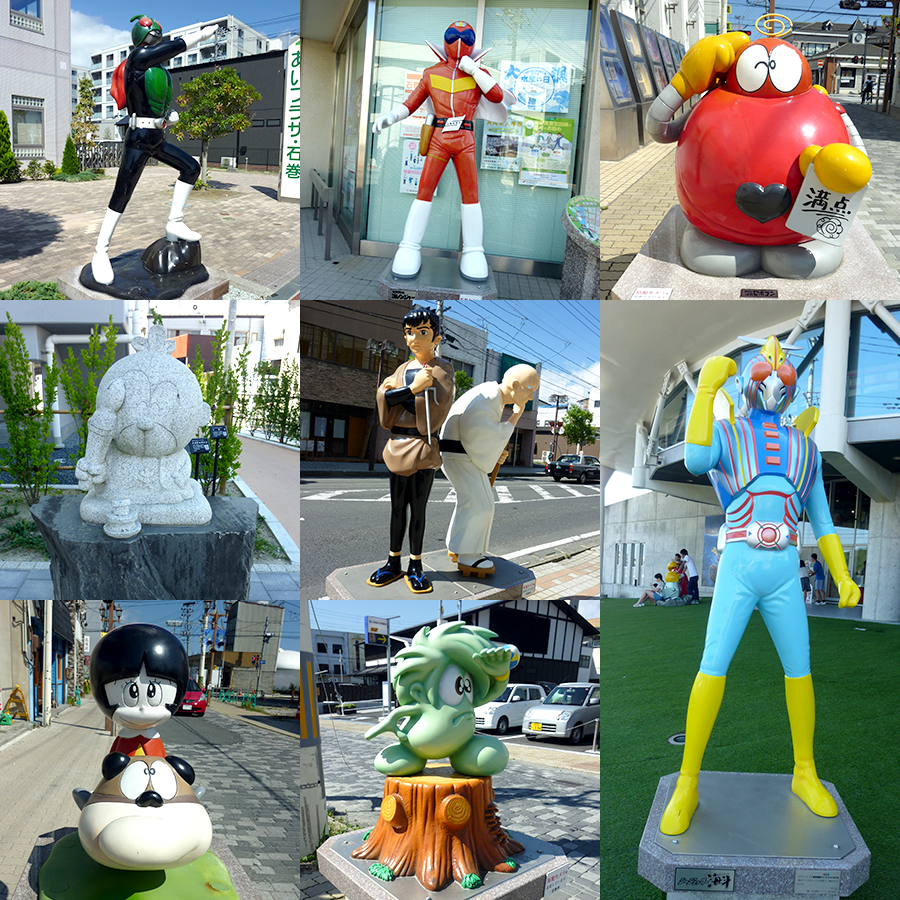 Maskrider (Maskrider)
Red renger (Himitsu Sentai Gorenger)
Robokon(Fight Robokon)
Manga Shrine
Saab to Ichi(Sabu to Ichi no Torimonohikae )
Ecchan&Buku(Sarutobi Ecchan )
Chopin(The star boy Chopin)
Sea Jetta Kito(Sea Jetta Kito)
How many could you come up?
The Ishinomori character is everywhere.
You can find Robokon on a manhole. Very cute.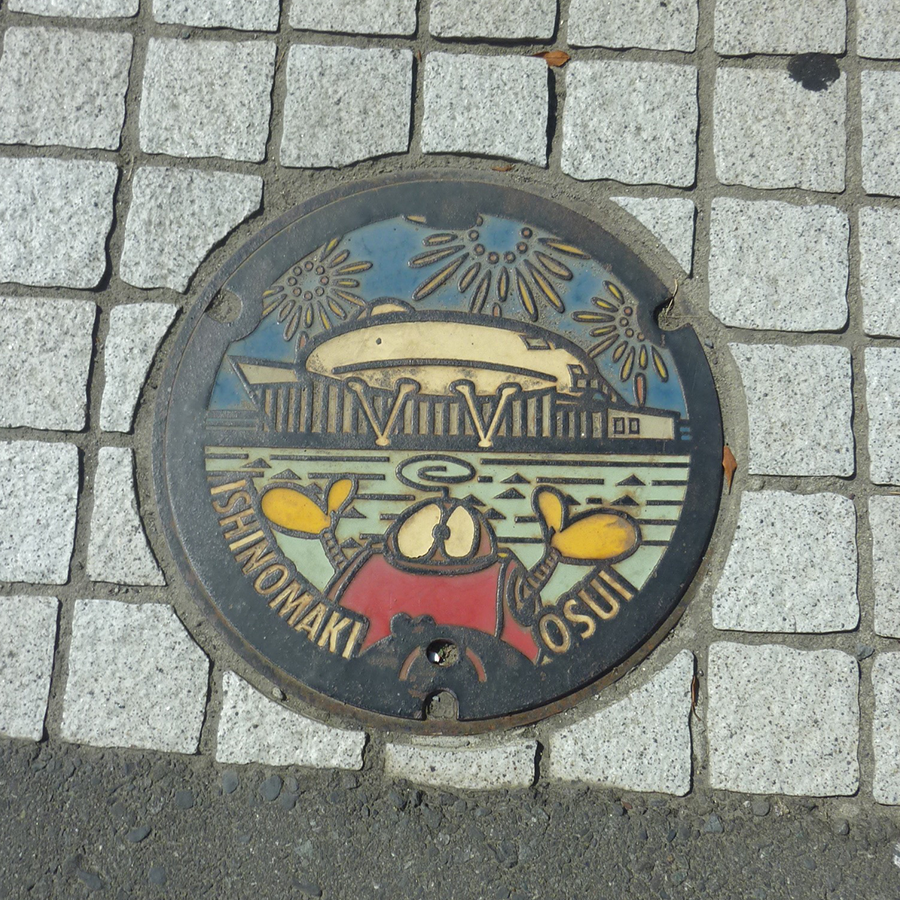 Summery 
I was able to get here by using the tour map  while enjoying sight seeing.
Manga is not just a place for people who love manga, but it is a good walking course for children and adults.
Come to Ishinomaki to visit here.
I will report the Manga Museum on the next report.
Stay tuned for more information.