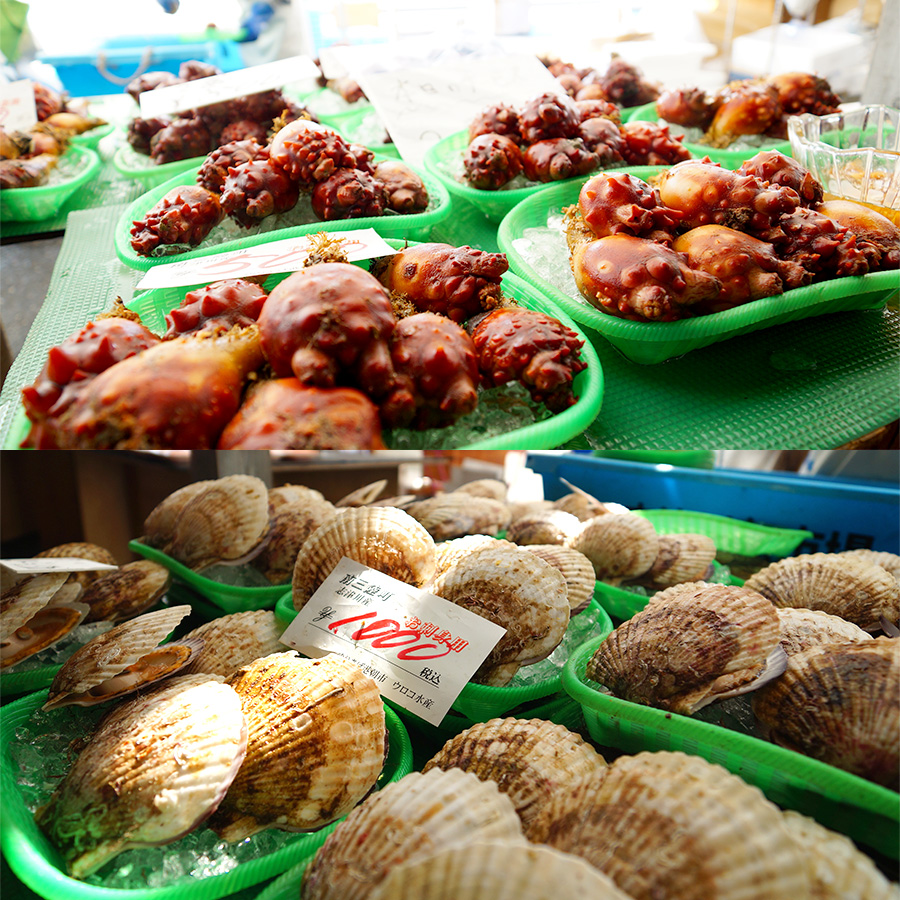 Yuriage Morning Market has been flourishing ever since it first started in the Edo Period (more than 400 years ago). Even though the market was damaged by the 2011 earthquake, it's been rebuilt and can be enjoyed again!
While the name gives it away, customers can enjoy eating and buying fresh seafood, vegetable and delicious delicacies, even in the early morning! Read on to find out more about what you should do to get the most of your trip.
Check all of stores!
The market is home to around 50 stores and small shops meaning there are tons of opportunities to experience the atmosphere. One of the best things to do is ask the shopkeepers what food is in season and what specialties they have that day!
Figuring out what time fits you best.
As the day goes by Yuriage Morning Market changes what it has in stock.
The freshest and rarest food starts selling as early as 6 am meaning its extremely busy. If you want to buy the freshest food and experience the craziness for yourself, you should go at this time.
However, the longer you wait the better deals can be had. Just remember not to push your luck too much as it's a toss-up with what's still on sale.
Must Eat Seafood!
Yuriage Morning Market is especially famous for its seafood selection. At the market you can also sample food or eat at some of the many vendors. Some common and delicious food for sale is oysters, scallops, Hoya, bloody clams, tuna and octopus.
Eating near sea!
If all you want to do is just eat some wonderfully cooked fresh seafood, just sit down next to the ocean and relax.
Some common menu items are as follows:
Bowl of rice topped with fresh tuna. (¥500)
Boiled dumplings. (¥400)
Miso-soup with Japanese littleneck and Yukina. (¥300)
The seafood that you've bought can also be grilled at the market and eaten fresh!
conclusion
As one of the owners said, "I feel happy that I can continue my business at Yuriage-Morning-Market once again".
Even though this market was deeply affected by the disaster 5 years ago, it's been rebuilt and is readily accepting new customers and travelers with open arms. Make sure you drop in and take a look, especially if you have an empty stomach!